By Jim Boyce | A slew of people—correction: one person—asked me where to find the old headlines from my 京B Daily page. I rotate those out every three days or so and then they are gone like a fine bottle of wine, sublime block of cheese or freshly made batch of Kraft Dinner. But to make all those people that one person happy, here are the headlines posted from the past week or so.
Wheely bad | Chinese student possibly takes assumptions to limit by leaving car in neighbour's parking, then heading home to China for vacation | Cambrian News
Eye for design | China dominates World Interior of the Year shortlist CNN
Confucius says | Why the U.S. Needs to Understand Chinese Philosophy US News
Final season | Stephon Marburys signs with rival Beijing team Shanghai Daily
Join the caravan | '40 motorhomers complete ten week tour to Beijing' — Out & About (Also see here)
To market | 'Jack Ma's Alibaba doubling down on supermarket strategy' — CNBC
School trip | 'Beijing students take SAT, CAT abroad' — China Daily
Blast from Past | Dinosaurs of China exhibit in UK — DoC
Go West | 'China completes Beijing-Xinjiang desert freeway sections' — People's Daily
Phoney money | 'In Urban China, Cash Is Rapidly Becoming Obsolete' — New York Times
From Contempt to Court | 'Baidu sues GQ Daily for making fun of its maps' — technode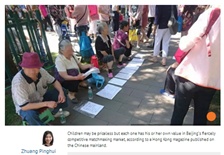 5.6 Million Yuan Man | "The Beijing marriage market: putting a price on a perfect match in a Chinese park" — SCMP
Ice capades | 13 Shanghai families go to Canada for hockey camp — Global News
Sea queen | 'Chinese Mermaid' Yang Xiuqiong — Shanghai Tours
Flight suit | 'This Chinese Airline Now Has Haute Couture Uniforms' — Travel & Leisure
Deep math | 'Scientists used abacuses to develop China's first nuclear submarine SCMP
Home delivery | 'How an army of postmen is turning China's rural stores into the world's largest retail network' Wired
Another world | "China tests self-sustaining space station in Beijing" — Reuters
Generation gap | Converging China, U.S. consumer values linking millennials — techcrunch
Box office | "'Despicable Me 3' Opening is Franchise High in China" — Variety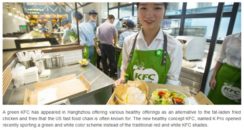 Salads, paninis, juice | KFC opens 'green' K Pro in Hangzhou — Shanghai Expat
Go West! | 'New Chinese High Speed Rail Line Opening Sunday'. (All the way to Urumqi!) — ShanghaiExpat
Cheep thrills | 'Carrier pigeon reveals precious secret' — SCMP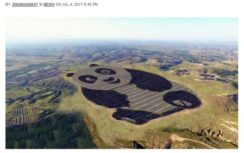 Koala-watts | 'Super adorable solar farm shaped like panda' — Shanghaiist
Diecycles | 'Dizzying view of bicycle graveyard in China' — Wired
Tour group | "China's Wanda steps back from theme park, hotel drive with $9.3 billion Sunac deal" — Reuters
---
Check out 京B Daily for headlines, job openings, food and drink deals, weather updates, and more. Also see sibling blogs Grape Wall of China and World Baijiu Day.
*     *     *
Get regular Beijing updates via my
Instagram
and
Twitter
feeds. Also see my sibling sites
Grape Wall of China
,
World Baijiu Day
 and
World Marselan Day
. Help cover the hosting and other costs of these sites with a
WeChat
,
AliPay
or
PayPal
donation.
*     *     *