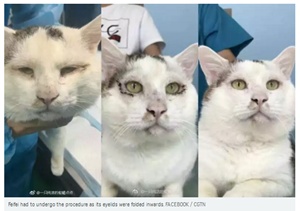 Purr-fect | "Cat gets 'double eyelid surgery' in China, Internet goes wild" | Straits-Times
Take note | "China's consumers have begun paying for music" | The Economist
Flare down | "Beijing drafts fireworks ban" | Xinhua
Crazy scary | "Horror film takes you into Beijing's most celebrated haunted house" | Star2
Pack it in | "Two Years After Smoking Ban, Beijing Has Fewer Smokers" | Prensa Latina
Bonus time | "Beijing's average life expectancy hits record high" | Global Times
Caff up | Starbucks bets big on China | NBC
Model citizens | "The 'Fake Lives' of Beijing Residents" | What's on Weibo
Secret service | "China to launch unhackable quantum messaging service" | Telegraph
Roll call | "New Swiss school to open in Beijing" | swissinfo.ch
Anti virus | "Beijing police detain 9 people for spreading malware" | Global Times
Squeaky clean | "A Smog-Eating Bike May Soon Cruise Beijing's Streets" | Hyperallergic
Tourist flap | "Beijing police bust theft ring targeting Tiananmen flag-raising viewers" | CGTN
Money flow | "How to make $100,000 a month in China, live-streaming your life | Washington Post
Hot stuff | "'Anti-pervert' flame-throwers for sale in China" | Telegraph
In the joint | "2 Canadian Cavalia employees jailed in China for smoking pot" – CBC
Own goal | "Chinese fans furious at Chelsea player's insulting posts" | Shanghai Daily
---
Check out 京B Daily for headlines, job openings, food and drink deals, weather updates, and more. Also see sibling blogs Grape Wall of China and World Baijiu Day.
*     *     *
Get regular Beijing updates via my
Instagram
and
Twitter
feeds. Also see my sibling sites
Grape Wall of China
,
World Baijiu Day
 and
World Marselan Day
. Help cover the hosting and other costs of these sites with a
WeChat
,
AliPay
or
PayPal
donation.
*     *     *