---
I got back to Beijing from a long holiday just in time for the launch of Nao Bistro and the coronavirus crisis. "You take the good, you take the bad," as the TV show The Facts of Life reminded us on a weekly basis.
(Fun fact: George Clooney was on Facts of Life long before he became a movie star.)
Anyway, I'll post updates / safety tips / memes / personal anecdotes below about the virus situation, with the most recent at top. Meanwhile, three ways to stay safer:
1 Cover your mouth and nose if you cough / sneeze. It's about protecting others as much as protecting yourself.

2 Wash your hands regularly. Be like this little guy. (You should be doing this anyway. It's gross how many people at bars don't wash after using the toilet and then dip their gnarly paws into a communal peanut dish. That might be the source of the next disease!)

3 Avoid "old China hands" and their brain-numbing stories about the fun they had during the 2003 SARS crisis. (What good is it to survive the virus only to be bored to death?)
As for avoiding crowds, the authorities are partly taking care of that by canceling CNY festivals and closing tourist spots (see updates below) but those who venture out will find plenty of bars and restaurants open.
Sources for coronavirus updates include The Beijinger, CGTN, South China Morning Post and The Guardian.
Also, I'll be using the "woman yelling at cat" meme, done red envelope-style by Peter Chan and edited / mauled in Microsoft Paint by me.
---
Screenshots | 01.31
Eight screenshots related to coronavirus. From one' man's pleas to stop comparing this virus with the flu to US and WHO updates.
Also, plenty of people in my feed are on opposing ends of the coronavirus continuum. On one end, dismissive types, who pshaw any threat, see this virus as just another flu and will, if we go through relatively unscathed, see it as proof of their wisdom / stiff upper lipped-ness rather than the result of preventative measures / luck. These are the people who die first in horror movies.
And the opposite, "sky is falling types", who worry the virus might travel on the wind–direct from Wuhua to Wudaokou!?–or see any increase in cases as the beginning of the end.
On top of that you have people saying that journalists suck / are superb, the Chinese government messed up / is doing what no other country can, and so on. It's tolerable due to the many rational people out there. It's okay to be in the middle, to think journalist aren't perfect but are doing a good job, to realize the situation is riskier than usual and to be worried, and so on. Just remember: wash your hands.
---
I Broke The Virus Name Code
I Cracked the Code. I Know the New Virus' Name.
People been wondering what to call the new coronavirus that started in China and has spread to a dozen-plus countries. Other than boring old 2019-nCoV. There's WuFlu, after Wuhan, the city of origin. FluHan, yet another riff on that metropolis of 11 million. One friend suggested a few named after Flora–the woman stuck in Wuhan who went ballistic in a WeChat group–including InFloraenza. (He also suggested Kung Flu.)
But the real answer stared us in the face over two years ago, all thanks—love him or hate him–to U.S. President / Stable Genius Donald Trump. In May 2017, he tweeted the apparently nonsense word 'covfefe', and the world called him fool. But now he looks like he was way ahead of us all and might even inspire the next Dan Brown novel.
Covfefe. The 'Co' stands for corona, the 'v' for virus and 'fe' and 'fe' for a doubly dangerous fever, a symptom of the sickness. Yes, I know, some will read this and say the virus is similar to Trump's presidency — unexpected, unpleasant and, for the good of humanity, hopefully soon over, blah blah blah — but this isn't a time for politics. It's a time to wash your hands.

COronaVirusFEverFEver. Now back to the serious stuff. More updates coming soon.
---
Community Spirit | 01.30
Plenty of Chinese barricading themselves in villages and neighborhoods, apartment complexes and dormitories. "Happy New Year" replaced by "Go Away Stranger." Hopefully, they have some good stuff to drink and take the edge off that tension, even if rumors that guzzling baijiu, the country's high-octane national spirit, can protect one from the virus are (so far) unfounded. Some media excerpts about the barricade brigades.
AFP | "Villages and apartment complexes across China are taking the fight against a deadly viral epidemic into their own hands with improvised barricades and the online shaming of potentially-infected strangers….
"In one Beijing residential compound, a motley stack of shared bicycles have been haphazardly woven together and wired to a wooden ladder, blocking a side gate and forcing visitors to register with guards at the main entrance.
"Staff at the Zhongfangli complex said the bike barrier was built at the start of the week to help them control the flow of people into the compound and stop the virus spreading to residents inside.
Photos of homemade roadblocks elsewhere in China have been shared widely on the microblogging platform Weibo.
"In one image, a man wearing a surgical mask and brandishing a traditional martial arts weapon squats on a barricade in front of a village. A hand-written sign on the structure reads: 'Outsiders forbidden from entering'." Article
Associated Press | 'With barricades and wary guardians, villages on the outskirts of Beijing are closing themselves off to outsiders to ward against infection from a new type of virus.
"Roads are being blocked by piles of earth or anything else capable of stopping traffic, red banners are tied overhead and serious-looking villagers wearing masks and red armbands stand guard to prevent outsiders and their vehicles from entering.
"Those wishing to visit have to prove their presence is necessary and testify that they have not traveled to Wuhan, the epicenter of the virus, or other stricken areas…."
"Li Shulin, committee head of Datun village, said every similar-sized community in the region is employing the same tactics, and that this year's Lunar New Year, which began last week, has a very different feel from previous years.
"'People stopped paying new year visits. Most of them stayed at home,' he said." Article
The Beijinger | "Several expatriate and local residents have shared that some of their communities are beginning to limit access to outsiders and setting up temperature checks for residents. In the Longze area of Haidian one person said that some housing complexes are not allowing non-resident cars to ender, and that the community is asking everyone to report their temperature once a day to the local community center. Residents who leave the compound are being asked to sign in and out and report their destinations when returning." Article
Finally, a friend who lives in the Changping District, and documents old doors in that part of Beijing — "I've been looking for whatever remains of historical Changping — took this photo and wrote, "Sometime in the last two days, the Hutong [neighborhoods]… have been sealed off from the major streets; access is limited to a few Hutong choke points where ID is required to prove residence of this block. There may be temperature checks as well. These measures are in the name of controlling the coronavirus epidemic. This is the west end of Chicken-and-Duck-City, where my favorite door is located."
---
Flight Risk | 01.30
Airlines are canceling all or some of their flights to continental China in response to coronavirus, whether for reasons of safety or low traffic, or both. Needless to say, entering and exiting China is iffy so you best check right up to the last minute with your airline if you plan to do so. Frankly, if this virus thing went zombie and I were offered a seat on the last flight out of here, and it was that awful direct Beijing-San Francisco one, it'd be a tough decision. A few examples of airlines canceling flights.
Lufthansa, SWISS and Austrian Airlines | "The safety of passengers and employees is a top priority for the Lufthansa Group. After thoroughly evaluating all currently available information on the corona virus, Lufthansa Group has decided to suspend its Lufthansa, SWISS and Austrian Airlines flights to/from mainland China until 9 February with immediate effect. In addition, acceptance of bookings for flights to/from (mainland) China has been suspended until the end of February. Flight operations to/from Hong Kong will continue as planned. The Lufthansa Group will continuously monitor the situation of the corona virus and is in contact with the responsible authorities.
"Lufthansa, SWISS and Austrian Airlines will fly to their respective destinations in mainland China one more time. This is intended to give our guests the opportunity to take their planned flight and our crews to return to Germany, Switzerland and Austria." Source
United Airlines | "United confirmed to ch-aviation that it was cancelling some of its services to Hong Kong and China in early February. 'Due to a significant decline in demand for travel to China, we are suspending some flights between our hub cities and Beijing, Hong Kong and Shanghai beginning February 1 through February 8.'
"In this period, the US carrier will cancel 24 of its flights – 11 to Shanghai from San Francisco, CA, New York Newark and Chicago O'Hare, 10 to Beijing Capital from Washington Dulles, San Francisco and O'Hare, and three to Hong Kong from San Francisco and Newark.
"'Additionally, though we have implemented a temporary reduction, we are still operating flights between the US and China to enable customers to continue to travel between the two countries. We will continue to monitor the situation as it develops and will adjust our schedule as needed.'" Source
Air Canada | "[F]ollowing the Government of Canada's Advisory to avoid non-essential travel to mainland China [Air Canada] is temporarily suspending all direct flights to Beijing and Shanghai effective January 30, 2020 until February 29, 2020.
"Air Canada's last flights departing Canada will operate today and the return flights will operate from Beijing and Shanghai tomorrow, January 30, 2020. Affected customers will be notified and offered options, including travel on other carriers where available, or a full refund." Source
British Airways | "British Airways has suspended all direct flights to and from mainland China after Britain warned against all but essential travel to the country due to the coronavirus outbreak.
"BA.com, the airline's website, shows no direct flights to China are available in January and February.
"'We apologise to customers for the inconvenience, but the safety of our customers and crew is always our priority,' BA said in an emailed statement on Wednesday." Source
---
Beijing Anecdotes | 01.29
Outside a lack of loose onions, the fruit and veggie situation at my local Jingkelong supermarket in Beijing was very much normal this evening, including the prices. And shoppers running their carts into me for no reason. STAY IN YOUR LANE! AND STOP SQUEEZING THOSE TOMATOES!
I went there as quite a few people asked about the produce situation in our fair city, among many other things. Can we still get vegetables? Are the food delivery companies still running? How about surgical masks: I hear they're sold out. Has anyone been to the airport today? Also, am I the only one sick and tired of coronavirus / Corona beer jokes?
Lots of these issues have arisen in several WeChat groups created by The Beijinger's Mike Wester and called Safe & Sane in Beijing. I've included a few examples below from today to give you a sense of the mood. Overall, it's clam and rational, with a sprinkling of panic-y and rumor-y types. For coronavirus news, check the Beijinger's regularly updated page.
Finally, it seems like temperature checks are spreading. I had to get mine checked (via my ear) and fill out two forms with my name and phone number and the time tonight before entering Topwin Center via Sanitun Soho tonight and continuing my veggie research at April Gourmet — they have stock, too.
Now some stuff from Sane & Safe Beijing.
On Disinfecting
[Poster 1] "Does anyone else here feel like the buildings' lifts are disinfected? Recently, I notice a strong artificial smell in the elevators…
[ Poster 2] "Mine were being disinfected daily before I left town. There's no note about it?
[ Poster 3] "Everything is being disinfected in our complex."
Several other people confirmed their apartment complexes were being disinfected. And even that their "wu ye" (property management offices) were sending them regular updates. One even noted the wu ye were setting out disinfectant-soaked rugs at the car entrances to clean vehicle tires.
On Apartment Access
Numerous people noted that temperature checks are being done at their apartment buildings and delivery people are not allowed to enter.
"Pink notices are being posted in my neighborhoood. No cars are allowed in but they are allowed out. Once they leave they can't come back in," said one member, based on line one west of Beijing. "If we order food we have to go to the main gate to pick it up."
"In my neighborhood, located near Shilipu, Line 6, they are doing this and just noticed the security guard doing temperature checks," wrote another.
"Just went downstrairs to pick up my McDonalds and they're also now doing temperature checks for all those coming in," posted a third, while a fourth said he witnessed temperature checks being done at a mall near the south gate of Chaoyang Park, which meshes with my experience at TopWin.
On Delivery
One poster said for Jingdong (jd.com) users, delivery seems to be taking a long time: "Usually it's a 24-hour service that will deliver next day. Such is not the case currently."
Several posters noted that the holiday season was also part of the issue:
"It's an unfortunate combo of CNY (Chinese New Year) and coronavirus."
But most delivery services, notably for meals, seem to be running.
"Lot of delivery services still working in Beijing," posted one, with replies of "Yeah, I've seen a bunch of Meituan delivery people lined up in front of our gates" and "Yes, lots of deliveries working just fine. Even out here in Tongzhou [District] And that says a lot."
As noted above, some apartment security requires tenants to go to the gate entrance or street to pick up their deliveries.
On Food
It also seems the supermarket situation as stable, as I found in my own neighborhood. One poster said all supermarkets in the Chaoyang Park south gate area are stocked. Another said that while April Gourmet was out of bread yesterday, it was back in stock today.
"So keep calm, starvation is not upon us."
On Advice
Remember W-U-H-A-N:

W – wash hands
U – use mask properly
H – have temperature checked regularly
A – avoid large crowds
N – never touch your face with unclean hands
---
Beijing| Delays & Quarantine
Any hopes the coronavirus situation would blow over by the end of the Chinese New Year holidays were quickly dispelled, not least because the government extended the holidays as a safety precaution. Many people face uncertain work and school situations, including quarantine.
The WeChat account for VGCMove, the Volkswagen Group China's office space in Beijing, posted about extended closings and employees working from home.
Along with CNY holidays being extended to February 2, "a further period of home office / quarantine is applied at VGC until 17th of February," states the VGCMove account. "All employees who are currently in Beijing or who will be returning to Beijing by February 2nd should stay at home and conduct home office from February 3rd until February 17th… Offices for VGC entitites (V-Space, ACB and Future Center) will be closed until February 17th." More details on the company's safety measures here.
International schools in Beijing that announced delaying reopening until February 17 now face uncertainty and await government mandates.
"The authorities have indicated that they will notify us and other schools in Beijing when we have permission to open," states an International School Beijing (ISB) message. "We do not expect to reopen on Monday, February 17, and our campus will need to remain closed for a longer period."
The fate of schools across the board, including universities, is in the air, though some have announced they plan to leverage online learning.
There is also the issue of when / how many Chinese employees will return to Beijing given millions of the city's migrant work force is out of the city for Chinese New Year and may face real / potential travel restrictions as well as their own personal safety issues. (A Beijing friend whose business depends on delivery, which mostly means migrant workers, worries that enough drivers will return after the holidays. Given how dependent the city has become for delivery of everything from masks to meals, this is a real concern.)
Also, as noted here, some bars and restaurants that initially remained open for the holidays have chosen to close, citing a need for safety. I have received more such messages over the past 24 hours. Several owners also told me they are mulling such a move as staff are increasingly balking at coming to work.
I'm off to do a walkabout in my neighborhood and will post more later.
---
UPDATE 01.28 6:45 PM
[I'll update soon on how the coronavirus situation is impacting specific companies, schools and bars /restaurants.]
Travel | "In consideration of the current novel coronavirus outbreak, Chinese citizens are recommended to avoid recent overseas trips to guarantee the health and safety of both Chinese and foreigners, China's National Immigration Administration said on Tuesday….
'Also, the exit and entry administration departments of Hubei Province have suspended applications for ordinary passports as well as exit and entry permits for Hong Kong, Macao and Taiwan.
"Special channels will be opened for individual case examination and approval for those who need to leave the Chinese mainland for urgent reasons during this period." CGTN
WHO | "World Health Organization (WHO) Director-General Tedros Adhanom Ghebreyesus is confident in China's handling of the outbreak of the novel coronavirus…. The WHO chief made the remarks when meeting with Chinese State Councilor and Foreign Minister Wang Yi in Beijing….
"He said the WHO does not recommend the evacuation of nationals, and called on the international community to remain calm and not overreact….
"The WHO late Sunday reevaluated the novel coronavirus outbreak as "very high in China, high at the regional level and high at the global level." The WHO explained that it had stated "incorrectly" in its previous reports on Thursday, Friday and Saturday that the global risk was "moderate." CGTN
Beijing | "China's capital on Monday recorded its first death from a deadly coronavirus as it struggles to contain a rapidly spreading disease that has sparked global alarm, with countries scrambling to evacuate their citizens from the epicentre of the epidemic….
"Beijing's health commission said a 50 year-old-man who visited Wuhan died of respiratory failure on Monday, only 20 days after visiting the city."| AFP
Hong Kong | "Starting January 30, the Hong Kong Special Administrative Region government will reduce the number of flights, trains and passenger ferry service to the mainland, said Carrie Lam, the SAR's chief executive on Tuesday.
"As of Tuesday noon, eight new cases of coronavirus were confirmed in Hong Kong, and over 100 cases are in quarantine." CGTN
Mongolia | "Mongolia's official news agency says the country's Cabinet on Monday closed border crossings with China and suspended university classes to prevent the spread of a new viral disease….
"The report said border crossings with China were closed to vehicles and pedestrians.
"Universities and other higher education institutions were ordered closed until March 2. That followed an earlier order for public schools and kindergartens to close effective Monday through March 2." AP
---
Sorry, We're Closed
Plenty of Beijing bars and restaurants closed before Chinese New Year. That's not surprising. But what is of interest is a growing number of places that planned to stay open are now opting to shut their doors for the rest of the month, or even longer.
I posted earlier about how Nanjie Bar — 12 shots for 100 kuai! And a nice beer happ hour–closed for the first time in ages, with the manager telling my yesterday, "We want to protect our staff. We haven't closed for one day during the past ten years, so this was a really hard decision."
And how last night during a walkabout I found local hotpot restaurant and late-night favorite Haidilao closed and its WeChat account showed this was related to the epidemic, too.
And there are more today. Both Eudora Station in Lido and Nashville on Lucky Street near Chaoyang Park announced they are closing for public safety reasons.
Are there still many bars and restaurants open? Yes. But I believe we will see more closings over the next few days, especially given the government has extended Chinese New Year holidays, school re-openings are delayed and the virus' impact looks like it will be wider than imagined. Plus, I just don't think some places will have enough, or any, staff.
This will be a trying time for many venues. I've known a lot of restaurant and bar owners over the years and, with rent, labor and other costs going through the roof in recent years, they can't afford many down days, let alone down weeks. More updates to come.
---
Extra Protection?
Given how many people I've seen say, "Yeah, a mask covers your nose and mouth but you could also catch virus through your eyes", maybe this isn't such a bad strategy. And she isn't the only one. From plastic bottles over heads to bras as filters to masks as money, here are some others memes et al. Except for Corona beer ones. That low-hanging fruit already spoiled.
---
Updates 1.27 3:15 PM
"China's General Office of the State Council announced on Monday the Spring Festival holiday will be extended to February 2 as a measure to contain the novel coronavirus outbreak.
"China's railway operator also announced passengers who purchased tickets before January 28 could cancel their tickets nationwide without incurring any fees. " CGTN
---
Cleaning Up?
Beijing restaurants / bars like Hulu and Q Mex are not only open for the Chinese New Year holiday sbut also taking their sanitation protocols up a few notches as can be seen from the images above. Anything to lessen the worries of consumers shaken by the coronavirus crisis. (Hulu also has one of the city's best happy hours while Q Mex has some nice daily food deals.)
In fact, a large swath of venues in our Sanlitun-Gongti corridor are open during CNY. Yes, some of my new favorites are closed, such as Nao and Pi Bar, but there are lots of options for those venturing out, spots like Groovy Schiller's, Niajo, O'Steak, XL, Jing-A and Bottega, plus others across the city, from The Irish Volunteer in Lido to the Gulou area's El Nido.
But what surprised me are some of the closures. I originally listed veteran bar Nanjie as open but manager Jin said tonight they decided to shut.
"Sorry to tell you we are going to close the bar for one week because of the epidemic,' he said. "We want to protect our staff. We haven't closed for one day during the past ten years, so this was a really hard decision."
And during a midnight walk tonight, I found two reliable 24-hour joints also with darkened door. It looks like Pingwa Sanbao will reopen tonight. but our branch of hotpot legend Haidilao is closed until January 31 to "ensure everyone's health and safety." As we see schools delay the start of classes, and talk of extending the Chinese New Year holidays to help further stall spread of the virus, I wonder if we will also see more health-related bar and restaurant closures.
---
Update | 01.26 4:30 PM
New Cases. "Ten new cases of novel coronavirus were confirmed in Beijing on Saturday, according to local health authorities. This brings the number of confirmed cases to 51 in the Chinese capital.
"Beijing's Municipal Health Commission said in a statement on Sunday that three of the patients are medical staff, two of which had a travel history to Wuhan. The third contracted the disease after sitting with one of the infected doctors during a meeting. CGTN
Schools. French International School of Beijing (FLIP) and Yew Chung International School (YCIS) have postponed their post-CNY reopening dates from February 3 to February 17, reports Beijing Kids. Staff might be asked to return by the original date, then quarantined for two weeks to ensure they are safe. More school info at Beijing Kids.
Designated Hospitals. "Beijing Municipal Health Commission on Sunday announced 20 designated hospitals to treat coronavirus patients
"These 20 hospitals are in charge of the medical treatment for patients infected in the outbreak of pneumonia caused by the novel coronavirus.
"Beijing Ditan Hospital and Beijing Youan Hospital, which were the major hospitals treating SARS patients in 2003, are among the 20 hospitals." CGTN
U.S. Wuhan Evacuation. "The Department of State is making arrangements to relocate its personnel stationed at the U.S. Consulate General in Wuhan to the United States. We anticipate that there will be limiited capacity to transport private U.S. citizens on a reimbursable basis on a single flight leaving Wuhan Tianhe International Airport on January 28, 2020 and proceeding directly to San Francisco. Interested U.S. citizens in possession of valid passports should contact BeijingACS@state.gov with the information listed below. This capacity is extremely limited and if there is insufficient ability to transport everyone who expresses interest, priority will be given to individuals at greater risk from coronavirus." U.S. Embassy & Consulates in China
Australia. "Australia's chief medical officer has warned there will likely be more cases of the deadly coronavirus confirmed in the country, as the federal government explores plans to evacuate Australian citizens from the pandemic's epicentre in central China…. Three men are in hospital in Sydney after flying in from China, while another man in his 50s is being treated in Melbourne." The Guardian
Churches. The Diocese of Beijing has announced all its churches and chapels will close, and its public activities will be suspended for the time being. Regular attendee JA posted that Beijing's Bishop Li says parishioners "are especially reminded to keep faithful observances while they are released from Sunday obligation." A post states that although the congregation will not physically meet, broadcast materials are available.
Skating. "Popular Outdoor Skating Arena at Houhai Closed: In a sign that it's not just indoor facilities that are being closed, the outdoor skating area at Shichahai, a Beijing winter tradition that stretches back more than a century, has closed indefinitely as of Jan 24." The Beijinger
---
Update 01.26 8AM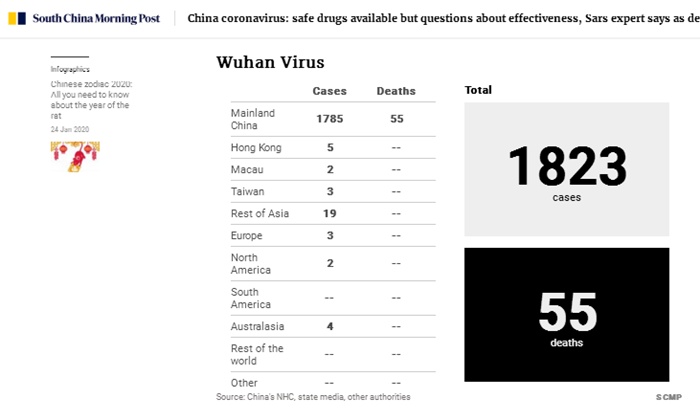 The above numbers for coronavirus cases and deaths were posted by South China Morning Post at 7:35 AM.
"Out of 31 provincial-level governments on the Chinese mainland, 30 have enacted level one emergency responses, the country's highest level of public health emergency response." Caixin
"The people who died were between ages 48 and 89, but the vast majority were at the top of that range and almost all of them had existing health conditions. Only two of the deaths occurred outside of the epicenter of Hubei province, of which Wuhan is the capital.
"'A bigger outbreak is certain,' said Guan Yi, a virologist who helped identify severe acute respiratory syndrome (SARS) in 2003. He estimated — 'conservatively,' he said — that this outbreak could be 10 times bigger than the SARS epidemic because that virus was transmitted by only a few 'super spreaders' in a more defined part of the country. Washington Post
"China will halt all outbound tourist groups as of Monday, January 27, the China Tourism Association announced on Saturday. The association said domestic flight and hotel bookings through travel agencies have been put on hold since January 24, while similar services for overseas destinations will be suspended from January 27." CGTN
"Temperature screening checkpoints have been set up in 387 Chinese railway stations by Saturday morning as local railway authority strengthened prevention measures to help curb the spread of the novel coronavirus.
"Passengers entering and exiting from these railway stations must take temperature checks, according to sources with the China State Railway Co., Ltd (China Railway).
"By 8:00 a.m. on Saturday, China Railway has also closed down, in collaboration with relevant local governments, the outbound channels at 72 railway stations in central China's Hubei Province." Xinhua / Global Times
Didi Chuxing to halt inter-city services to / from Beijing and Beijing to halt inter-provincal shuttle buses, both from January 26. Reuters

---
Safety Tips
Remember: wash you hands! Often! With soap! #yearoftherat
---
UPDATE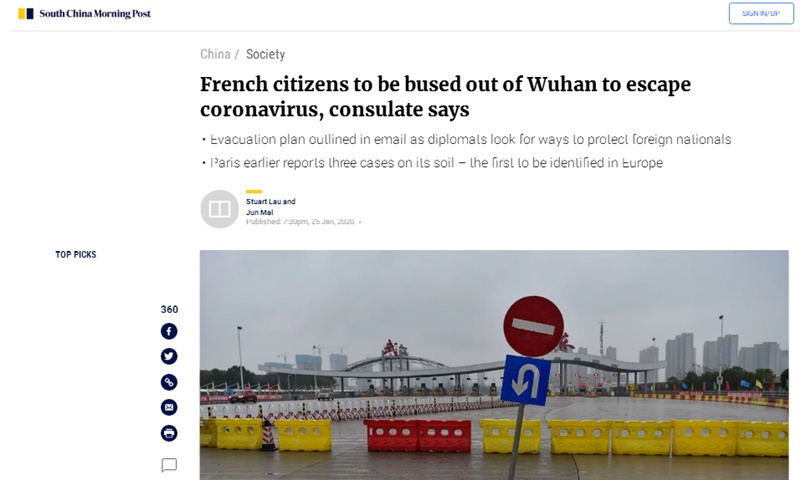 [01.25] France will offer its nationals, and their spouses and children, the option to evacuate by bus from Wuhan to Changsha, says South China Morning Post, based on seeing a French consulate email. (I've seen French nationals forwarding a message via social media along these lines.) Wall Street Journal reports a source told it the United States plans to evacuate its nationals by plane from Wuhan to the U.S. tomorrow.
Meanwhile, in our fair city, CGTN says "Beijing to stop all inter-province shuttle buses from January 26."
---
Love in a Time..
A friend is spending her CNY writing a riff on Gabriel García Márquez's "Love in the Time of Cholera." Perhaps the main characters will be renamed from Florentino Ariza to FluRentino Avirusa and–thanks to JA for this name–Fermina Daza to Fermina Dapenti / 打喷嚏 (sneeze)? My escapist literature will be Operation Yao Ming, which I'll be reading for like the fifth time.
---
Update
[01.25] As of this afternoon, there are 1330 virus-related infections and 41 deaths confirmed in China. Beijing has 41 confirmed cases.
"20 Chinese provincial-level governments enacted 'Level I' emergency responses, the country's highest level of public health emergency," reports Caixin. CGTN reports two hospitals totaling some 2300 beds are quickly being built in the city.
In Beijing, CNY festivals are cancelled and tourist spots like Forbidden City and Lama Temple closed, but shopping areas / bars / restaurants generally remain open, though it appears more restaurants / bars than usual voluntarily closed for holidays this year.
If you are intent on going out, you can still enjoy the superb happy hours at Hulu or visit spots like Paddy O'Shea's (from 3 PM during the holiday and providing a free mask with every Corona beer purchase: see below), Groovy Schillers (from 2 PM), Nanjie (from 6 PM) and Q Mex (usual food deals available), among others. Check before you go.
---
Rat vs Rat
What a difference a dozen years makes. In 2008, Year of the Rat hustled into our lives accompanied by a nonstop barrage of fireworks exploding over Beijing. In 2020, I have heard nary a whoosh, pop, whistle or boom.
Back then, we all wore masks due to pollution. This year, people donned them for a virus. And the nervous excitement of a city about to host the 2008 Olympics — China's "coming out" party — has switched to a growing sense of weariness and economic uncertainty.
Last night, I walked about my neighborhood in silence near midnight. I hardly saw a soul. The main evidence of human activity was a half-dozen death-gray ash mounds near street corners: the remains of "ghost money" burned hours earlier in the hope of helping those who have gone before us. Happy New Year, everyone!
(Video is of the 2007 CNY fireworks, taken from my former apartment overlooking Workers Stadium.)
---
Bees, Bombs & Bacteria
Bee stings killed more people than nuclear war last year. Fact. That's why we should be more worried about flying bugs than about being vaporized in a mushroom crowd, right? At least, that's how I see the logic of people in my timeline who look at the deaths from this Wuhan coronavirus, 25 confirmed so far, and dismissively note that more people die every hour in China from traffic accidents. Or some other game-over scenario.
I get it. People don't see the urgency until they see the numbers. I mean, people die in Beijing from rabies every year but it's only a few so it's still pretty safe to pet that stray dog on the street, right? Yes, it's pretty pretty (but not totally) safe.
The thing is we can grasp the risk of traffic accidents and bee strings and rabies via known factors and patterns. With new viruses–and nukes–there are unknowns and a grim possibility the situation goes Code Worst-Case Scenario.
That's what scares people, and rightfully so. Not what actually happened but what could potentially happen, with the added factor in this case of trust issues with information sources. This virus is like humanity finding a lump in its breast and nervously anticipating a diagnosis. Panic doesn't help but being scared is fine and there is no need to be dismissive about it.
(By the way, in re to the meme above, "Cat Scratch Fever" is a real thing.)
---
Face Time
Monday: hardly anyone wearing masks. Tuesday: about one-third to one-half of people I passed near Third Ring Road wearing masks. Today: Rich P took this photo of staff wearing masks at a Beijing restaurant. AFP also reported shortages of surgical masks at some Beijing pharmacies.
An employee at a pharmacy in Beijing told AFP it had run out of surgical masks two days ago.

"When it hit close to 300 cases, people realised it was serious," he said, adding that items such as thermometers had also been selling fast.

"It happened so suddenly; we didn't prepare any back-up and existing stock was quickly depleted."

A batch of masks that arrived on Wednesday morning sold out in just half an hour, he added.

The store still had other masks in stock but these were not designed for surgical purposes.
Tonight I walked to Jingkelong supermarket. I passed by 183 people: two-thirds (123) wore masks, counting a guy who had his pulled down while smoking. Many people in Jingkelong were wearing them, too. Luckily for durian fans, the aroma wafts right through.
Route: from Chaoyang Hospital, up Sanlitun South to Taikooli, then west to Gongti. Unfortunately, unlike the Jingkelong one block north, this one does not play the Magnum P.I. theme song on a regular basis.
---
Low-hanging Fruit
Tragedy and comedy are long-time associates, thus it's no surprise to find them together at this time. Or that people would grasp for the equivalent of picking a ripe lime from five feet off the ground, namely, a Corona beer joke.
Ha. There are lots more memes, too, ones themed on a shortage of masks, on the insensitivity of memes themselves, on the "until it affects [infects?] you" reality checks and, I included this one because I loved the show in its early days, The Simpsons.
Which is a long way to point out that sports bar Paddy O'Shea's went way beyond memes all the way to masks. In short, buy a Corona beer and get a mask, as did the gentleman who provided the photo below. There is lots of debate over how effective masks are against viruses, but they at least put a brake on sneezing and coughing particulates.
---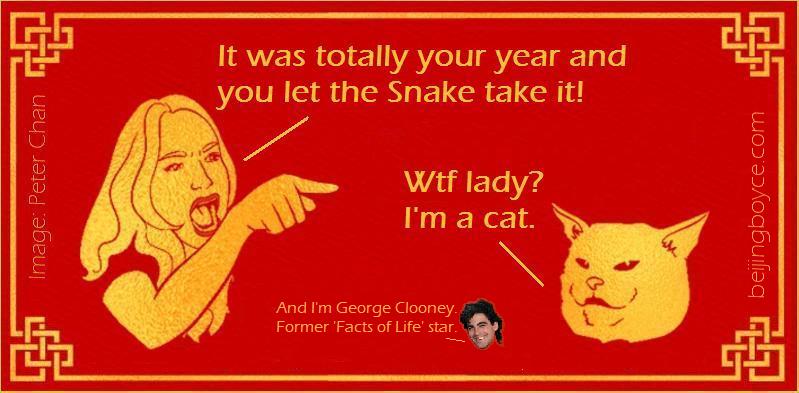 Year of The Rat: "Yeah, baby! This is my year! Mine, all mine!"
Year of The Snake: "Hold my baijiu."
News reports are pointing the finger at snakes as the possible jumping point of the virus to humans. (Yeah, I know snakes have neither fingers nor can they jump. Well, to be fair, these ones can.)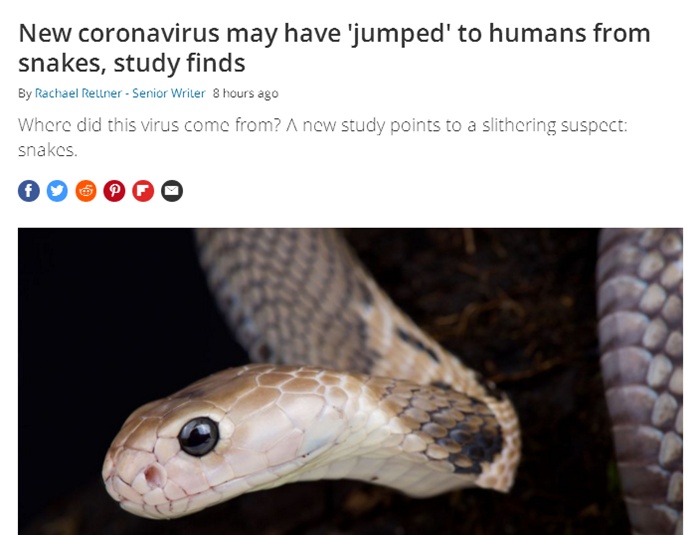 ---
Info
Some info on this new coronavirus and staying safe. More updates soon.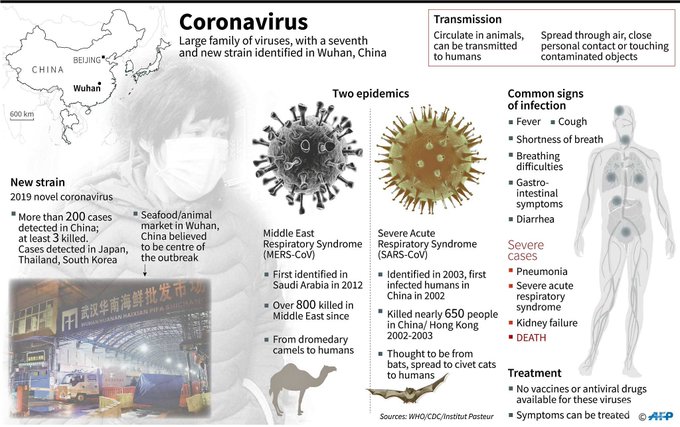 Hey! If this site helped you find new bars, restaurants, foods and drinks, or saved you money with deals here and here, help cover the hosting and other costs with a WeChat or PayPal donation. Also get updates via Twitter, Instagram and Facebook. And check out my sibling sites, Grape Wall of China, World Baijiu Day and World Marselan Day.