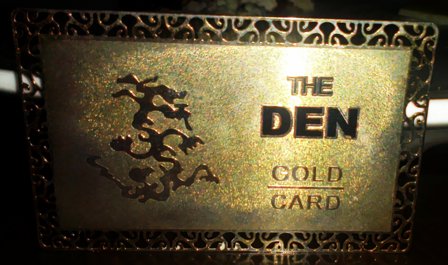 It's a big year in Beijing bar history. Frank's Place and The Mexican Wave, two bars often cited as kicking off the modern bar scene in Beijing, opened a quarter of a century ago. And several other places are marking fifteen years in business. That has me thinking about which Beijing bars have lasted longest in the same locale. (For instance, Frank's Place is still open, but moved to Lido, while other veteran brands like Nashville, The Tree and Maggie's have also changed spots.)
We've seen a number of veterans close in recent years, like Poacher's, Nightman Disco and Power House. So who's left and still doing business in the same location after, say, a dozen years? Here are ten bars that come to mind:
The Den: It's not only still in business but also still busy after more than 15 years. This place might also have the longest-running happy hour deal in the city.
Charlie's: Still open in the Jianguo Hotel, it predate Frank's, and was apparently the first place in the city to have a fax machine. Of course, that was all the reason needed to hold business meetings there.
Suzie Wong: A well-designed mix of bar, club and rooftop, it once ranked among the city's must-go places.
Centro: This Kerry Center bar still draws a crowd and has a good happy hour.
Jazz-Ya: This (just off) Sanlitun Bar Street venue is known for its Long Island Iced teas.
Passby Bar: A Nanluoguxiang original, it has been open for more than 15 years.
Lush: It's either 11 or 12 years old.
Vic's: Part of the Worker Stadium club scene for ages…
Mix: Ditto.
The Bell Bar: It's not open to the public but it gets a nod for this British Embassy bar gets a nod for decades of serving drinks.
More to come!
Note: I know I've covered this topic before, but I have yet to move all my archives from the old server to this new one. I'll post links to those old posts once I get that done.
*     *     *
Get regular Beijing updates via my
Instagram
and
Twitter
feeds. Also see my sibling sites
Grape Wall of China
,
World Baijiu Day
 and
World Marselan Day
. Help cover the hosting and other costs of these sites with a
WeChat
,
AliPay
or
PayPal
donation.
*     *     *