I remember well the Gung Ho launch party in July 2010 at The Opposite House. I'd been walking past that first pizza shop in China View complex many times during the previous month, and seen it get closer and closer to completion, and then found myself on a nearby boutique hotel rooftop eating pizza with — hey, is that tofu!?
Gung Ho was a quick hit in Beijing. Thin-crust pies and quality toppings paired with savvy marketing and speedy service translated into many fans. (It's Greek salad remains one of my favorite delivery items to this day.)
Five years later, Gung Ho is celebrating with deals from July 8 through August 8:
A buy one pizza, get one free in-store special.
A daily–7 PM to 10 PM–two-for-one drinks in-store deal.
And a 20 percent discount for online orders.
I've teamed up with the guys at Gung Ho many times over the past years, for everything from giveaways to snacks for wine tastings. (I hope to have my archives back up soon so I can link to the posts!)
That includes this martini and pizza, er, research study done at George's Bar soon after Gung Ho opened:
And this Gung Ho and Vedett house party contest, one of several giveaways on which we collaborated.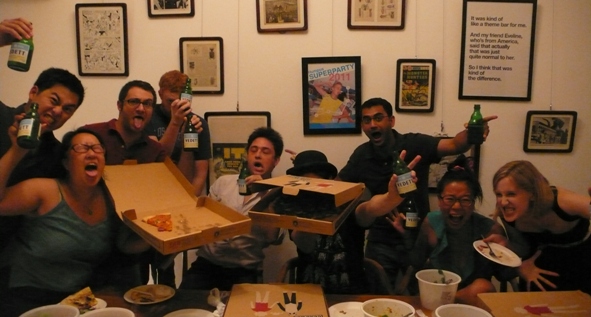 Good times!
To get more details about Gung Ho, or order some pizza, click here.
*     *     *
Get regular Beijing updates via my
Instagram
and
Twitter
feeds. Also see my sibling sites
Grape Wall of China
,
World Baijiu Day
 and
World Marselan Day
. Help cover the hosting and other costs of these sites with a
WeChat
,
AliPay
or
PayPal
donation.
*     *     *