After an intriguing tasting of Pio Cesare Barolo and Barbaresco that spanned four decades (more soon at sibling blog Grape Wall of China), I made the short walk from Four Seasons across the Liangma River to veteran Irish pub Durty Nellie's for a palate cleanser—and happened upon River Homebrewing & Steak.
This is a fairly new place with imported bottled and draft beer as well as local brews made in Wangjing. Plus steak. I tried a rmb59 flight that included German Wheat, Belgian Wheat, Cherry (the sole import in this lineup), Jasmine Lager and American IPA. The most interesting were the German Wheat, a soft and almost spritzy tipple with banana flavors and clove aromas, and Jasmine Lager, which did not skimp on tea one bit. More on this place soon.
---
Speaking of craft beer, Bell Banger will hold a tasting this Thursday at Cafe de la Poste, where it has been supplying a series of guest beers in recent months. I've only had two of those, including the 'Silent Sally' lager currently on tap, and enjoyed both. The tasting starts at 7:30 PM and is rmb50, which includes an intro to beer, the beer itself and snacks. RSVP at 6402-7047.
---
There are also several developments in the beer scene just a short walk from Cafe de la Poste. I mentioned in this bar crawl write-up that Flow Beer just opened. Now word comes that the large building being renovated across from Bungalow Tiki Bar will also have a beer focus. During the past three months, that building has been gutted and is now being prepared to serve as both brewery and bar. More details soon. (Hat tip to ORC)
---
On a final beer note, YR Nest, which replaced Charcoal in Shunyi, has released new brews. I never made it to Charcoal, partly because I was dissuaded by some of the people involved, and can't imagine I'll fare much better in the case of YR, but if you live in the neighborhood, it might be worth a look. (Hat tip to RB)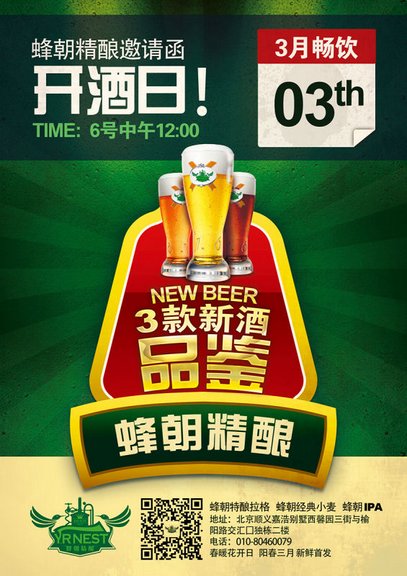 ---
Back to Bungalow, this tiki bar will feature six cocktails tonight for Women's Day, including The Betsy Ross, a potent mix that includes Port and Cognac. Others include the Desert Rose and the Strip & Go Naked, which received good reviews in a warm-up tasting last night. Team Bungalow also got the macho out of the way last night by playing the Magnum P.I. theme song. Twice.
---
Finally, O'Pasta has opened on Xingfucun Middle Street just down from sibling restaurant O'Steak. Expect pasta dishes from a half-dozen countries, plus salads, desserts and more, available from 11 AM to late.
*     *     *
Get regular Beijing updates via my
Instagram
and
Twitter
feeds. Also see my sibling sites
Grape Wall of China
,
World Baijiu Day
 and
World Marselan Day
. Help cover the hosting and other costs of these sites with a
WeChat
,
AliPay
or
PayPal
donation.
*     *     *