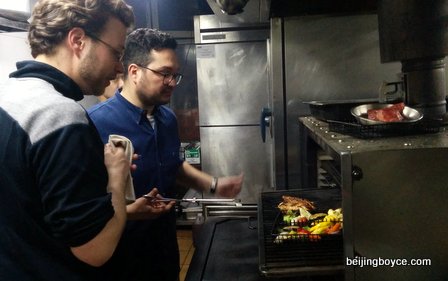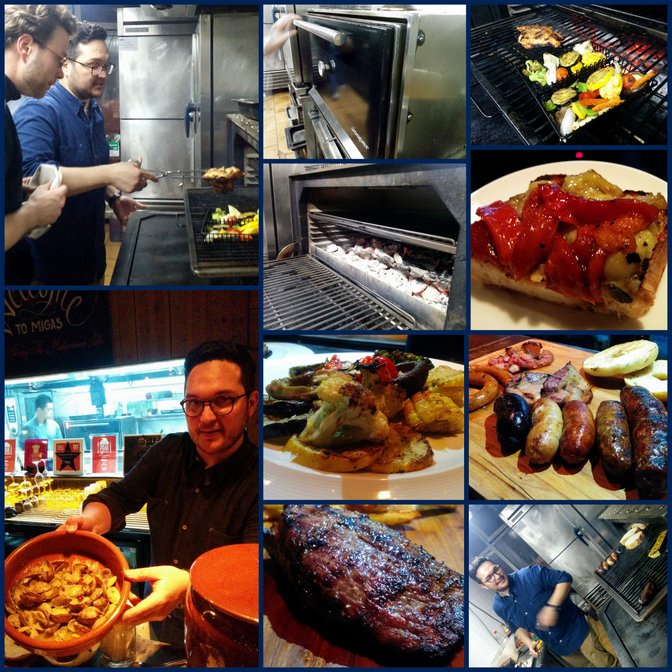 I've heard mention of Josper ovens dozens of times, almost always in relation to Spanish restaurant Migas, but knew little about these contraptions except that they produce a steady flow of incredibly delicious dishes, including the tastiest chicken. Last night, Eduardo Gutierrez, co-owner of Migas and a distributor for Josper, provided the lowdown on these fiery beasts.
It's fairly simple. These contraptions serve as both oven and grill and are fueled solely by coal–no gas or electricity. In contrast to open grills, Jospers have a higher temperature, which facilitate speedier cooking, and uses an enclosed space, which allows more moisture and flavor to be retained. The above unit uses up to ten kilos of coal per day, which is loaded in a tray at the bottom, with the ash being caught below that. Gutierrez says Jospers are nearly indestructible and rarely need fixing.
Chicken from one of these ovens defines delicious: the outside is crispy, the inside juicy and tender and thoroughly cooked. Even thirty minutes later, there was little sign of the meat drying out.
The oven is named after its two inventors, Josep Armangue and Pere Juli.
"They had a very successful restaurant and couldn't keep up to the demand," explained Gutierrez. "They asked how they could cook more food in less time and came up with this oven."
He got to know the Josper brand back home and then saw his relationship with the company grow after he moved to China.
"I worked for many years in my family's restaurant in Spain and we have five Josper ovens," said Gutierrez. who added that the man who installed those units went on to marry the daughter of one of the Josper company's owners.
"When I moved to China, I called him and said I wanted an oven. I got a good price in exchange for becoming the face of Josper in Asia," he said.
Gutierrez has since installed ovens and/or given demos in Japan, South Korea, Singapore and Taiwan. He says he'll soon install the first one in Mongolia. He also uses a Josper for the kitchen that services deli Traitor Zhou's, a project in which Migas is a partner, and will add one at the second branch of Migas, set to open in Guomao this year.
Last night, he cooked vegetables like eggplant, corn and mushrooms to show how much flavor and moisture they retain. A bowl of clams was a highlight, with the little critters absorbing some smoke, thus making them even tastier. A slab of beef emerged nicely seared on the outside and beautifully cooked inside. Gutierrez said chefs could experiment with pretty much anything, such as grilling pineapple for use in Pina Coladas.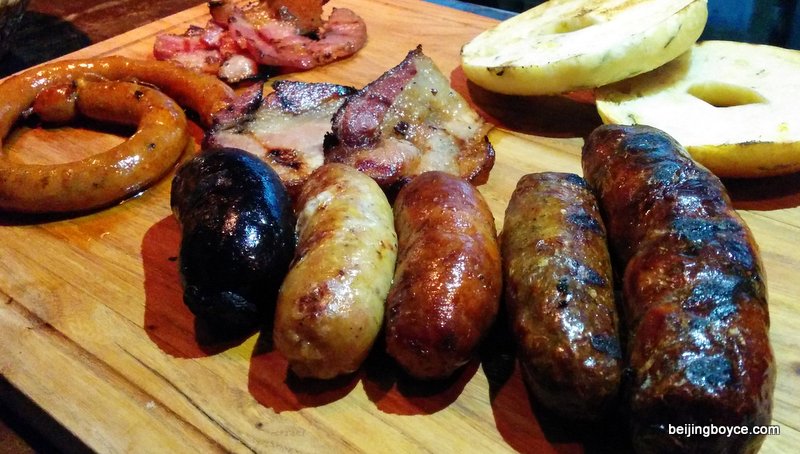 We also tried a range of sausages from Traitor Zhou's, which has a shop just outside Migas restaurant. I didn't find any of the dryness I sometimes get with other homemade sausages: these ones ranged from moist to juicy. My favorites were the chorizos, including the thin version, and botifarra. a pork sausage seasoned with salt and pepper. The mala sausage was interesting: it smelled a bit like a cinnamon Christmas cookie and had both sweetness and an edgy Sichuan peppercorn oil effect.
Back to the ovens: Jospers don't come cheap. The unit at Migas is about rmb100,000, including air freight. (If you can wait three months for delivery by boat, it's quite a bit cheaper.) But in the right kitchen, the mix of speedier cooking while taking up less space and delivering delicious results would make it a winner.
And if you can attend a demonstration, do so, because you're bound to end up eating lots of tasty food and, in our case, washing it down with a bottle of Qing Xue from Ningxia, one of my favorite local wines and available from The Wine Republic, and Negronis made with house-infused gin from Migas' bar next door, where free salsa lessons were in full swing.
(If you want to know more about Josper ovens, see here. You can get in contact with Gutierrez via Migas.)
*     *     *
Get regular Beijing updates via my
Instagram
and
Twitter
feeds. Also see my sibling sites
Grape Wall of China
,
World Baijiu Day
 and
World Marselan Day
. Help cover the hosting and other costs of these sites with a
WeChat
,
AliPay
or
PayPal
donation.
*     *     *