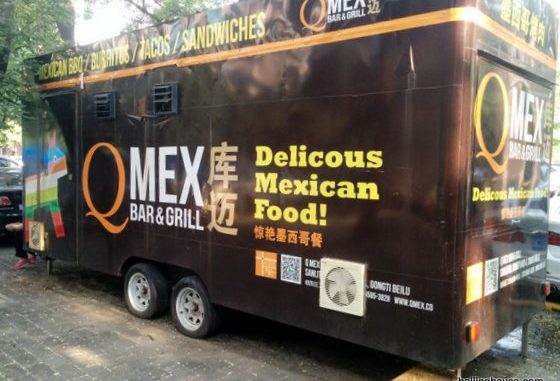 By Jim Boyce | Expect a second Q Mex to open early next year, near Liangma River, featuring a food lineup more closely aligned with its namesake nation. That means less Tex-Mex, Cal-Mex, Vermont-Mex (yep, made that up) and more, er, Mex-Mex. A three-member Q Mex culinary exploration team recently returned from a long visit to Mexico where it gathered inspiration, some of which will be reflected in the new menu.
(Word is they also gathered inspiration from the bottle, got rowdy one night, ended up in a standoff and then prison, and only escaped by being enclosed in a giant piñata and spirited to the U.S. border where they found themselves in the unorthodox position of smashing the thing from the inside—fortunate timing since a massive border wall will supposedly soon go up to block riffraff like Beijing-based restaurant owners. I'm still waiting for Q Mex to confirm this story.)
In any case, the new Q Mex—Two Mex?—will open in March or April. Along with that new food lineup, it will have a more spacious outdoor area than the present location. It's a smart move given the popularity of Q Mex, due to its prime location, tasty food, popular activities (the bilingual pub quiz is perpetually packed) and steady service over the past few years. Plus, those weekday food specials. If you're on a budget, and seeking the kind of food deal that allows you to then justify four margaritas, get half-price burritos on Mondays, pizzas on Tuesdays, nachos on Wednesdays and habanero chicken on Thursdays, all starting at 5 PM.
I just hope Q Mex starts selling this stuff:
*     *     *
Get regular Beijing updates via my
Instagram
and
Twitter
feeds. Also see my sibling sites
Grape Wall of China
,
World Baijiu Day
 and
World Marselan Day
. Help cover the hosting and other costs of these sites with a
WeChat
,
AliPay
or
PayPal
donation.
*     *     *