The fourth annual Maovember charity campaign teamed thousands of people in dozens of venues in six cities. I've covered it in full at the official site and will do a few flashback posts here as well.
History repeats! Dave "Bob" Gaspar was involved in the first three Maovembers in Beijing, first at The Brick and then at Home Plate. He kept up the good work after moving to Taipei this year to work for Kentucky Ale by organizing a Mr Maovember contest that honored the best beards and 'staches. The event was held at Taihu Landmark Tasting Room on November 30, with categories that ranged from Best Natural Mustache to Best Business Beard. While a final donation total from beer sales and a draw is still to be announced, Gaspar expects it to be around rmb2,500.
---
The guys at Beijing International Ice Hockey showed a true team effort for this year's Maovember campaign. Not only did 30 players grew 'staches, but they also raised rmb4,450 through "Grow Your Mo" shirts and Maovember pins sales, rmb1,200 from the auction of a Tragically Hip painting, and rmb1,800 in personal donations, including rmb1,000 from league member James Shepheard. That added up to a winning total of rmb7,450. And some pretty cool facial hair.
---
Wine importer and retailer CHEERS has used its mulled wine power to support every Maovember campaign thus far and 2016 was no exception. With the campaign now wrapped up, CHEERS announced it would donate rmb10,000 based on sales this year. And a further rmb700 was raised during a recent mulled wine tour of four CHEERS shops that included games like paper airplane races, corn toss, and mini basketball. All these efforts add up to a whopping rmb10,700 or 107,000 mao in donations. Hot stuff!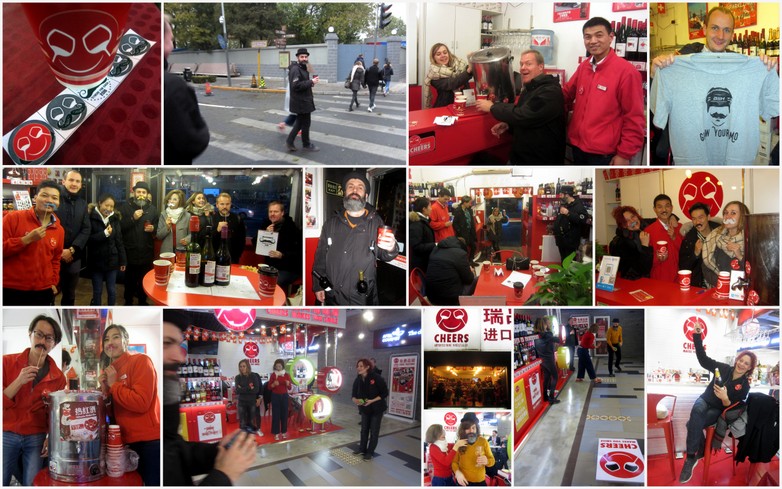 ---
A Pop-Up Beijing flea market saw attendees stock up on stocking stuffers and get into a charitable mood. Funds were raised for this year's Maovember campaign by selling beard oil samples, donated by Green Room, and shots of byejoe baijiu for rmb20 each. In the end, rmb1,050 was raised, with a further rmb200 in pin sales.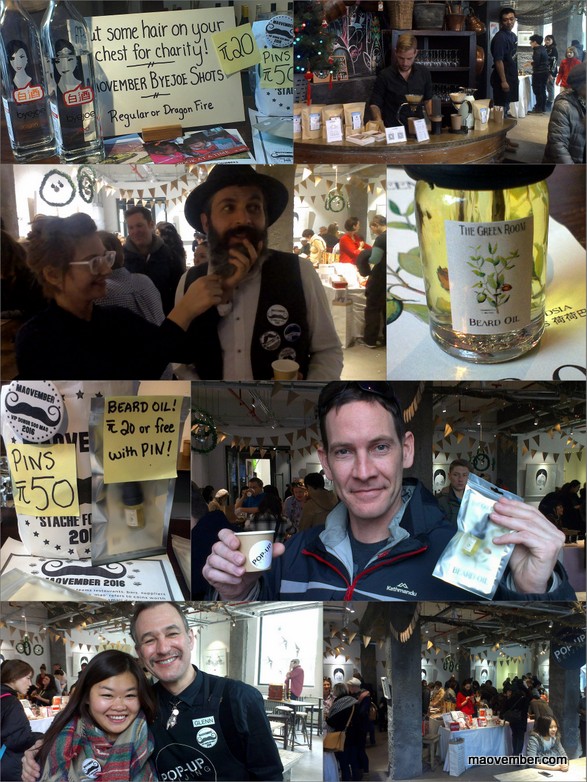 ---
Moroccan restaurant Caravan put a special twist on this year's U.S. Thanksgiving dinner celebrations in Beijing with a meal to support Maovember. With a buffet that included cajun salad, truffle macaroni and cheese, turkey with sweet potato and cranberry tajine, and more, people ate until they were, ahem, stuffed. Attendees each bought a Maovember pin, encourage by Caravan saleswoman par excellence Ting Ting, and contributed a minimum of rmb100 for the meal. In the end, rmb3600 was raised from donations and rmb2500 from pins, for a total of rmb6100 or 61,000 mao!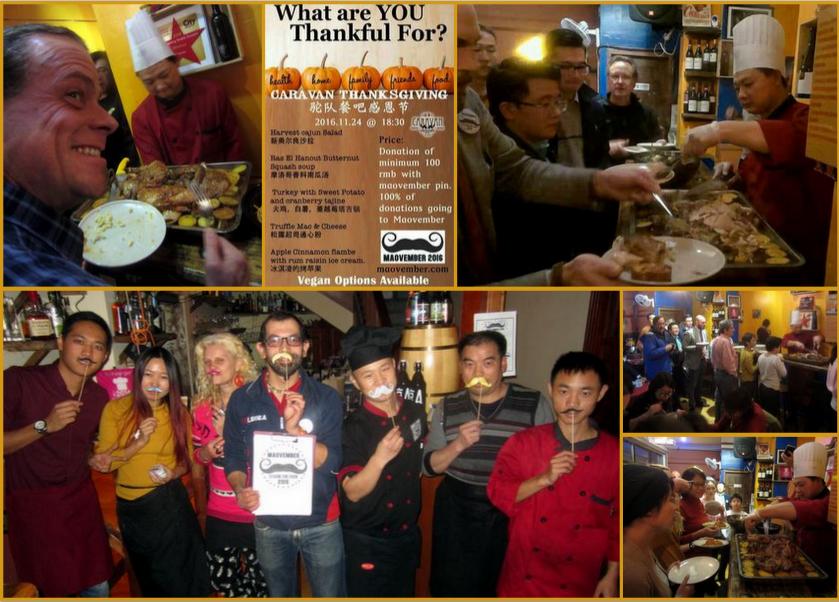 ---
Check out sibling sites Grape Wall of China and World Baijiu Day.
*     *     *
Get regular Beijing updates via my
Instagram
and
Twitter
feeds. Also see my sibling sites
Grape Wall of China
,
World Baijiu Day
 and
World Marselan Day
. Help cover the hosting and other costs of these sites with a
WeChat
,
AliPay
or
PayPal
donation.
*     *     *