Ten years ago today, the one-week countdown for the 2008 Beijing Olympics began. The opening ceremony on August 8 would double as a coming out party for China and capture the world's attention, for the breathtaking scope and intensity of the performances and the controversy over computer-generated fireworks and anthem-singing children. Attendees got a dose of the pollution residents regularly face, too.
That opening ceremony meant the end of seven years of angst and anticipation: for better or worse, the Games were on and that was a relief. I spent that night visiting over two dozens Beijing bars, clubs and restaurants, a warm-up for what would be an incredibly busy two weeks, with the next day starting with beach volleyball and ending with meeting Pierre Cardin. I'll post a series of flashbacks over the next week about those times. For now, here's that pub crawl.
---
The Olympics opening ceremony pub crawl
Where were you for the opening ceremony of the Beijing Olympics? Most people will have a quick answer: at home with my family, in a bar with friends, at an official viewing site with the masses.
Here's mine: on a pub crawl through Sanlitun, Workers Stadium East, The Place and Nanluoguxiang. The time line is below. And big thank you to Nicholas Carre, the GM of Maxim's and the man behind the local French publication Ping Pong, who volunteered to take photos.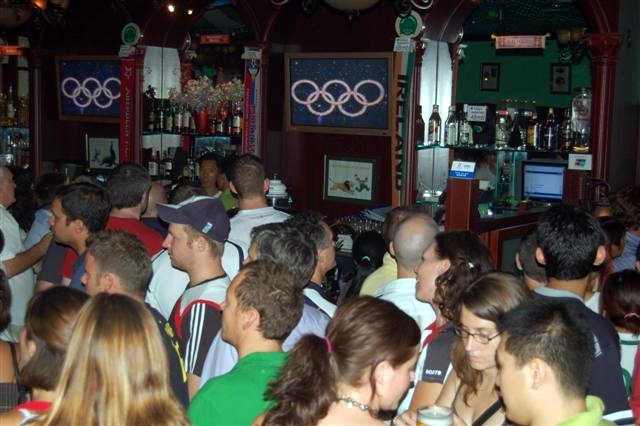 8 PM Paddy O'Shea's
It's standing room only in this Irish bar. The ceremony starts with an awesome if somewhat scary Matrix meets futuristic punk schoolboy drumming spectacle that almost looks computer generated. We head out.
8:09 A-Che
One bar, one 12-inch screen, three unhappy-looking middle-aged foreign female patrons…
8:18 Mare
Manager Josh greets us out front as we stride along the quiet street. "Did you eat?" he earnestly asks. It looks like light traffic for some restaurants tonight.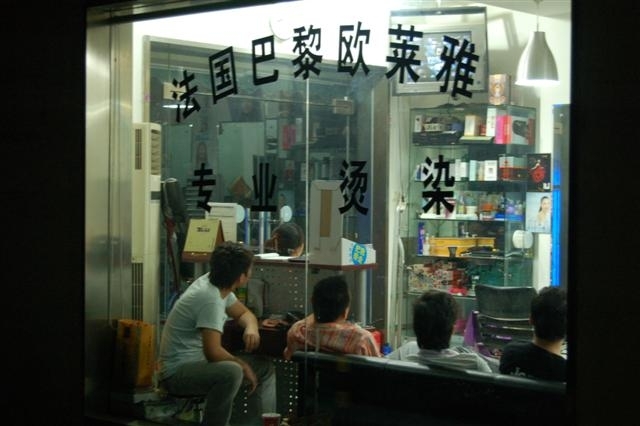 8:21 Beauty Fashion
A local hair shop: nine people, a few with their hair setting, face the TV in an arc of glee. Across the street, a handful of people outside a convenience store watch the opening on an old tube TV.
8:24 Tongli Studio strip
Luga's has no power, Aperitivo and Le Bistro Parisien have light crowds, and The Tree and Nearby the Tree are closed. Higher and Higher, the ironically named bars that opened in the Pure Girl spaces after an April drug raid, are fairly full, with a police officer sitting in back and watching the action.
8:30 Bountiful Wine Cellar
My first visit to the spot previously known as Mingle. This place looks more comfortable as wine bar than club. The menu is not spectacular but includes 80 bottles, starting at less than RMB100, with Roundtree California Merlot 2004 at RMB20 per glass.
8:38 Mesh (Opposite House)
About 30 people are gathered in front of a large screen. We decide to stay for a drink. A torturous session with the overly earnest staff ensues about where we will sit (they move seats to one spot, then we move them back again) and whether as non-hotel guests we can have a drink (the answer at first is yes, then later it is no). We decide to, uh, not stay.
8:45 China Doll
More overly earnest employees: they videotape us at the entrance as we receive "gold medals" with blinking lights, and then stalks us in the lounge and bar where we repeatedly say, "Please, just give us a few minutes." China Doll is the one place where the interior approaches the opening ceremony for colorfulness.
SMS from Beijing Elvis: He says there are more than 1000 people at The Place.
8:55 Saddle
A great turnout: The management cleverly arranged a huge projection on the stark white wall of the new Nali Studios. Downstairs reveals a familiar scene of people glued to TV screens. It reminds me of that part in Mars Attack when everyone is mesmerized while watching the first alien-human meeting. You know, before the Martians go ballistic and stuff. Anyway, we're getting thirsty, but this place is too busy to get a drink.
Meanwhile, Ciro's has a decent-sized crowd, Cheers has a half-dozen people, and Le Petit Gourmand has about ten people (the screen does not appear to be working).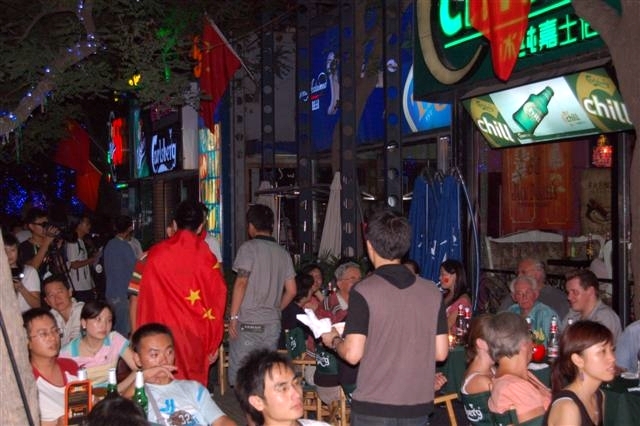 9:03 Sanlitun strip
These copycat bars are packed inside and out, and the sidewalks are so full that we need to detour onto the street. Lots of locals, lots of foreigners, lots of cheering, and lots of flags—wrapped around shoulders, stuck into caps, tattooed on cheeks.
SMS from 8 Songs: "Mayhem at Frank's. No audio leaves Aussie function in tatters, angry drunk Aussies invading next door functions." Uh oh.
9:11 Sanlitun "Village"
The huge new screen near the Apple store draws a big crowd. As we watch each team enter the stadium, we hear isolated cries go up here and there from fans.
9:20 Blue Frog
This is my first visit: it's a stylish pub with tiled walls, a wooden bar, and two decks. After our 80 minutes of pounding the pavement, the Tiger draft doth smoothly go down. The place is about half full. We are still watching as the teams come into the stadium—big cheers in Blue Frog for Palestine and Cuba.
9:43 Rickshaw
Two guys who say they hail from Johannesburg insist on taking photos with us outside. Inside, we watch as the Canadian team enters the stadium. (Hey, what is Dashan doing on the track!?)
By the way, why do we keep hearing bagpipes as teams come in?
9:54 The Den / Hooters
We hear the rowdiness of The Den from 50 meters away, so we head to Hooters, which is packed with a mix of locals and expatriates. A waitress stares at my China Doll gold medal, then looks up at me in amusement. "Shiny" say her eyes.
10:01 Drei Kronen 1308 / Stadium
This is the huge four-floor about-to-open German microbrewery / pub I have been checking on for weeks in China View. A manager recognizes me and takes us to its sibling sports bar, Stadium. We have a Carlsberg with the brew master and get a tour of the deck, where we can see all the way down to the copper beer tanks. Beautiful.
10:22 Klubb Rouge
The staff is friendly but the place has a very light crowd and we are not allowed on the nineteenth floor deck to take photos. We do get a Klubb Rouge whistle at the door. We also meet our first jackass of the Olympics—an American guy in the elevator. We grab a cab and head for The Place.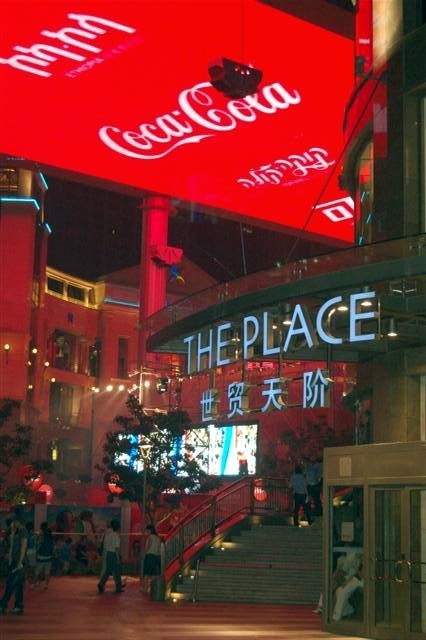 10:37 The Place
The front panel of that giant screen is turned off. No way! The huge underside is showing scrolling Coca-Cola logos. No way! Some smaller screens are set up to show the opening, but that's like getting bathtub gin when you expect Hendricks.
10:43 Enoteca
This place is cordoned off, but we want a glass of wine and convince security to let us through. Unfortunately, Enoteca management is as unfriendly as the guards, so we leave without ordering.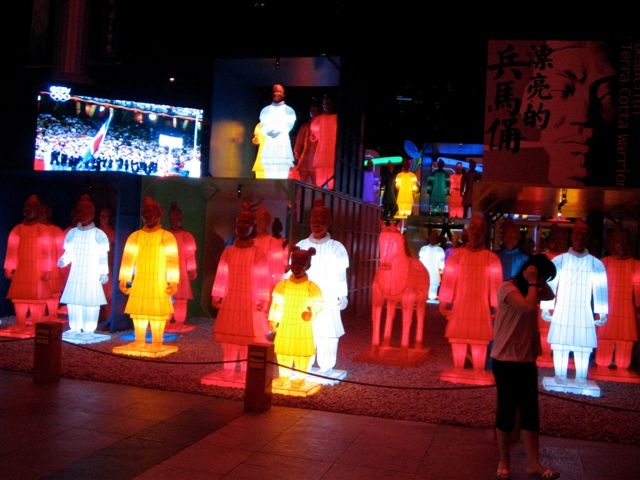 10:48 Coca Cola land
We get into the Coca-Cola monstrosity but only after the local security guards confer with a concerned looking foreign woman who makes sure we are not media. Coca-Cola has annoyed innumerable employees and customers at The Place by taking up the entire plaza and forcing everyone to make major detours. And it's all so we can see… a display with 24 versions of Coca-Cola… an exhibit of 6 X 3 photos of Beijing… a sign that says "Beautiful Terra Cotta Warriors" beside replicas that light up from inside… and so on. Definitely the low point of the night thus far.
A screen in the corner shows teams STILL entering the stadium and the bagpipes STILL playing.
10:57 CJW
A walk by shows the place to be fairly full, but overly tame, so we grab a taxi and head for Nanluoguxiang.
11:15 12SQM
We arrive just as the Chinese team gets on the field. Some of the athletes seem a bit uncomfortable with the whole flag-waving thing.
Co-owner Joseph treats us to an ice-cold opening ceremony Coopers Pale Ale. Nice! He also affirms that the viewers have heard a wealth of Scottish music: "It has been a cross between bagpipes and African drums." A patron chimes in: "Yeah, what's with the bagpipes?"
11:32 Salud
As we walk to Salud, we find the bars on NLGX either packed or fairly full. Salud is the former, and while it is hard to see the screen, the place has a good vibe and a nice mix of locals and foreigners. "Have fun," says Jacques Rogge, IOC president in his opening ceremony speech. Huge cheers go up as the IOC flag is raised.
11:51 Salud
This place is an oven, the Sahara at noon, the inside of an active volcano. It's hot, it's sweaty, and it seems an appropriate place to watch a huge flame get lit.
11:54 Salud
A bunch of people carry the torch around the stadium and luckily none of them accidentally light the Japanese or American flags on fire. Then it is handed to Li Ning, China's first gold medalist, and he… gulp… flies!?
Wow, Li is running along the top of the stadium like a pen nib along a piece of parchment, like a lone spirit atop the masses of the globe, like… to rework a Leonard Cohen line… a bird on a (moving) wire.
12:04 Salud
Beijing, we have liftoff! The flame is lit, Salud goes nuts, and even Hu Jintao has a "Holy hop scotch at a hot dog stand, did Li Ning just friggin' well fly across the top of the stadium!?" look on his face. We race out to watch the fireworks exploding over Houhai.
12:32 Houhai
We are on the side street leading to Houhai, passing Huxley's, 30, and other bars, and it is wall to wall people. An enthusiastic group of foreigners and locals chant, "Zhong guo, jia you." We reach the bridge and see throngs in every direction. Time to get off the street and relax.
12:46 La Baie des Anges
We were hot, famished, and thirsty, but this place has air conditioning, buffet leftovers, and plenty of wine, so all is well again. We chat with co-owner Olivier and have a few platefuls of food and a few glasses of Romaine Mohtplo 2007 (only RMB35 per glass).
We decide its time to take a few photos with our "gold medals."
1:41 Little Saigon
Carre wants to stop in and I'm glad we did: this place has a nice layout , a sedate terrace and, based on a quick glance, reasonable wine prices. Plus, they use empty sardine cans as wall decorations. I'll be back soon to try the food.
1:50 Bed Bar
The hutong is quiet. I watch as the bartenders use their fingers to make Mojitos. Tongs, people, tongs! (I shall henceforth drink Qingdao at this place.) We chill out for a while and then head for home to bed to close our eyes on the opening of the Beijing Olympics.
*     *     *
Get regular Beijing updates via my
Instagram
and
Twitter
feeds. Also see my sibling sites
Grape Wall of China
,
World Baijiu Day
 and
World Marselan Day
. Help cover the hosting and other costs of these sites with a
WeChat
,
AliPay
or
PayPal
donation.
*     *     *