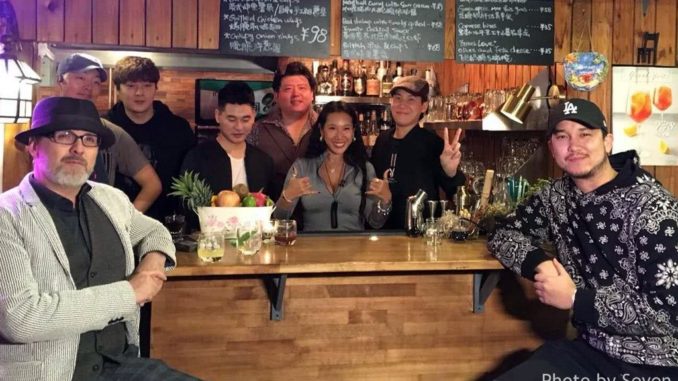 By Jim Boyce | A blast from the past last night as a bunch of veterans from former cocktail bar BBC teamed up at La Taverne. If you're frowning and wondering, "Hey, didn't La Taverne turn into Paradox Wine Bar?", that indeed was the case. It is going by La Taverne again: not exactly sure what happened except it sounds messy and both Paradox and the former GM are gone.
One of La Taverne's owners used to tend bar at BBC and last night was a chance to get the team together with the city's food and beverage trade. BBC's influence easily outweighed its diminutive size and short run just off Xingfucun Middle Road. From quality drinks up front to a barber shop chair in back, with occasional straight razor shaves, the place became a late-night go-to for the trade and cocktail fans. It also had several dozen vermouths, thus giving martini drinkers like me a wide range of options.
Anyway, a bunch of ex-BBCers were at La Taverne last night, some taking turns at the outdoor bar, including Eric Liu (Mao Mao Chong), Linch Li (Moonshine), Leo (Zhan House) and Quinn Johnson and Doug Williams (One Third). Not sure if there will be a repeat, but given the crowd that turned up, that might not be a bad idea.
*     *     *
Get regular Beijing updates via my
Instagram
and
Twitter
feeds. Also see my sibling sites
Grape Wall of China
,
World Baijiu Day
 and
World Marselan Day
. Help cover the hosting and other costs of these sites with a
WeChat
,
AliPay
or
PayPal
donation.
*     *     *