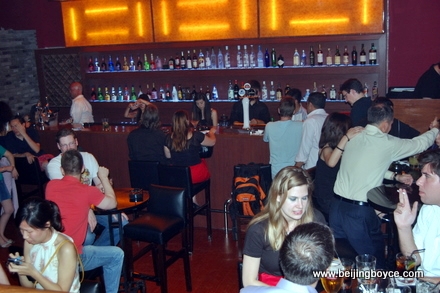 Fubar, the speakeasy with a hot dog stand out front, opened in the base of Workers Stadium ten years ago this week. The project partnered bar veteran Kevin Zhang, who dates to Sanlitun South Bar Street days, and Chad Lager, coming off stints at Tun Bar and The Rickshaw. Key staff included Lu Dong Ming aka "Xiao Ming" who has since gone on to open over a dozen bars, such as Revolution, Miles and Hidden House.
Fubar struggled out of the gate but timely financial support by Ashley Howlett kept the place upright until it found its stride and started to pull in customers and awards. Customers had lots of fun showing first-timers the hidden sliding door that led to the bar. Inside, they had the option of bar seating, a second floor wraparound balcony and several cubby holes. One seating area doubled as a stage for rock bands, burlesque shows, comedy nights and more.
Drink menu stars were 50-kuai Hendick's gin tonics and cocktails served in glasses shaped like Buddha and Fu Manchu. Meanwhile, the hot dog joint out front served wieners sizzling off the grill, with about two dozen topping options. Good stuff.
Fubar ranks among the Beijing bars with which I was most intimate, from documenting renovations to helping source furniture and audio equipment via an old Super Bar Street venue to serving as an ear to the partners as relations deteriorated. The Zhang-Lager partnership ended in 2012 and Fubar closed for good in 2018.
There are plenty of people I associate with Fubar, from the ouzo-loving duo Sammy 'n' Charlie to tunes master DJ Chunky to then-neighbor and unplugged musical maestro Ian Burns. I remember that place loading up with Christmas cheer for Santa parties, a "Ming Dynasty" night with 1421's Randy Svendsen that involved wearing historical costumes, the reunion gig of Big Aeroplane after a decade-plus hiatus, some raucous Beijing Beatles gigs, a Two Guys and a Pie pie-eating contest to raise money for Maovember, Canada Day Caesars with Danni Zheng (with no Clamato juice, we blended clams with tomato juice, with less than spectacular results) and partnering with Fubar to give away 100 bottles of spirits as part of a "Beijing Bar Rescue" project. Mostly, it was a place to go and have fun after a long day of work. It'll go down as one of my ten favorite all-time Beijing bars.
Here's a bunch of Fubar photos I took over the years. I've got more on some external drives and will dig those up, too.
*     *     *
Get regular Beijing updates via my
Instagram
and
Twitter
feeds. Also see my sibling sites
Grape Wall of China
,
World Baijiu Day
 and
World Marselan Day
. Help cover the hosting and other costs of these sites with a
WeChat
,
AliPay
or
PayPal
donation.
*     *     *