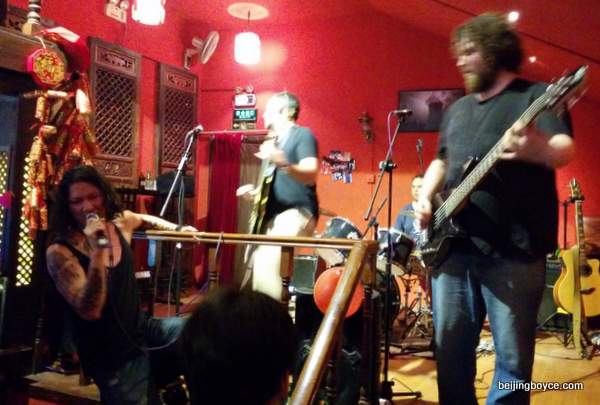 Veteran speakeasy Fubar will double as a live music venue on Fridays and Saturdays, says Justin Richardson, a veteran of the Beijing scene who formed the band Big Aeroplane in 1997 and is more recently known for projects like Strange Visitations. He is teaming up with bar owner Kevin Zhang on the project. Fans of those Buddha-shaped booze glasses at Fubar can rest assured they will remain available.
Saturday night saw nineties tribute band Bye Bye Kitty play as part of an Australia Day party that included Two Guys and a Pie selling more than a half-dozen comfort food options in the hot dog fronting Fubar, Australia beers VB and Coopers, and numerous rounds of "Aussie, Aussie, Aussie! Oi, oi, oi!" Lead singer Rich Akers fully tested the second floor stage — see photo above — to ensure safety for future acts. You can check the schedule via the bar's new website here.
Follow me on Twitter, Instagram and Facebook. Check my sibling sites, Grape Wall of China, World Baijiu Day and World Marselan Day. And help cover the cost of my sites with a contribution through PayPal or WeChat.