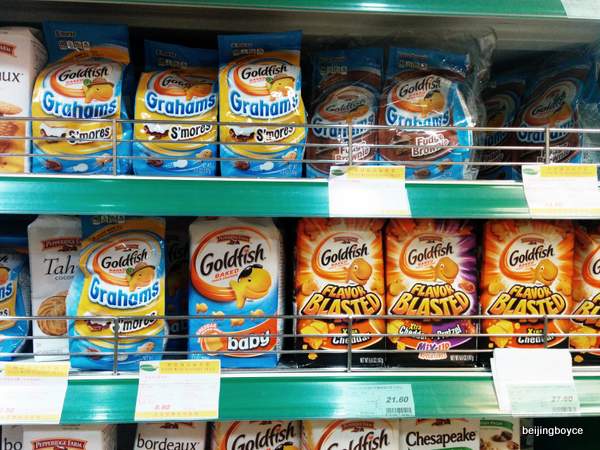 I'm not much into sweets, but I couldn't resist picking up a bag of Goldfish with a s'mores twist at Jenny Lou's for my friend DZ Rider, who is known to enjoy an occasional dessert. In fact, whether we are talking sweet, salt, savory or bitter, she is a champion eater.
Case in point: I once saw her eat, over the course of a few hours, a Blue Frog burger with fries, then a side of ribs, half a plate of nachos and nibbles from several other dishes at 1F, then a crepe at Crepenini, then a hot dog at Fubar. At which point she asked, "Do you think I should have another hot dog?" No, let's move on to the turkducken.
Anyway, DZ moved away before we could do a Goldfish transfer, I found myself hungry at 4 AM last night, and that bag got opened.
Here's what I expected: Goldfish that tasted like a mix of graham crackers, chocolate and marshmallows (see photo below).
Here's what I found: Individual goldfish for each flavor.
True, there are some discrepancies: the graham cracker and chocolate cracker are big fish while the marshmallow cracker is a mere minnow. But no one said life on Planet S'Mores was fair.
In any case, this is a fun snack, and the various crackers allow one to arrange the fish into mini s'mores or simply into comprising positions. Or for those suffering insomnia to think up ways to make the world a better place.
Note: I bought these Goldfish late last year at the Jenny Lou's on Xindong Road. There were about a dozen varieties on sale. I have no idea if any are left.
*     *     *
Get regular Beijing updates via my
Instagram
and
Twitter
feeds. Also see my sibling sites
Grape Wall of China
,
World Baijiu Day
 and
World Marselan Day
. Help cover the hosting and other costs of these sites with a
WeChat
,
AliPay
or
PayPal
donation.
*     *     *