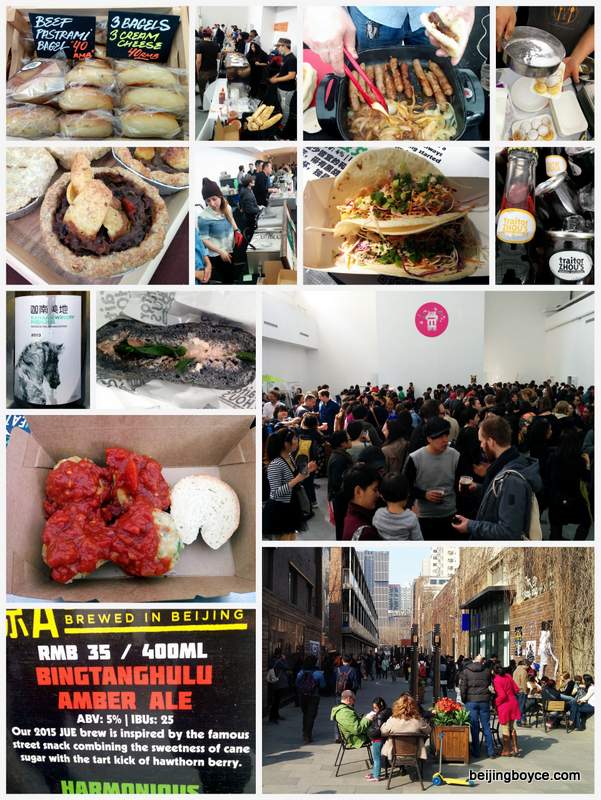 This review is being sent from the spiritual world as I remain in a food coma following the Jue Market yesterday. The wonders of technology, and specifically a program called telAPPathic, allows me to share these humble opinions whilst my corporeal self remains prone.
Note: This year's Jue Market included over a dozen food and beverage vendors. I focused on those I have never or rarely tried and thus skipped regulars like Two Guys and a Pie, Andy's Craft Sausages et al. I also skipped Big Bear Cookies, Sweet Tooth et al, as I'm not a big dessert guy, and Shangri-La Coffee, as I have a dozen bags of their beans at home.
1. Palms LA: 'Mexican Coffee' (元10)
The entry under "evil" in my personal dictionary includes a photo of a Nescafe three-in-one coffee package, a product that includes a mix of coffee, sugar and powdered creamer and that when combined with hot water serves solely to insult one's taste buds. I loathe it not only because the quality is poor but also because I dislike sweetener in my coffee. This 'Mexican Coffee', which includes molasses, cinnamon and star anise, is now the exception to the rule. After a sip or two to adjust to the sweetness, I found it a pleasant early afternoon pick-me-up.
2. Palms LA: Tacos (元25)
I tried one each of the kalbi and chicken tacos. There is a lot of flavor goodness inside the shells, from seasoned meat to fresh toppings to tangy sauce. I enjoyed the kalbi taco, even if the meat was a bit dry, but my vote goes to the chicken taco, where the mix of spices, ingredients and sauce married perfectly with a sprinkling of sesame seeds and ensured flavor explosions from start to finish. If I could redo the Jue Market, I would buy four, or maybe six, or those chicken tacos.
Note: Look for Palms LA to open a second outlet within the next month in the San Yuan Li area.
3. Traitor's Zhou's: Bagels (元40 for three)
I don't know the term for how much a given food returns to its original shape after being pressed — bounce back? — but these bagels positively display that quality. If you sat on a Traitor Zhou's bagel the size of a chair, you would comfortably sink a quarter of the way down and then, when you got up, watch it slowly return to shape.
Anyway, these bagels have a firm crust and chewy interior, and offer a pleasant workout for your masticatory muscles. I had the nori bagel with plum cream cheese and it was delicious. (There were other toppings available, including a couple of meat options, and people raved about them.) If I might quibble, I'd say a crispier crust would provide even more textural delight.
Anyway, I ate one and brought two home, along with the chorizo and plain cream cheeses, to snack on today. In fact, one of those bagels is on my desk right now, enticing me with its slightly-blistered golden-brown surface.
Note: Traitor Zhou's, which teams Okra Works, Migas and Willow Farm, should have its first shop open in a month or so.
4. The Meatball Company: Chicken Balls (元40)
There is a lot of buzz about these guys and their mysterious ways. Well, ways that are mysterious if you don't know how to use weixin and get their meatballs and sides like mac 'n' cheese delivered to your office or home.
On this day they stuck to chicken meatballs and a range of sauces. The meatballs are far more delicate than I expected. They are light, tender and almost flaky in the way they come apart. The accompanying tomato sauce was fresh as a spring day. And the small slice of bread beside it, well, not so good. It was dry and bland. My conspiracy theory: it served solely to raise the profile of the other items.
By the way, The Meatball Company is a candidate for this year's Jue Market "Good Samaritan Award" given it shared a good deal of leftovers with the stragglers, both in terms of  vendors and customers, as Jue Market wrapped up.
Note: Word is The Meatball Company will open a store in a few weeks near 4corners in the Gulou area, bump its meatball menu up to ten or so options, and also offer subs.
5 Cuju: Merguez Sausage (元30)
There is lots going on with this sausage sandwich. Lots of spice flavors in the meat, lots of good interplay between the mustard and fried onions, and lots of bread. I'd say there is too much of the latter, with the protein-to-carbs ratio a bit out of whack.
If I had had more to drink — and I blame my relative sobriety on Great Leap not showing up this year and thus cutting the number of craft brew booths in half –those extra carbs might well have been in order. As it was, I found they masked the sausage flavor a.k.a. the star of the sandwich. It was kind of like having Dusan Tadic captain your Premier League fantasy team when you have Alexis Sanchez, Sergio Ageurro or Harry Kane as options. Let the Sanchez sausage loose! (Sorry, I am in the Paddy O'Shea's league this year and just picked this week's lineup.)
Anyway, if I could redo Jue, I would either 1) get the sausage on its own, the mustard and onions on the side, and nibble on that bread throughout the day or 2) double dog it and pair two sausages with the bread. Actually, I'm pretty sure I'd go for the second option.
6. Jing-A: Bingtanghulu Beer (元35 x 4 = 元140)
My initial reaction to the idea of using candy-coated hawthorne berries as the inspiration for a beer was to roll my eyes until they flew out of my skull, both because that's how pretentious this brew sounds and because I like to live on the edge. Turns out this is nicely balanced beer with a slight fruity sweetness. It's a fun and frolicking session-y spring beer, a beer that several Jing-A people said they expect to refine and better, a beer that made the Harmonious Pale Ale seem like a hop bomb in contrast.
7. Traitor Zhou's: Shoju and Sangria (free taste via a friend)
Good and good.
8. Rager Pie: Burrito Pie (元35)
I eyeballed the burrito pie all afternoon, an easy task given how unmistakable it was with those nacho chips jutting from a chili base. I eyeballed it and waited until the bagels and tacos and sausages and meatballs settled in my stomach and I was ready to make my move. Then — I'm sure you can guess the next part — I made my move. Okay, here are three points about the burrito pie.
One, the ingredients are good. The chili is hearty and spicy. Yes, it's hot, but it's a restrained heat, like a controlled grass fire. Or something that's a better analogy.
Two, the crust doesn't work for me. It's whole wheat! It reminds me of what I'd eat if I were trying to be healthy, with a dusty goodness that seemed to be emitting minerals and vitamins by the nanosecond. When I'm eating spicy-as-a-grass-controlled fire nacho-chip-topped chili, that's not what I want. Could I get used to it? I'm not sure, although I did get used to the Mexican coffee pretty quick.
Three, the owner seemed genuinely interested in customer feedback, which is always a good sign. I will try more Rager pies soon, including the chicken pot pie.
Note: Rager Pie was paired with Gospel Coffee Roasters, which had some kind of mini lab setup, complete with an instant read thermometer to check water temperature and a digital weight scale to ensure proper weight of the final product. This place gets my vote for best-smelling coffee of all Jue Market time.
9. Kanaan: Riesling-Chardonnay (free)
What do you do when the beer runs out? (And kudos to the guys at Jing-A for actually getting more delivered from the taproom.) You tap into the emergency stock of wine you brought. In this case, a lovely Riesling-Chardonnay blend from Kanaan winery in Ningxia.
This is only the first vintage of white wine from Kanaan but it already shows superior fruit and balance versus the vast majority of what is produced in China. I made two people at the Jing-A booth, and a chef at Traitor Zhou's, try it, too. (The guys at TZ gave me a package of meat and two vacuum-sealed sausages. I'd say it was more than fair trade!)
10. Sue Zhou: Water (元5 x 4 = 元20)
Sue Zhou, who teamed up last year with Two Guys and a Pie for The Pie Bing — a meat pie wrapped in a bing — wisely brought plenty of water. She also made mini pancakes sprinkled with icing sugar that were a hit.
Total cost for six hours of eating and drinking: 元340. Given how much I consumed, I'd say that was decent value!
All in all, a good Jue Market, and with a strong turnout. The venue could have used more garbage bins and a water booth, as well as a poster with a day and date that matched, but no event is perfect. The mix of vendors — with the group selling foods and drinks a testament to how the Beijing scene gets better and better– and the entertainment, plus a chance to relax in the sun, made this one a winner.
(Check out new project World Baijiu Day and sibling blog Grape Wall of China.)
*     *     *
Get regular Beijing updates via my
Instagram
and
Twitter
feeds. Also see my sibling sites
Grape Wall of China
,
World Baijiu Day
 and
World Marselan Day
. Help cover the hosting and other costs of these sites with a
WeChat
,
AliPay
or
PayPal
donation.
*     *     *