Before I get to Copper, the new event space beneath the umbrella of the The TRB Group, a few words on Temple Restaurant Beijing itself. I get a steady stream of messages asking if Temple is closed, given the crackdown on private clubs in religious landmarks. Temple, and I discovered this a half-dozen times an old-fashioned way anyone can use — calling the restaurant — is open for business. It is registered, it is not in the actual temple, it delivers a consistently good dining experience on a nightly basis, and it raises the profile of Beijing in a positive way.
Anyway, I first saw the space for Copper, so-named because the metal in question was once processed on these premises, last September when I helped organize a wine tasting at nearby Temple. It served as a big cavernous space where we could store and organize our bottles.
When I stopped by yesterday, it looked much different.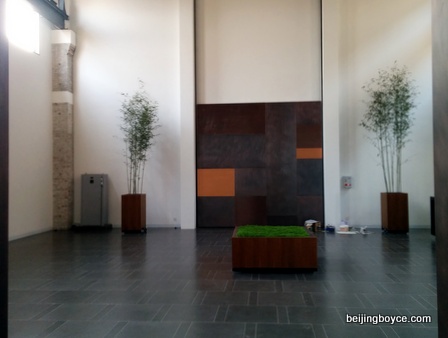 Very art galler-ish. That first-floor space can hold about ten dinner tables with 10 diners each, or about 200 people standing. The multi-colored panel opens to provide street access for deliveries or for guests to enter. There is also access on the opposite side of the building, which you can reach through this corridor:
You will also find the toilet areas immediately off that corridor, with three spaces for women and two spaces for men, and storage and other facilities further along. Copper will also be home to wines sold through the TRB delivery program.
There is an additional event space on the second floor. In this photo, it is set up for dinner for about 40 people.
Here is the view from that second floor:
Copper is a two-minute stroll from Temple Restaurant Beijing. It is deeper in the hutong, and trickier to find, but manageable with a good map (or, obviously, accompanied by the staff). It also has kitchen facilities and can easily draw on the resources of the restaurant proper. Finally, because it is in a residential area, don't expect wild late-night parties, but afternoon and evening events that wrap up by 10 PM.
*     *     *
Get regular Beijing updates via my
Instagram
and
Twitter
feeds. Also see my sibling sites
Grape Wall of China
,
World Baijiu Day
 and
World Marselan Day
. Help cover the hosting and other costs of these sites with a
WeChat
,
AliPay
or
PayPal
donation.
*     *     *