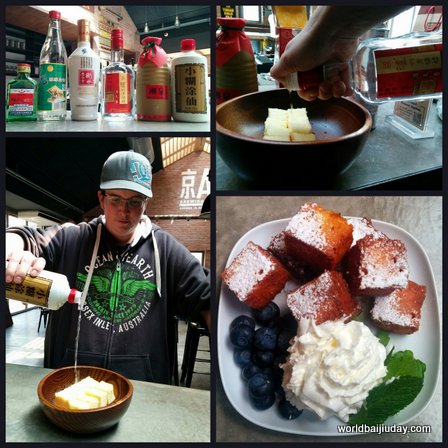 Deep-fried baijiu might sound weird, gross and even dangerous to some but it tastes pretty good, at least that's what we discovered during a tasting session led by Windy City chef Dustin Merrett at Jing-A Taproom this morning. In short, after amassing an armada of baijius, some slabs of roulade (think: angel's food cake) and a few toppings like whipped cream and blueberries, Merrett went wild in the kitchen and deep-fried three kinds of baijiu, a Bourbon, a tequila and a beer, thus following up on this earlier baijiu experiment.
The recipe is the same in each case. Cut the roulade into one-inch cubes, soak them with booze until they're dripping wet, and pop them into a deep fryer (Merrett said the one at Jing-A was 190 degrees and he figures results would be even better in the 220-degree to 250-degree range). Wait until the sides are golden brown, then remove the cubes,, sprinkle them with icing sugar, and top with any other ingredients you wish (like whipped cream).
Baijiu is quite pungent and turns many people off. I was surprised at how deep-frying tamed the smell and taste without masking the essence of the alcohol. I found the Xiaohutuxian smelled savory and a bit like sesame sauce and tropical fruit. I felt those elements came through in the deep-fried squares, with a slight pineapple cake effect. It turned out to be the favorite deep-fried baijiu.
This obviously calls for more experiments, including playing with different alcohol grades (we had everything from 35 percent to 67 percent on the table and didn't use them all) and toppings (it would be fun to try some jams, fruits like hawthorne and pomelo, maybe even some local honey). All in all, a fun way to spend a morning.
(By the way, the deep-fried Bourbon was rich and flavorful, and the tequila was okay, too. Someone needs to try rum, schnapps and other booze!)
Note: Thanks to the team at Jing-A Taproom, which will make a "qu brew" for World Baijiu Day this August, to Steve Schwankert and Richard Ammerman for being tasters, to Mariano Larrain at La Cava for providing one of the baijius, to Stefan Schmid at Q-Mex for a last-minute icing sugar donation, to Mike Signorelli of Sig Wines for sending me the post about deep-fried tequila that spurred this idea, and to Dustin Merritt for making the roulade, trucking it and a bunch of other stuff to Jing-A, and going on a deep-frying frenzy. More details on this session and other foods using baijiu will appear in the next The Beijinger.
(Follow World Baiju Day on Facebook here or Twitter here.)
*     *     *
Get regular Beijing updates via my
Instagram
and
Twitter
feeds. Also see my sibling sites
Grape Wall of China
,
World Baijiu Day
 and
World Marselan Day
. Help cover the hosting and other costs of these sites with a
WeChat
,
AliPay
or
PayPal
donation.
*     *     *