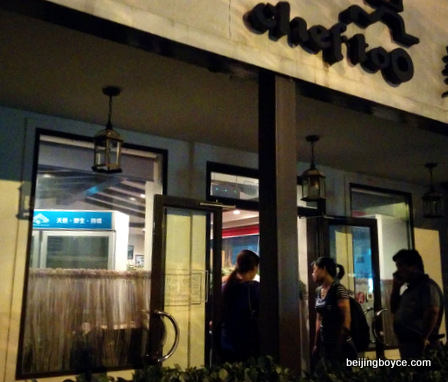 ~
Brian McKenna @ The Courtyard will close for good in mid-June. Known for nearly a decade of creative menus in Beijing, including at Blu Lobster and ROOM, McKenna says he no longer has the time needed for the restaurant due to a workload that includes an upcoming gastro pub, slated to open on June 19, and catering jobs and consulting gigs that range from the recent creation of a line of desserts for Hatsume and Comptoirs de France in Beijing to work on RON Gastrobar, by chef Ron Blaauw, in Amsterdam. The burning question: When The Courtyard is gone, where will David and Victoria Beckham eat when they visit Beijing!?
Chef Too has closed after eight years of serving comfort food at its New York City deli-style digs near Chaoyang Park. The end came last weekend as Billy Bolton a.k.a. Chef Billy sold the remaining equipment and supplies while fans of the place ate burgers and put a dent into the booze stock. They also witnessed the mammoth logistics nightmare — see pic above and below — of getting that huge stand-up fridge through the front door!
Chef Too quickly became popular when it opened ahead of the Beijing Olympics and I well remember my first blue cheese-topped burgers there. It also stocked one of the best Bourbon collections in town. Bolton kindly gave me a pair of bottles I will share with fellow fans. Perhaps its time for me to restart BRAWL, the Bourbon, Rye and Whisk(e)y League of Beijing?
In any case, when I posted about Chef Too on social media last week, I got plenty of "end of an era" responses from people who had eaten at the place on a weekly basis or enjoyed the catered food or had interviewed Bolton over the years or, in one case, had proposed to his future wife in the restaurant. Unfortunately, it sounds like the end was less than rosy, with partner discord hastening the closing, but plenty of people will retain good memories of the place.
Meanwhile, grilled cheese haven The Corner Melt, in the same alley as Frost, BBC and The Big Smoke–oh, and I can't forget Bob's Wine!–has closed after about six months business. That space is now for rent.
One of the driving forces behind the venue, Jimi Sides, got out a few weeks ago ago and reports that he is now working on Punk Rock Noodles just off Gulou Dong Dajie. The project looked in doubt when founder Lei Jun recently died of a heart attack but the remaining partners decided to forge ahead and Sides says the restaurant is slated to open in mid-June.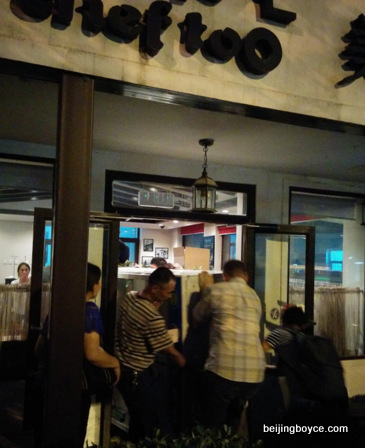 *     *     *
Get regular Beijing updates via my
Instagram
and
Twitter
feeds. Also see my sibling sites
Grape Wall of China
,
World Baijiu Day
 and
World Marselan Day
. Help cover the hosting and other costs of these sites with a
WeChat
,
AliPay
or
PayPal
donation.
*     *     *