FANG: Look for Xiao Shuai of El Nido fame to open a cocktail bar a few doors down from his beer-centric joint on Fangjia Hutong. He says the place is called 'Fang', after the hutong, should open in about two weeks, and will have more than 20 cocktails and a lot of good whisky options.
RAMO: Speaking of Fangjia, I finally got over there for the first time in a year and realized I need to eat more pizza at Ramo, where the pies are tasty and excellent value at rmb58. Even better, Ramo just started a buy one, get one pizza deal on Wednesdays from 6 PM to 10 PM. Friends tell me the burgers are also tasty.
POP-UP BEIJING: This slender venue between The Local and Jing-A Taproom is offering all-day happy hour prices on by-the-glass options through August 30. Get a generous 175 ml pour for rmb35 from noon to 10 PM daily. The lineup includes Gamay Rose, Viognier-Sauvignon, and Carignan-Grenache-Syrah-Mourvèdre, all French, plus Spanish bubbly–Pares Balta Cava–for rmb180 per bottle. (Pop-Up also has a 'back-to-school sale,' with 15 percent off everything, except artwork and prints.)
KENNY'S BURGERS: I like mustard. I like ketchup. But I don't like them mixed in a tiny saucer and presented as the sole condiment for my burger and fries, which is what I got at Kenny's Burgers, in the former Let's Seafood space in Nali Patio, when I finally visited for lunch last week.
If this were a house-made mustard and ketchup pairing, I could understand, but it seemed to be French's and Heinz. Given the talents of the owner, why not a smoked ketchup, a spicier mustard, a wasabi mayo, or similar, in bigger portions? The sauce bar at the former Let's Burger branch nearby was a big draw. A riff on that idea might work here.
Also, I can't think of one occasion in 2015 where I added salt to my food. But I wanted more seasoning for both the fries and burger. Liven things up a bit, please!
Given these things are easy to adjust, I plan to return. The window seats are clever and the courtyard view is a nice break from the bustle of Beijing. And the basic burger, at rmb58 with fries, is reasonably good value for this part of town. Plus I want to try some other items on the menu!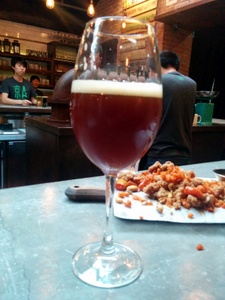 JING-A TAPROOM: This is a nice place to chill on a Sunday given the rmb10 discount on beers. I went yesterday to retry the "qu brew", the beer Jing-A made using qu, the fermentation agent for baijiu. This 12-percent tipple was much easier to enjoy on a relaxing Sunday night than on the crazy Saturday when I first tried it. I also found it much better with two weeks of maturity, with a superior smell, taste and balance. Try it while it lasts! By the way, the grilled-cheese sandwich with tomato soup–and Traitor Zhou's bacon option–remains awesome.
AUSTRALIAN NATURAL: I recently talked to Ross Tan and Nick van Leeuwen, owners of this organic and biodynamic wine operation, about their portfolio, about selling in China, and about why "everybody loves the pig". See this post on sibling blog Grape Wall of China.
If you're seeking Australian Natural's products via retail, try TRB Wine, Mali's Wine Cellar and La Cava de Laoma, while Temple, Capital M, Jing-A and Pop-Up are among the restaurants and bars carrying the wines.
MIGAS: Finally, Nali Patio veteran Migas celebrated its fifth birthday last weekend. I'm not into the raucous rooftop parties–I tend toward more sedate surroundings–but I have long been a fan of the food at this place. Migas has maintained a high degree of excellence year in and year out, whether we are talking about lunch or dinner, or the more recently added brunches. When it comes to creativity, quality and cohones, I can't think of a better place in our fair city. I'll sign off with this collage of the first Saturday brunch at Migas in 2015.
*     *     *
Get regular Beijing updates via my
Instagram
and
Twitter
feeds. Also see my sibling sites
Grape Wall of China
,
World Baijiu Day
 and
World Marselan Day
. Help cover the hosting and other costs of these sites with a
WeChat
,
AliPay
or
PayPal
donation.
*     *     *