Until it closed last year, Two Guys and a Pie was a popular stop for party animals in search of late-night fodder, for regulars who enjoyed sitting on the deck and shooting the guff, and for hoarders stocking up on a week's worth of victuals. Good news: the guys have reopened near the same spot, on the street behind Yashow Market, and I talked to pie master Matt Wong about what is on offer.
First things first: pies + drones = apartment window delivery. When does Two Guys Flies Pies launch?
Drone deliveries is a good idea but I want to take it up a notch. Lexus recently made a hoverboard. Once these become publicly available we plan to have Marty McFly deliver pies on these. [Then someone also needs to invent the Marty McPie — Ed.]
What can we expect at the new place?
It's pretty much the same as before. Pies, sausage rolls and Aussie beers, with the addition of chilled Thai coconuts–gotta keep the drinking crowd hydrated!
We're planning to decorate it a bit more with an Australian feel. In future we hope to run themed nights and try different foods for one-off occasions.
The street also has Mr Shi's Dumplings, Tiger Mama and a ramen joint that opened up in the last year, which we hope makes it a go-to destination for foodies and the late night crowd.
It's my first time to your pie shop. What should I order?
First timers to the shop should go with the beef pie and the zheige neige [mashed potatoes, mushy pies and gravy] on the side and wash it down with a Coopers pale ale. I'd advise them to try a bit with just the tomato sauce first and then with the filling. People then decide their preference for life.
Prior to having their first bite, they should ask our staff to take a photo of them to go up on the Wall of Pie Virgins. Also, if they follow our WeChat (pieshopbeijing) they will receive a free topping on their pies each time!
I'll name a few people and you tell me what pie you would serve them. Let's start with a fellow Australian: Sir Les Patterson.
You can tell he loves a pie or two. I'm thinking two beef, mushroom and Guinness pies with the 'zheige neige'. Plus an extra six frozen ones to go for breakfast the next day.
How about Jennifer Lawrence?
My kind of girl. She doesn't believe in diets and likes fries and so we don't have to hold back with her. She probably hasn't had an Aussie pie before, so I would start her off on a regular beef with tomato sauce. For dessert I'd give her the Biggs Apple pie with a scoop of vanilla ice cream for a taste of home. I'd then take her to Jian Club–the archery bar–and see if her skills are really as good as Katniss'.
And Jack Ma?
Given he's from Hangzhou and a highly successful businessman, he probably enjoys a good seafood meal. Even though we haven't made it before, I'm thinking a Canadian lobster pie with a Cajun sauce would work a treat for him.
Remember that amazing idea I had for something called the Pie-li Minogue? Why hasn't that become reality?
If you can think of a suitable filling to do it justice then we will make it! We're planning to introduce guest pies, where anyone can submit a pie filling idea and the winners get their pies made. And aside from bragging rights, they will collect some pie loot for their trouble.
If Matt Wong had to eat one kind of pie for the rest of his life, which pie would Matt Wong eat, and why?
If I could eat one pie for the rest of my life it would have to be a shepherd's pie. It's got beef and a nice crusty potato top. There's never a bad time to have hearty comfort food, right?
Note: Two Guys is open Sunday, Tuesday, Wednesday and Thursday from 5 PM to 11 PM and Friday and Saturday from 5 PM to 3 AM.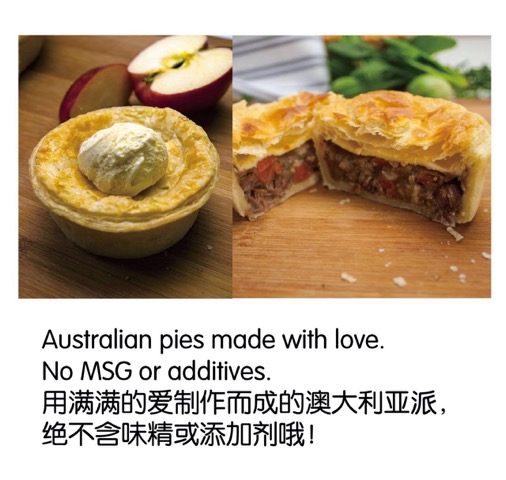 *     *     *
Get regular Beijing updates via my
Instagram
and
Twitter
feeds. Also see my sibling sites
Grape Wall of China
,
World Baijiu Day
 and
World Marselan Day
. Help cover the hosting and other costs of these sites with a
WeChat
,
AliPay
or
PayPal
donation.
*     *     *