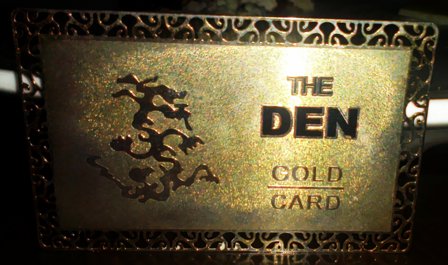 About six weeks ago, when word spread that The Den would close, I went there for lunch on what was reportedly going to be its last day. As I ate my first last meal (the ever-reliable eggs Benedict), veteran staff member Lisa, who has worked at The Den for 16 years, said that yes, indeed, the place was closing. Halfway through the meal, a bunch of guys in military suits and peaked caps entered and started inspecting the place and eventually headed upstairs with the management. I was nearly halfway through my second last meal (the ever-reliable chicken cordon bleu) when that group came back downstairs and left and I was told the place would instead remain open. Yay, The Den was saved!
I've visited The Den a few times since then and it's future did not seem sure. Notably, one night a few weeks ago people were listing their names to a kind of petition to show their support for The Den. Hmmm. Thus, it didn't come as a big surprise when Big C sent me the above image of an announcement that The Den will close this Sunday.
The Den has always been an intriguing place. When I arrived in Beijing, it was far more raucous, due to a dance space on the second floor and Maggie's just up the street at Workers Stadium. The Den still has a somewhat dubious reputation, given occasional late-night shenanigans, but it is far more than that. It has has supported local sports teams, been a haven for watching games, offered one of the best happy hours with beer and pizzas half-price daily from 5 PM to 10 PM, and served decent pub grub year in and year out. It's been a place to meet friends, have a few drinks and some food, and chill out. The staff members deal with a lot of jackasses and can be tough at times, but if you act decently, they are sweet. Anyway, I will miss this place. I'm out the door now but will have more on The Den soon.
*     *     *
Get regular Beijing updates via my
Instagram
and
Twitter
feeds. Also see my sibling sites
Grape Wall of China
,
World Baijiu Day
 and
World Marselan Day
. Help cover the hosting and other costs of these sites with a
WeChat
,
AliPay
or
PayPal
donation.
*     *     *