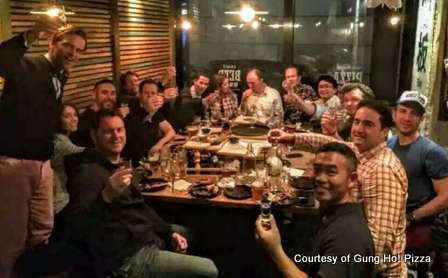 Gung Ho! recently hosted a pizza and baijiu party in Beijing that featured two bottles sourced by bowtie-wearing co-owner John O'Loghlen from his father-in-law's collection, a bottle of New Zealand's Taizi, and a wide range of pizzas for pairing. Those who attended the World Baijiu Day event at Pop-Up Beijing in August might remember the tasty drunken shrimp pizzas — the seafood is sauteed and flambeed in China's national spirit — created by Gung Ho.
Anyway, the 20 guests at the tasting started with Taizi, a 58 percent- alcohol, black licorice-y firewater that would light a flame 'neath most anyone. It had a whiff of raw alcohol but is a nice big spicy tipple from a place where the producer could have easily justified watering it down for the local market. An All Blacks-worthy potency.
The second bottle, from COFCO, poured dark and sweet, with prune and plum and chocolate raisin aromas. 'Medicinal' was the word uttered by several imbibers and it indeed seemed a third-cousin of Jagermeister, and an even more distant relative to Port and Sherry, though we'd be talking about a far quirkier and complicated aunt or uncle here. The kind that'd buy you Heart of Darkness for your tenth birthday.
Last up was the Moutai. This one had mellowed, with the bottled stored away for more than 35 years. The nose had salted plum, mild tropical fruit and caramelized rice, a subdued layer of that trademark Moutai funk, and another of damp barnyard. The mouth was smooth and refined — a counterpoint to the Taizi — and it was nice to be able to try such a spirit.
We also enjoyed Jing-A beer and wave after wave of Gung Ho pizzas, including that tasty smoked ham and mushroom combo. Ganbei!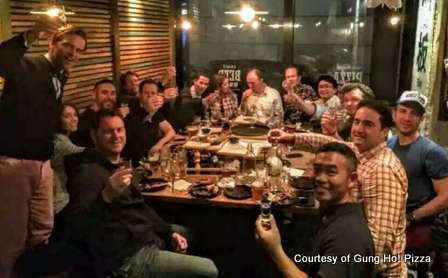 *     *     *
Get regular Beijing updates via my
Instagram
and
Twitter
feeds. Also see my sibling sites
Grape Wall of China
,
World Baijiu Day
 and
World Marselan Day
. Help cover the hosting and other costs of these sites with a
WeChat
,
AliPay
or
PayPal
donation.
*     *     *