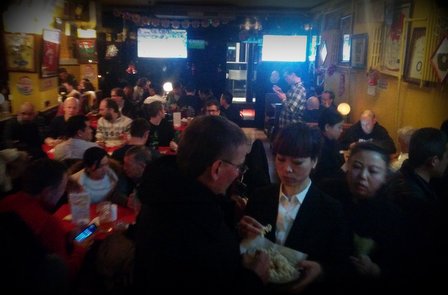 Nothing will replace the 24-hour-per-day booze-guzzling pub grub-gulping people-watching scene of The Den. Yet, now that this veteran bar has closed, we must somehow go on. Thus, here are six nearby options for the post-Den era. First, a few key features of The Den:
It drew a diverse crowd, a United Nations of customers from a wide range of jobs, from twenty-somethings to the long in tooth.
It served decent pub grub. People often went to drink but inevitably ended up eating the nasi goreng, the all-day breakfast or — bestill our beating hearts — The Den Combo.
It served as a sports bar, a place to catch a game and that sponsored teams, with lots of trophies to show for it.
It was open late. You could watch that crowd, stuff your face and catch sports at 4 AM.
It had a good happy hour, with half-price beer, mixed drinks and pizzas from 5 PM to 10 PM daily. Guinness + pizza = rmb60.
It had a tough but friendly staff. Be a jerk — The Den had its fair share — and you'd get an earful. Be nice and staff members were polite, even sweet.
Here are six nearby bars one might go to find at least some of these features.
Union Bar & Grille
With Guinness at rmb35 per (slightly smaller) glass from 4 PM to 8 PM daily, not to mention discounts on other beers, this place offers a Den-worthy happy hour. Wine starts at rmb48 — if memory serves, the pour is a quarter-bottle — while mixed drinks like Moscow Mules begin at rmb35. True, there is no half-price pizza and the people-watching is average, but you can watch sports and an impressive lineup of music videos, including plenty of cheesy ones. By the way, it's happy hour all day on Tuesdays.
This venue scores well on crowd diversity (you'll meet people from a dozen nations on most any night), hours (it's typically open til 2 AM but often much later for sports), pub grub (the upgraded kitchen is also open until 2 AM) and efficient friendly staff. Paddy's excels in terms of sports, with a dozen screens that can each show a different game and with sponsorship of a half-dozen teams, from hockey to rugby to football.
The weekday happy hour from 2 PM to 8 PM offers 30 percent off most drinks, and buy one, get one on select beers, and there are specials like free-flow local beer for rmb98 on Tuesdays and happy hour on 20-plus ciders on Thursdays. Add weekly e-sport (including FIFA 16), open mic, live music and quiz nights, and there is lots going on. Bonus: Paddy O'Shea's is now home to The Den's deck furniture.
With The Den gone, Beer Mania moves up the ranks of bars with a decade or more in the same location. The happy hour will expand next week from the current 6 PM to 8 PM to 4 PM to 8 PM. That covers half-price draft — Chimay Red for rmb25? Yes, please! — and deals on bottled beer. Happy hour is 5 PM to 7 PM on weekends. Beer Mania is open late: 3 AM from Sunday through Thursday and usually 4 AM on Friday and Saturday, with the kitchen closing at 1 AM and 2 AM respectively, and there is live music on Fridays and Saturdays during the winter.
The bar and kitchen are open until 3 AM, meaning you can get both late-night drinks and eats. Q Mex has a daily happy hour until 9 PM, which works well with the half-price deals on burritos (Mondays), pizzas (Tuesdays: try the nacho version), nachos (Wednesdays, which is also quiz night) and steaks, ribs and habernero chicken (Thursdays). The relatively new weekend brunch is a good way to recover from the night before.
Yet another fairly late-night option, usually open until 2 AM from Sunday through Thursday and 3 AM on Friday and Saturday. The kitchen keeps pace, meaning you can grab an avocado rub burger in the early hours of the morning and wash it down with a Bourbon Iced Tea. Happy hour is 4 PM to 8 PM and there are weekly specials, including three-kuai wings on Wednesdays. This place also aims to serve sports fans, including with its massive pull-down screen.
XL
One of the most under-rated bars / restaurants in Beijing, XL is open until at least 2 AM and more typically much later when the last of the crowd, which includes lots of regulars and people from the food and beverage trade, stumbles out. The burgers are top-notch — they're half-price on Tuesdays — and the kitchen is open until midnight. Other specials include all-night happy hour on Fridays, rmb35 Guinness and rmb100 bottles of wine on Saturdays and buy one, get one drinks — except for Guinness — on Sundays.
This list doesn't exhaust the alternatives — there are more, from veteran The Tree with its pizzas and late hours, to Luga's Villa with its solid happy hour and weekly food deals, to Schiller's a bit further away but with a pleasant local pub feel, to Ping Wha the 24-hour noodle, chuanr, etc joint — but it provides a few places to go now that The Den is gone.
*     *     *
Get regular Beijing updates via my
Instagram
and
Twitter
feeds. Also see my sibling sites
Grape Wall of China
,
World Baijiu Day
 and
World Marselan Day
. Help cover the hosting and other costs of these sites with a
WeChat
,
AliPay
or
PayPal
donation.
*     *     *