Facing my first deadline-free day in months, and a fully charged battery after 13 hours of sleep, I decided to go with the flow yesterday and that ended up involving habaneros chicken, Sexy Biscuit beer, an Alfonso Special, and more.
The day kicked off at Blue Frog in Swire Village with an interview with Bruce Connolly of AM774. We talked about Maovember, the Grape Wall Challenge, the closing of The Den and other legendary bars, and more. As usual, the coffee came with a chocolate chip cookie dilemma. Eat it right away? Progressively dip it and stagger the bites? Save it until the end? Such a tough decision. (I ate it right away.)
Given Union Bar & Grille is a a hop, skip and jump away, I popped in for the 4 PM to 8 PM happy hour when Guinness is rmb35 per pour. I ran into Lisa, 16-year veteran of The Den, and Neil, and shared a few drinks with them. The Union has one of the best happy hours but that trip outside and downstairs to the loo is a bummer. By the way, happy hour is all day on Tuesdays.
And Must Guetto had its official launch party last night kitty corner to Union, in the old Flamme space. This place originally opened on the first-floor with a menu of hot dogs, bagels and more. Will check it out soon.
I've enjoyed the Q Mex half-price deals on many occasions, including the burritos on Mondays, the pizzas on Tuesdays and the nachos on Wednesdays, but this was my first taste of habaneros chicken, one of the Thursday night specials. The chicken is juicy, not dry as I often find it elsewhere, and I'd buy that kick-ass spicy-tangy sauce by the bottle. The rice, beans and dried tortilla are nice touches but I can do without that ubiquitous salad, the one that seems to accompany every dish. Q Mex, Thursday, habaneros chicken, rmb44. Try it.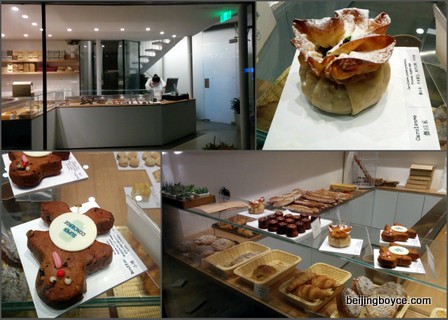 New cafe and bakery Tiens Tiens is now open just up the street, beside Nanjie and in the same building as Home Plate and Janes & Hooch. I tried some pastry a few weeks: it was delicious and, as the photos show, the presentation is top-notch. Tiens Tiens has three floors and a large rooftop that will serve as a superb place to enjoy coffee once warmer weather comes.
I didn't go to Long Jin last night but am adding few photo as I hear this place is officially opening tonight. I visited about a week ago with the Pop-Up Beijing gang and the theme here is tea — served in a traditional manner by day and in cocktails by night. It also has a back deck, though that heavy steel fence enclosing is a bit imposing. More on this place soon.
After finally visiting Arrow Factory last month, for a Maovember event, I was inspired to return for the delicious lager. No lager on this night! Will Yorke explained lager takes much longer than ale to make, that the current batch has been in primary fermentation for over a month, and that it should be ready in a few weeks. OK, it sounds like it will be worth the wait. Anyway, the Belgian Bruin served me well and the place had a nice vibe.
I love the wine bottle Christmas tree and the DIY cork decorations at Cafe de la Poste. I contributed some Canadian identity to that tree while enjoying a beer called 'Sexy Biscuit' from local brewers Bell Banger. This is easy-to-drink beer — note of honey, medium bodied, gulpable — and is rmb40 per pint while it lasts.
One of the year's best bar scene additions, Bungalow delivered on fun yet again. I tried a Pegu Club (a citrus blast), a Scofflaw (a punchy drink that'll put hair on your chest) and a Vieux Carre (also punchy but smoother). Bartender Phil also tried his hand at an Alfonso Special — gin, Grand Marnier, vermouth, bitters — and turned out a tasty version of this seemingly lost cocktail.
At this point of the night — post 3 AM — we might well have headed to The Den. Now we scratched our heads at what to do next. I eventually headed over to Groovy Schiller's where I played pool and drank whisky with co-owner Jack Zhou for a few hours and he talked about the scene, from his first job at the original Frank's Place to his experiences at places like The Tree, Shooters, 1F and The Bar to what's happening right now. It's fascinating to listen to these stories and see how much has changed. Oh yeah, he also kicked my ass in pool. After I won the first two games, both when he sank the white while shooting the black, he reeled off four in quick succession. Thanks for making me think I had a chance for a while, Jack!
*     *     *
Get regular Beijing updates via my
Instagram
and
Twitter
feeds. Also see my sibling sites
Grape Wall of China
,
World Baijiu Day
 and
World Marselan Day
. Help cover the hosting and other costs of these sites with a
WeChat
,
AliPay
or
PayPal
donation.
*     *     *