I've enjoyed several menu tastings over the past two months, including at Niajo, The Rug and Q Mex, and will steadily post about them, starting with the following feast.
Marcus Medina at Q Mex has long told me I must try the dishes he loves to cook but that aren't on the menu. The result: an eight-course food coma-inducing lineup last night. With Medina whipping up dishes in the kitchen, Deniz Sakaoglyu giving us the lowdown at the table and Lucy Li Cuiping acting as project manager between the two, I and fellow tasters Emily Yang of Daily Vitamin, Mike Peters of China Daily and Mike Wester of The Beijinger settled in for a tasty Mexican food adventure.
A quick note on Medina: Born in Los Angeles to Mexican immigrants, he went to Mexico City to study cooking in the mid-1980s with Alicia Gironella, long associated with helping to transition traditional Mexican cooking from home and street to fine dining. He returned to Los Angles to open a restaurant and then headed to New York where he and his brother have operated a series of establishments over the past 20 years — he says in the early 1990s many New Yorkers didn't know what a burrito was — before moving to China.
What struck me most about last night's meal were the robust aromas and flavors, from smoky grilled marinated pork to fresh savory tomato to tangy Parmesan wafers, and contrasting textures in the dishes.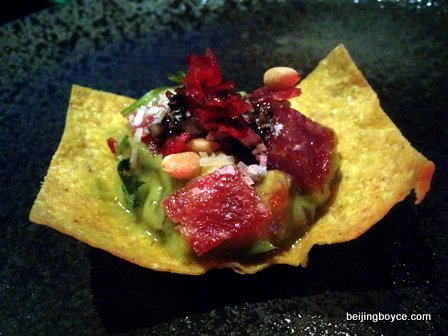 Guacamole with bacon and balsamic syrup. A rich opener where sweet, sour and savory elements from the bacon and balsamic meet the creaminess of guacamole. Thought I picked up some maple syrup — a coating on the bacon? — but it turned out to be brown sugar. Still delicious. This one includes chopped onions and pine nuts for extra taste and texture.
---
Mushroom fritters, with green salad, almonds and chipotle vinaigrette. A divisive dish, with the salad getting general praise but the fritters seeming a bit out of place to some. That salad is fresh and fun, with creamy feta, crunchy nuts, crispy greens and chewy dried cranberries, and a spicy aftertaste that lingered for a good ten minutes. The pomegranate seeds are a bit gritty but this salad is a winner. In contrast, the fritters are much heavier and milder, though they have a pleasant and pronounced shiitake mushroom flavor. They served as a kind of plain toast to the salad's cranberry jam. I think they'd be fun on the weekend brunch plate alongside bacon, eggs et al.
---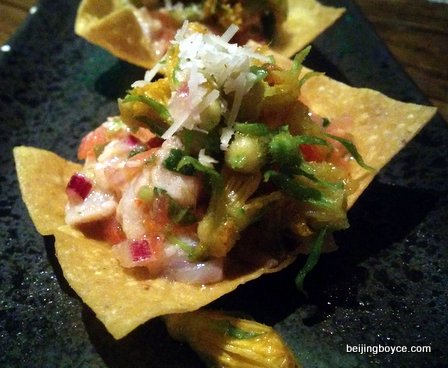 Ceviche cups, with marinated sea bass. A fresh savory tomato flavor married the fish and other ingredients — lemon, cilantro, chili, olive oil and more. Thumbs up. Marcus said ceviche style is quite localized throughout the world.
---
Causa with crispy codfish and spicy jalapeno butter sauce.  This seemed to be the overall favorite, no surprise as this dish is essentially a flavor station. The Parmesan wafer is chewy in that melted-then-hardened cheese kind of way, explodes with tangy Parmesan flavor and delivers a near melt-in-your-mouth experience. (I could eat a dozen of these on their own.) Add the fairly mild creamy potato ball, the crispy coated flavorful cod, and the spicy jalapeno sauce, and you have dozens of flavor combos to try. This might be one time when mom says 'Don't play with your food'. Mike Wester liked this dish very much: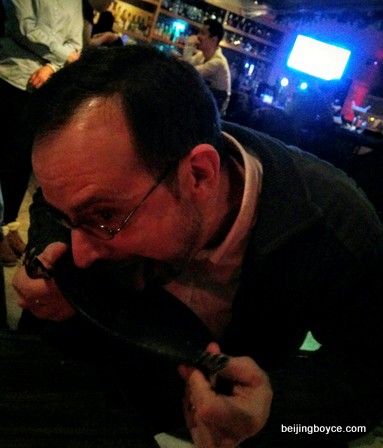 ---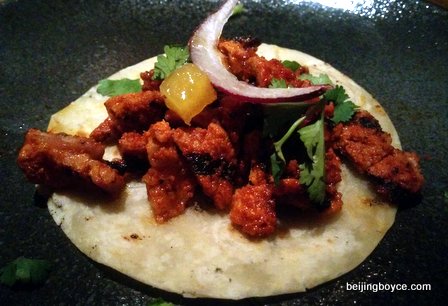 Chicken, beef and pork tacos. The chicken taco, with flour tortilla, includes moist chopped meat with a grilled smokey flavor. Plus cilantro, vidalia onion and avocado. Delicious. The beef is plainer and drier but the meat itself is top-notch. Those who want more heat and moisture can squirt on some house 'sour & spicy' or 'super spicy' sauce. The pork (picture above), like the chicken, is tender and smoky, and includes complex flavors from a marinade of chili, vinegar, brown sugar, pineapple, cumin and a bunch of other stuff Medina mentioned but that my pen wasn't fast enough to record. He said these were Mexico City-style tacos. All three are winners. It would be great to put these on a "secret menu", a trio that isn't listed but is available if you ask for it.
---
Pomegranate cactus with pico de gallo. A hmmm dish, it is a bit like the fritters and salad in having a fairly heavy and mild element (a battered and deep-fried cactus slab that I found too oily smelling) paired with a zippy one (the sauce on top). Plus, the return of those pomegranate seeds. This might be too challenging for a Mexican food novice like me.
---
Carnitas in red chili sauce. The tender pork falls apart with the touch of a fork. And… to be honest, I was approaching food coma at this point. I'm sure if it came earlier in the lineup, I would have written much more.
---
Raspberry pudding with a chocolate mole sauce. I'm not a dessert guy but this nut, chocolate, raspberry and spice — cinnamon and more — combo was delectable.
Let's hope a few of these dishes end up on a future menu — they are definitely available in the case of catering. In terms of personal preference, my top two were the taco trio, especially given the saucing options, and the causa with parmesan wafer. Next in line: the ceviche and the green salad. But the entire menu was enjoyable, a change of pace from the Tex-Mex and Cal-Mex I usually eat. I'm sure picky people out there will argue not every dish or ingredient fits the traditional cuisine of Mexico but this tasting helped further my interest in trying the foods of that nation.
*     *     *
Get regular Beijing updates via my
Instagram
and
Twitter
feeds. Also see my sibling sites
Grape Wall of China
,
World Baijiu Day
 and
World Marselan Day
. Help cover the hosting and other costs of these sites with a
WeChat
,
AliPay
or
PayPal
donation.
*     *     *