Five years ago, I started a series called "Must Tries" where bar and restaurant people gave their top picks from both their own menus and those at other places in Beijing. I'm restarting that series and first up is Andy Minoie, general manager of Element Fresh, who gives us recommendations for his place and three others. (Note: I'll also soon upload the archives of the previous "Must Tries" posts.)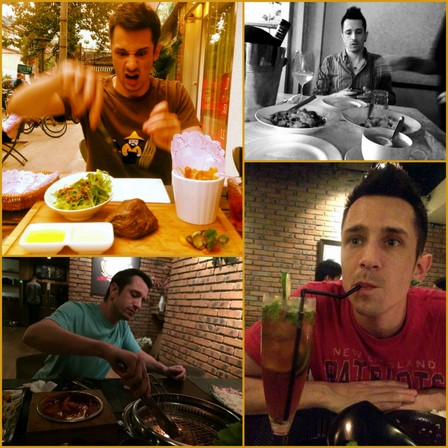 What is the "must try" food at Element Fresh?
It's tough to decide. I guess I'd say it is the Cobb Salad with Australian Steak. It's chopped Australian flatiron steak with a garlic-chili rub and picante sauce, grated cheddar, sauteed kale, roasted carrots, and grilled cauliflower, green garlic and grilled cherry tomatoes, served with homemade blue cheese dressing.
What is the "must try" drink at Element Fresh?
Ya gotta try the Avocado-Coconut Smoothie. Fresh avocado, coconut milk, bananas, and fresh spinach.
What are three "must tries" at other Beijing spots?
My fiance and I are big fans of Great Leap for its affordable burgers. She's from Xinjiang, so a lamb burger is always a plus. And me being an American, Great Leap is one of the best places for a burger and beer that makes me feel like I'm "sitting in a Boston pub".
There's an Iki [Korean restaurant] two minutes from my house on Shifoying and the service and atmosphere are great. Always a good place to go for great food, not to mention getting to cook my own steak is a fun addition.
My last fallback is Biteapitta! Avi is killing it with his food. Simple hummus and a Greek salad — or my lunch backup of shawarma! The staff are great and most have been there for years. As you can tell, I'm all about casual style. If I go non-casual, it's Sureno.
 
*     *     *
Get regular Beijing updates via my
Instagram
and
Twitter
feeds. Also see my sibling sites
Grape Wall of China
,
World Baijiu Day
 and
World Marselan Day
. Help cover the hosting and other costs of these sites with a
WeChat
,
AliPay
or
PayPal
donation.
*     *     *