Three good times eating and drinking in our fair but frigid city last week.
Inspired by this tasting, I visited the new Arrow Factory, in the former Vineyard Cafe space near Liangma River, during opening week and found it busier than a one-eyed cat watching a dozen mouse holes. (As the saying goes, it doesn't matter if the cat is black or white as long as it has one eye. And looks cute in Facebook videos. Blah blah blah.)
We grabbed a pair of seats at the communal table and started with my AF go-to brew: Two Birds Helles Lager. I also tried three more, with Dark Ages Black IPA — a punchy 7.7 percent alcohol, a body rounded by molasses, and ample but balanced hops — my favorite. And I mowed down a Spice of Life sausage plate (rmb70), with added heat courtesy of 'Hot Balls' sauce from Meatball Company, which hit the spot on a cold and blustery night.
Giddy after a few beers, and hearing that AF's Thomas Gaestadius hails from Sweden, we found it essential to tell him every famous brand or person we know from his country: Ikea, ABBA, Zlatan Ibrahimovic, Greta Garbo, Absolut, Borje Salming, Mackmyra whisky, Bjorn Borg and a few dozen more. I'm sure he enjoyed that, even if we missed Spotify, Hans Blix and Peepoople. Good times.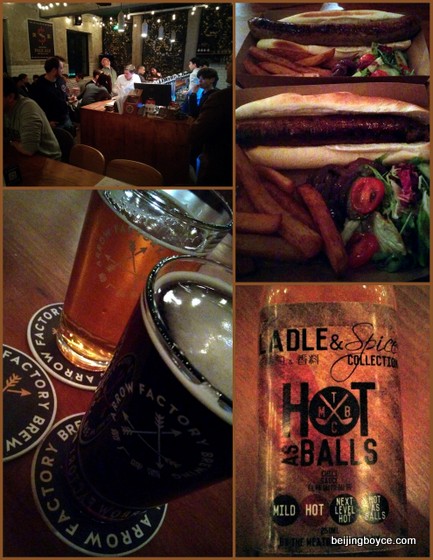 My experiences at Bottega were strictly limited to lunch until last week when I finally went for dinner. The restaurant was bustling, the murmur of distant conversations floated in the air, the food was delicious. I went to compare Italian and Chinese wine made with Aglianico grapes — from Feudi di San Gregorio and Grace Vineyard respectively — with the guys from CruItaly. And while win was the focus, we took time to inhale plate after plate of food, including prosciutto and cheese platters, pizza, trenchetto (think pizza on a log-shaped crust) and more. Why was the food so delicious? Because these guys use good ingredients and know how to get the crust just right — meaning, in some cases, *almost* burnt. That, combined with a pleasant atmosphere and a few glasses of wine, is a winner. Good times.
The Year of the Sheep was baaaah-d news for fans of veteran — and now closed — bars like The Den and Ichikura. Thankfully some new and worthy ones opened, including Bungalow, a hutong tiki bar with a tasteful arrangement of kitsch, a nicely designed and thoughtful menu, a genial clientele and ably-made drinks. We visited last Wednesday and every cocktail bartender Phil Tory laid down — whether Scofflaw or Old Pal or Corpse Reviver No.2 or El Diablo or a few with names I have since forgotten — is one I would happily drink again. Something did seem amiss, however, and it turns out one of the ceramic parrots is a.k.a. was accidentally smashed while one of the regular was, er, smashed. Good times. Except for the parrot.
---
Check out Beijing drink deals here, food deals here and lunch specials here.
*     *     *
Get regular Beijing updates via my
Instagram
and
Twitter
feeds. Also see my sibling sites
Grape Wall of China
,
World Baijiu Day
 and
World Marselan Day
. Help cover the hosting and other costs of these sites with a
WeChat
,
AliPay
or
PayPal
donation.
*     *     *