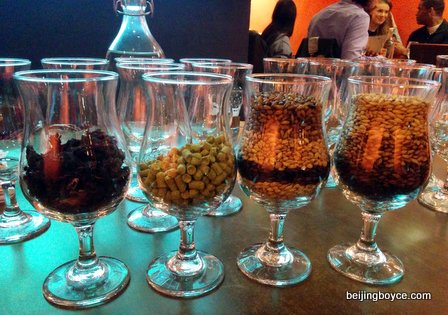 Cafe de la Poste hosted a Bell Banger tasting last Thursday, with brewers Chris DaBreo and Andres Quiro bringing a trio of beers to taste (see my interview with them here) .
DaBreo, who said they first started brewing in a friend's apartment last year, explained the role of beer's four key ingredients, including grain ("It's crazy the types of flavors you can get from using an individual grain or by mixing them"), hops (which can provide piney, citrus, floral and other features), water (they use 25-liter containers of the distilled stuff) and yeast ("you want to turn that sugar into beer"). He also talked about adding ingredients like spices, herbs and flowers for extra aromas and flavors, and said they are experimenting with sorrel flowers ("You get a very intense red and a floral smell").
Quiro outlined the brew-making process, including handling the grains, steeping them in water, and ensuring proper temperature and sanitation. He explained how beer differs depending on when the hops are added.
Then we started tasting! We used handy judging sheets that covered features like the head (the foam on top), aromas, flavors and "mouthfeel".
First up was Odd-Struck Pale Ale, which smelled piney, with a touch of citrus, mostly grapefruit. The body was fresh and fruity and slightly bitter at the end. Nice.
Next was a Blonde Ale made using sorrel flowers from the Caribbean. The Sorrel Experiment had lots of fruit aromas–first cherry then milder ones like yangmei–along with some spiciness and smokiness. Beer writer Tracy Wang said she smelled cinnamon and it turned out that the brewers had, indeed, added that and a few other spices. This beer was slightly sweet and creamy, with some red licorice flavor. Nicer.
The third beer was served quite cold, smelled like black drip coffee, and had a malty but overly sour and bitter taste. But once this one warmed, that coffee aroma became richer and grew to include bitter chocolate and some vanilla and nutty smells. And that sourish taste was soon crowded out by milk chocolate, rich coffee and other flavors, with a slightly bitter malty chocolate finish. I initially ranked this one–the Got Milk? Stout–least favorite but ended up enjoying it most. More CowBellBanger, please!
Trying these three beers along with tasty Cafe de la Poste snacks cost a mere rmb50, a most excellent value, and hopefully there are more events in the making from the guys at Bell Banger, whose operation is a nod to Beijing's Bell Tower and who have lots of other interesting beers to present.
*     *     *
Get regular Beijing updates via my
Instagram
and
Twitter
feeds. Also see my sibling sites
Grape Wall of China
,
World Baijiu Day
 and
World Marselan Day
. Help cover the hosting and other costs of these sites with a
WeChat
,
AliPay
or
PayPal
donation.
*     *     *