By Jim Boyce | The Booger Cup is down to the final two contestants. Picking his way out of Group A is LeBron "The King" Jams, who pump-faked Picton Manning, dribbled past Freddy Booger and posterized Mucus Lisa, a staunch competitor that painted her own path by brushing aside George Mucus and F. Snot Fitzgerland. He'll go against The Queen and her crown jewels a.k.a. Royal Nose Nuggets from Group B, who edged Ralph Wiggum, disadvantaged as Miss Krabappel only excused him from school at the last moment and he had little time to prepare. There you have it: The King vs The Queen going nose to nose in The Booger Cup finals!
In other news, Pop-Up Beijing has signed on as the official nose mining accessory sponsor of The Booger Cup. Glenn Schuitman, co-owner of the multiple lifestyle magazine award-winning  home decor venue says he is "stocking up now" on both antique instruments as well as reproductions. Go to Pop-Up and take your pick!
---
[Original post] I went on a #FeelTheBurg rant yesterday about The Burger Cup organized by The Beijinger, partly because XL Restaurant & Bar and its tasty patties were not nominated, partly because I was bored, and mostly because I am tired of spam related to this contest. Anyway, I boldly announced that I would come up with an alternative to The Burger Cup by today.
For those who figured it would have something to do with patties and buns and fresh toppings, you might be disappointed. I decided to take an entirely new track and changed the name of the magazine to the BeiFinger and the contest to The Booger Cup. And because I had a particularly bad case of procrastination last night, I not only made a Booger Cup bracket but also a news feed of fake upcoming events.
By the way, if burgers are more your style, XL has them for half-price Tuesday nights.
---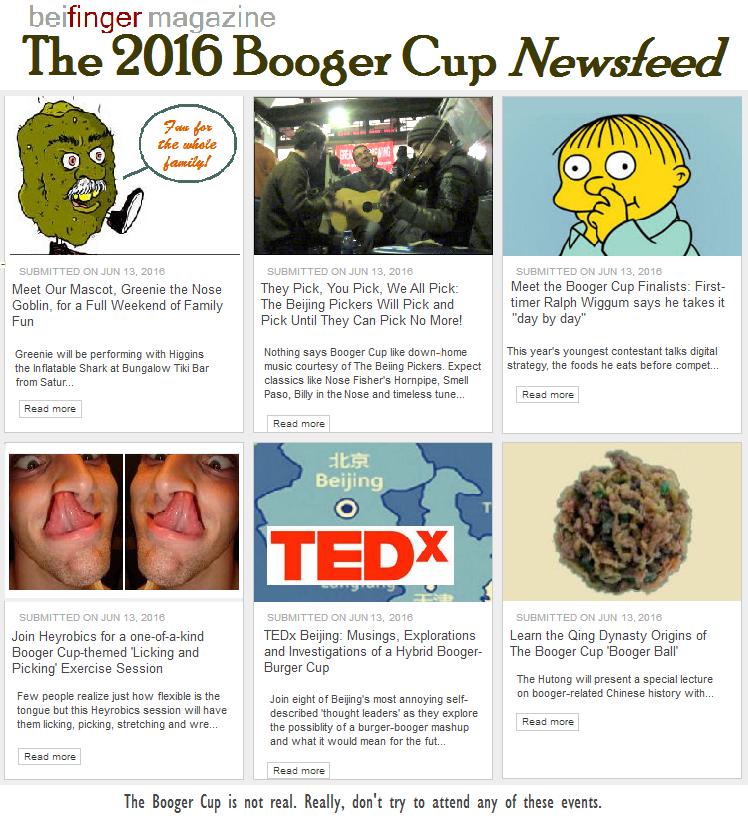 ---
Check out my other sites World Baijiu Day, which focuses on the world's best selling spirit, and Grape Wall of China, which looks at the country's wine scene.
*     *     *
Get regular Beijing updates via my
Instagram
and
Twitter
feeds. Also see my sibling sites
Grape Wall of China
,
World Baijiu Day
 and
World Marselan Day
. Help cover the hosting and other costs of these sites with a
WeChat
,
AliPay
or
PayPal
donation.
*     *     *