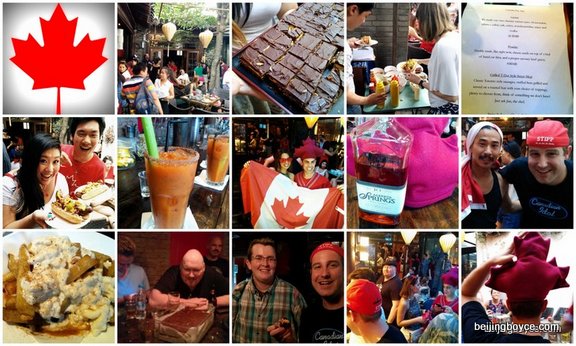 Guess who's turning 149 in a few days? It's Canada, eh, and both Hockey Bar / Irish Volunteer and 4 Corners will celebrate the occasion with good dirty clean Canadian fun. Canada Day is on July 1, a Friday, making it a great way to curl into the weekend.
Hockey Bar co-owner and fellow Canuck Curtis Dracz says there will be fish, beer, music and more (click here for the fancy poster):
A "kiss the cod" event. This Newfoundland tradition involves kissing a fish, drinking a shot of rum and reciting a poem. Do all three and… you're a winner!
Canadian Jell-O shooters
A pub quiz. (Expect questions on cod-kissing, Justin Trudeau's yoga poses, and the Dopler Effect)
A 100-kuai all-you-can-drink draft beer deal from 5 PM to 11 PM
A beer pong tournament (comes in handy with the beer deal, eh?)
Live music. Not sure if it will be Dirty City or some other band but they'll have instruments and stuff
There might also be a keg of Jing-A Maple Saison beer
Prizes! (Hopefully not the leftover cod)
Meanwhile, Canuck Jun Trinh at 4 Corners will have free beer and whisky for those with their Canadian passports.
Starting at 9 PM, the first keg of Jing-A Maple Saison is free. This beer is fully and completely made with real actual genuine maple syrup from Canada, not from some weird place like Vermont.
A beaver tail eating contest at 10 PM. Don't know what a beaver tail is? It's a pastry that looks—duh—like a beaver tail.
Free maple whisky shots for those with Canadian passports.
And poutine, using 4 Corners' homemade cheese curds, for rmb30 all night.
Trinh might also do some of his knife-modeling poses. You never know, eh.
By the way, you can also get that Maple Saison at Jing-A Taproom, co-owned by Canuck Kristian Li. And I'm hoping to get Q Bar to give a free shot of Crown Royal Northern Harvest Rye with every Moosehead sold—I'll update when I learn more about this or other Canada Day deals.
I've had lots of Canada Day fun in Beijing over the years, from organizing a pair of Canada Restaurant Weeks and a Canada-U.S. pub crawl to going to parties at places like 4 Corners, Irish Volunteer, Fairmont and Fubar. This one should be fun, too, although we will miss Nick Stipp, who year in and year has show how to party hearty. Hope he has a good one in Singapore, eh.
Here are a few photos from last year's party at Irish Volunteer / Hockey Bar: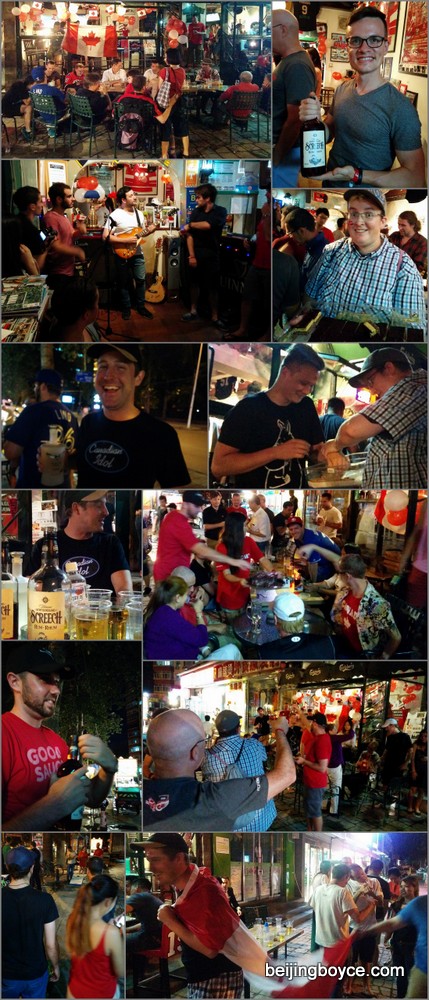 *     *     *
Get regular Beijing updates via my
Instagram
and
Twitter
feeds. Also see my sibling sites
Grape Wall of China
,
World Baijiu Day
 and
World Marselan Day
. Help cover the hosting and other costs of these sites with a
WeChat
,
AliPay
or
PayPal
donation.
*     *     *