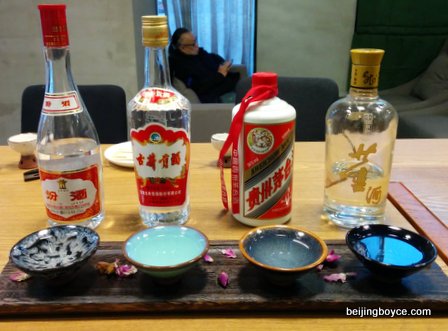 Last year's inaugural World Baijiu Day featured events in 20 cities, from Beijing to Brussels, from Shanghai to Sydney, from London to Los Angeles. We're back for 2016 and, with six weeks to go, will be in even more cities for this year's party on August 9.
Lots of people hate baijiu due to crazy ganbei sessions and hangovers that cause nausea at the mere sight of a bottle and/or due to aromas and flavors they fine weird and/or due to the strength of a spirit that often packs a punch at 52 percent alcohol.
That's why our informal thee is "beyond ganbei", namely, to try baijiu in terms of cocktails or liqueurs or beers or food pairings or even foods themselves such as the drunken shrimp pizzas by Gung Ho, deep-fried baijiu by Windy City and gummy bears by Alex J. The key word is try: many people outside China haven't even heard of baijiu, despite it having more global sales than gin, vodka or whisky, and the idea is for them to at least give it a shot.
There are also people who have come to know and like baijiu, either via experiences in China or the growing number of brands, cocktails and infusions available in the world's bars and restaurants. I talked to a half-dozen of them last year for a series called Confessions of a Baijiu Drinker and will be talking to more this year, too. Learn how these people first tried baijiu, what brands they like and some of their more amusing experiences:
You can also learn more about World Baijiu Day here.
*     *     *
Get regular Beijing updates via my
Instagram
and
Twitter
feeds. Also see my sibling sites
Grape Wall of China
,
World Baijiu Day
 and
World Marselan Day
. Help cover the hosting and other costs of these sites with a
WeChat
,
AliPay
or
PayPal
donation.
*     *     *