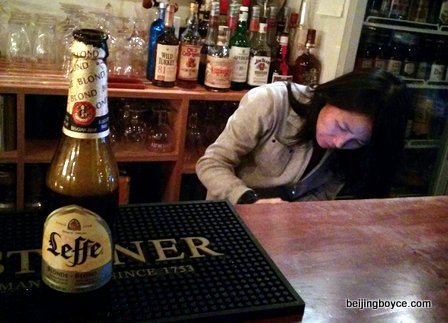 By Jim Boyce | The Gin Tonic knockout punch came after a pickleback pummeling and a Long Island uppercut. Once again, XL manager and co-owner Jane Cui emerged victorious in her fight against sober patrons and, in turn, reaffirmed her status as one of the city's most dangerous bartenders.
XL isn't a place for those who seek seated-only policies, bow tie-wearing mixologists or hipster concoctions featuring some fruit in season but two weeks per year and a gin brand with a bottling run of 12. Customers here tend to value, well, value. And to use said value to justify "just one more drink." Repeatedly.
The heart and soul of XL is Cui, who helped open the place after spending a decade-plus at The Tree and Nearby the Tree. Playing a wide range of roles, from bartender to comedian to translator t0 DJ to therapist, she is beloved by customers. And she's kept plenty busy with an eclectic clientele that includes people drawn from Nearby the Tree, the former The Den and the city's media and food and beverage trade niches. There is no shortage of "characters", running the range from genius to jackass, and Cui looks after them all, pours a mean drink and offers a menu of tasty pub grub. (Try the burgers. They're half price on Tuesdays.)
I think it says something about Patrick De Smet of The Tree empire that three of the sweetest people in the bar scene have emerged from his operations: Cui, Jack Zhou (Groovy Schiller's, 1F, Shooters) and Ah Jian (The Bar, 2F, Shooters).
But don't let that sweetness make you forget about the potency of those drinks. While I'm exaggerating the danger part, more than two Long Islands and you risk turning into a blathering idiot. Pace yourself and enjoy one of the best locals and best managers in our fair city.
---
Check out sibling sites Grape Wall of China and World Baijiu Day.
*     *     *
Get regular Beijing updates via my
Instagram
and
Twitter
feeds. Also see my sibling sites
Grape Wall of China
,
World Baijiu Day
 and
World Marselan Day
. Help cover the hosting and other costs of these sites with a
WeChat
,
AliPay
or
PayPal
donation.
*     *     *