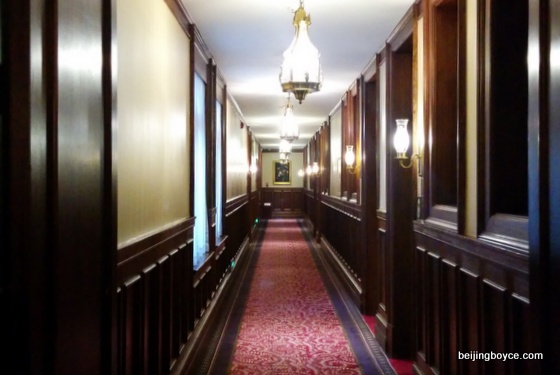 By Jim Boyce | Saturday night drinks with Tianjin-based businessman / chamber head / Maovember supporter Martin Winchell inspired this long overdue post about a visit to his adopted city last year and a stay in the intriguing Astor Hotel.
The Astor dates to 1863 and has housed everyone from modern China founder Sun Yat-sen to "last emperor" Pu Yi to U.S. president Ulysses Grant. Plus, the "girl in the wall": More on her below.
Many of the Astor's rooms feature plaques that explain who slept there. One of my favorites concerns a fellow Canuck:
Aloha Wanderwell: A Canadian born adventurer who ran away from a convent in France. Although her real name was Galcia Hall, she was dubbed "Aloha" because of her lively personality, by her husband, Walter Wanderwell. She is famous for being the first woman to drive around the world. During her tour in China, she stated at The Astor Hotel, one of her official sponsors.
The visit is also recorded on the Aloha Wanderwell website:

Anyway, the Astor, founded by pastor John Innocent along the Hai River in the former British Concession, started as a one-story structure before renovations tripled its height in 1886. According to the hotel's timeline, it became the first establishment in Tianjin with running water  (in 1899, the same year Herbert Hoover, later U.S. president, moved in as a businessman), the first with thermostat heating (1905) and the first, as part of another set of renovations and expansion, with an OTIS elevator (1924).
The Japanese army grabbed the Astor in 1941 and put the hotel's British shareholders in a concentration camp. They were eventually freed—O'Hara's, the hotel's bar, is named after one of them. When the Red Army gained control of Tianjin in 1949, the victory celebration was held at the Astor. The hotel would go on to see many changes over the ensuring years, including an eight-story addition in 1987, and a listing as a national cultural heritage site in 1996.
The place also started to become increasingly seedy, that is, until major renovations a half-dozen years ago returned the mojo both to the older "heritage" section, where rooms feature high ceilings and four-poster beds, and the newer one facing the Hai River.
Anyway, Winchell, who works for a transport company, heads Tianjin's American Chamber of Commerce and has sent many guests Astor's way over the years and thus knows the place well, gave us a personal tour of the basement. Once the site of much drinking and depravity, it is now home to a 700-square meters museum.
It was fun to look through a century-plus of accounts, ogle photos of a who's who of Astor's guests (my favorite shows Ulysses Grant and Li Hongzhang, one of China's more intriguing characters), read a hotel timeline that covers everything from hosting treaty signings to installing cutting edge technology, and check out dinner menus from a century past, complete with wine pairings.
I also enjoyed visiting the suites that housed the more famous guests, including one that today serves as a prayer room for Buddhists—according to the hotel, "in 1954, a Tibetan committee, including the Living Buddha Apei Awangjinmei, stayed at The Astor Hotel and a special room was organized where the 10th Banchan chanted the Buddhist Sutra."
It was during these visits, as we walked the halls with Winchell and a hotel guide, that someone asked about rumors the place was haunted.
Well, said the guide, who really knows. But in that particular hallway, a family was on a similar tour a few years ago when the daughter, lingering behind, suddenly asked, "Mommy, who's that girl?"
The parents turned, saw no one besides their child, and said, "Darling, what ever are you talking about?"
"There," came the reply as she stuck out a finger. "The girl in the wall. She's waving at me."
Yikes. Maybe best to stay on another floor! Or just hang out in O'Hara's drinking martinis.
---
Check out my sibling sites Grape Wall of China and Beijing Boyce.