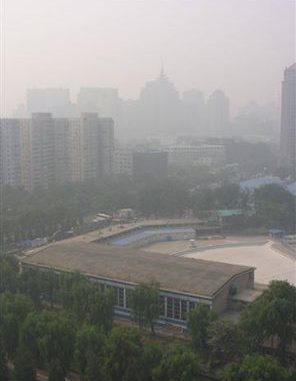 Taste the air! At times like these, when a blanket of smog weighs on our fair city day after day, when it seems just a matter of time until the pollution index reaches one million parts per million, when even the trees want to get up and leave (drum roll), the thought of a vacation some place sunny and clean is easy to conjure. But what of those coming our way? Surely we owe them some honesty in advertising. Thus, this seems a good time to dust off a post from 2010, do a bit of updating, and provide some tourism slogans for polluted times. A dozen slogans, including a few that came from a a powwow on Twitter:
01. Beijing: It'll Take Your Breath Away
02. Beijing: No Need for Sunscreen
03. What Goes in Your Lungs, Stays in Your Lungs
04. Beijing: (At Least) 50 Shades of Gray
05. I [Lung] Beijing
06. Beijing: The City That Never Breathes
07. See the Sites! (Up to a Maximum of 50 Meters)
08. You Might Leave Your Heart in San Francisco, But You'll Lose Your Lungs in Beijing
09. Beijing: Gray Is the New Blue
10. Taste the air
11. Beijing: Gray Skies Are Coming Your Way
12. Beijing: Where Everyone's Horoscope Is Cancer
Let me know if you have a favorite. And stay safe! Times like these are pretty depressing, especially since Beijing is such a beautiful place when skies are blue.
---
Checking out sibling sites Grape Wall and World Baijiu Day.
*     *     *
Get regular Beijing updates via my
Instagram
and
Twitter
feeds. Also see my sibling sites
Grape Wall of China
,
World Baijiu Day
 and
World Marselan Day
. Help cover the hosting and other costs of these sites with a
WeChat
,
AliPay
or
PayPal
donation.
*     *     *