Many of my locals featured during New Year's Eve's festivities that saw the collective focus split between breathing and boozing on a very polluted night. A quick rundown of a tour of the town.
Q Bar: It's New Year's Eve tradition to have a drink with co-owner George Zhou, one that dates to his days at First Cafe and Midnight Cafe over a decade ago. In fact, we had two. First, Swiss kirsch courtesy of Claudia Maseuger of CHEERS, who shared one of her homeland's tipples. Second, a cocktail called Ji-Q, created for the upcoming Chinese New Year and witha powerful kick of Bourbon, Cointreau, Campari and Banana Liqueur. I even ran into one of this blog's first contributors, Agent Red Wolf!
---
Pachakutiq: Our next stop was Beijing's sole Peruvian restaurant for a Pisco Sour—with a passionfruit twist. That fresh fruit made for an invigorating drink that co-owner Francisco Chia made himself. He also told us it takes up to 8.5 kilograms to make a bottle of Peruvian pisco, which is a lot more than the Chilean version, so take that Chile!
---
Sanlitun: Along with the pollution levels being horrendously high, the streets were packed with vehicles. This photo was taken from the walkway connecting Yashow and Sanlitun Soho. Fortunately, our itinerary could easily be carried out on foot.
---
Nearby the Tree Groovy Schillers: As noted here, Jack Zhou (The Tree, 1F, The Bar) has opened a new Schiller's in the old Nearby the Tree space. It has a touch of the former Union Bar & Grille, given some of the photos, furniture and ceiling lighting hailed from there and help, along with a paint job, give it a fresher look.
---
XL: I witnessed a bottle of bubbly get sabered for the first time. Owner Jane Cui then opened a few more the traditional way and hosed the crowd. Good times as we did the countdown to the New Year. Someone later gave me a drink called Swedish Berry made with the salted licorice-tasting Finnish booze salmiakki. This one should really be called The Sleeping Pill because it will knock you out. As I planned to continue the night, I did the same thing everyone does with mooncakes: I re-gifted it.
---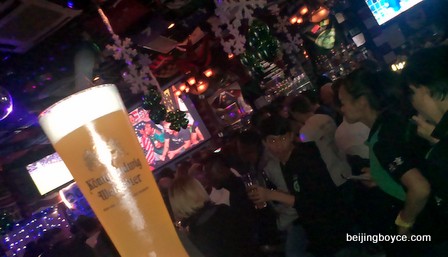 Paddy O'Shea's: The night's busiest venue saw attendees celebrating New Year's Eve and watching sports. A few might also have danced a little. Or a lot. Co-owner Paul Rochon played that holiday classic Bye Bye, Mon Cowboy by Mitsou and all was good in the world. By the way, if beer is not your thing, this place has more than two dozen ciders on offer.
---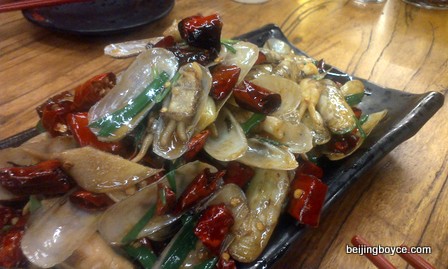 Pingwa Sanbao: There's nothing like starting the New Year with some tasty fare so I joined the Q crew at this 24-hour joint. (I felt a twinge of sadness as I passed The Den on my way. That place, a natural for such nights, has now been closed for more than a year.) Fried mushrooms, razor clams, mutton kebab, crispy flounder—Pingwha does 'em all so well. That flounder was so good, we ordered a second, washed it down with Yanjing,and then called it a night.
---
Check out sibling blogs Grape Wall of China and World Baijiu Day.
*     *     *
Get regular Beijing updates via my
Instagram
and
Twitter
feeds. Also see my sibling sites
Grape Wall of China
,
World Baijiu Day
 and
World Marselan Day
. Help cover the hosting and other costs of these sites with a
WeChat
,
AliPay
or
PayPal
donation.
*     *     *