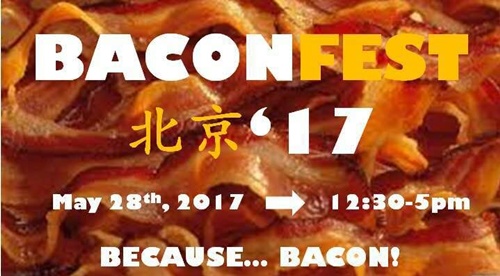 By Jim Boyce | Bacon has become ubiquitous over the past decade, to the point where you can find it in toothpaste, mints, ice cream and dental floss. (It's only a matter of time before someone resurrects a dinosaur, stuffs it with pigs, puts it on a mammoth spit and serves it as Jurassic Pork. Drum roll.)
Given all this, Beijing seemed due for something like the Baconfest—or maybe Beiconfest?—that Mark Simon is organizing this month at Fella's. Simon says eight chefs from around town will serve bacon dishes. He already has three or four signed up and will announce the full lineup soon.
The event is slated for May 28 at Fella's with an entry fee of rmb100: that will get you two wines / beers plus side dishes. I'll post more details as they become available. If you want to get in touch with Simon, check the email address on the poster below.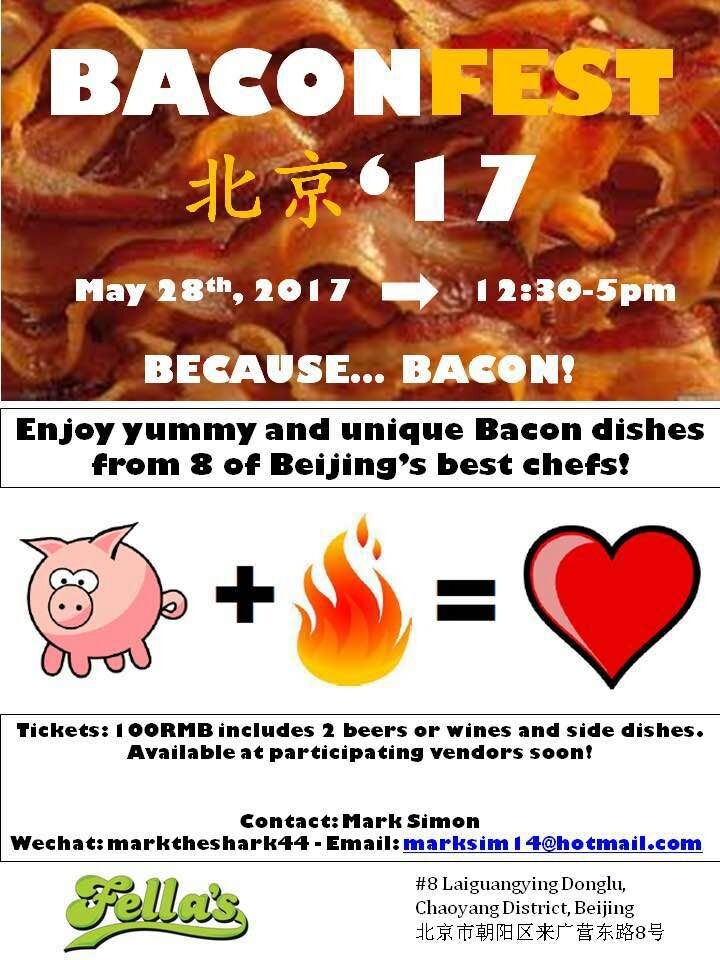 ---
Check out sibling blogs Grape Wall of China and World Baijiu Day.
Check out my lists of Beijing
food deals
 and
drink deals
. Also get updates via
Twitter
,
Instagram
and
Facebook
. And check out my sibling sites
Grape Wall of China
,
World Baijiu Day
 and
World Marselan Day
.  If this site helped you find new bars, restaurants, foods and drinks, or saved you money, consider helping to cover the hosting and other costs with a
WeChat
 or 
PayPal
donation.