By Jim Boyce | Canadian singer Justin Bieber just got banned from performing in China by the authorities for being a "bad influence" and it seems Beer Mania is backing the move, at least if six hours of last night's play list is any indication: not even "Baby Oh" make the cut. But what did was some Uruguayan steak during a taste test.
But first, owner Thierry de Dobbeleer had a Bieber story.
"Bieber came here once, it's true," he said, before our group of six tucked into juicy steaks paired with a fresh cracked black pepper sauce and Belgian fries, twice cooked and one of my favorite sides. (Few things calm one after a long day than a basket of fries and the half-price Belgian draft during happy hour, 4 PM to 8 PM.)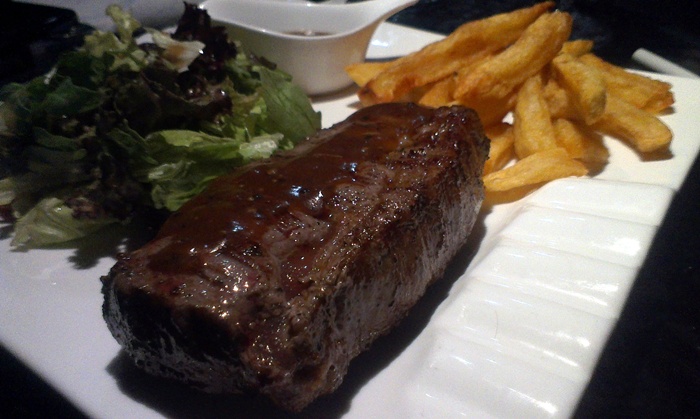 But I digress.
"Bieber was here late one night with his bodyguards," says de Dobbleleer. "We had a band earlier and he saw the equipment on the stage."
(By the way, besides good beef, Uruguay has a cool former president, a shoulder-biting football player and high per capita whisky consumption.)
"He wanted to play a song," continues de Dobbleleer. "But we said, 'If we let you play, then everyone else will want to play, and it isn't fair'."
Ouch. I guess we can't expect this place to become BieBeer Mania any time soon. Even if Dobbeleer's new haircut gave him an early Justin look that he took pains to cover.
(To be fair, for all the flak he receives, Bieber does some good stuff. See here, here and here.)
Uruguayan steak is popping up around Beijing these days, including at Q Mex Taqueria, and should available soon in Beer Mania. It would be great to see some Belgian beer pairing suggestions, too. Even better, to go with steak-loving friends and share magnum versions of those beers.
Finally, my other local these days, Q Bar, has also been experimenting with steak, including this beauty Australian cut: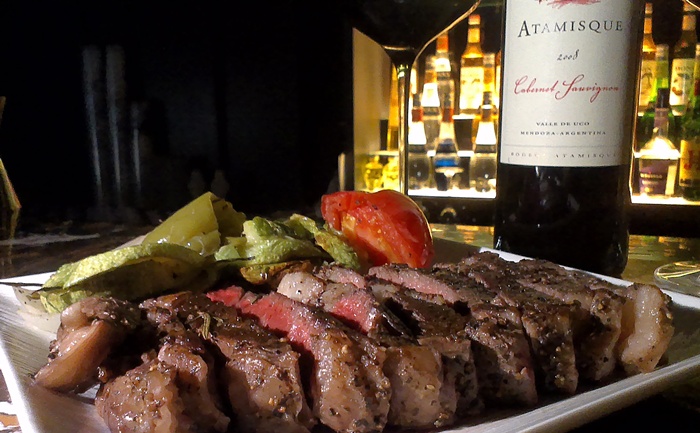 ---
See 京B Daily for China headlines, food and drink deals, job openings, and more. I'm also on LinkedIn, Twitter, Youtube and Wechat ('beijingboyce'). And check out sibling blogs Grape Wall of China and World Baijiu Day.
*     *     *
Get regular Beijing updates via my
Instagram
and
Twitter
feeds. Also see my sibling sites
Grape Wall of China
,
World Baijiu Day
 and
World Marselan Day
. Help cover the hosting and other costs of these sites with a
WeChat
,
AliPay
or
PayPal
donation.
*     *     *