By Jim Boyce | Jeff Powell a.k.a. Chef Jeff has left an indelible mark on the Beijing restaurant scene over the past 15 years, via his venues Frost and the former Back Alley Bistro and via working on projects like Concept Bistro, Orchard, Element Fresh, Tube Station, Kro's Nest, Gung Ho, Flamme, Timezone 8 and Outback. As he prepares to celebrate his 50th birthday next week, I asked him a few questions about his time in Beijing.
First, a question about life before Beijing. Is it true you used to make Zinfandel in your garage?
That is true. When I lived in the Oakland hills, we would get our grapes from Lodi, from an 80-year-old Zinfandel vineyard. Mondavi bought most of it and we got the lots they didn't buy. We field-crushed, then fermented, pressed and barreled in my garage. The garage was built into a hillside so it was a perfect temperature.
How did you end up in Beijing?
I ended up in Beijing to study feng shui and food back in 2001. I liked it so much that I moved here to open a chain of California-style bistros in 2003.
What's the biggest challenge of doing business in 2017 versus 2003?
In 2003, the biggest challenge was to source ingredients and to get people to step outside of their comfort zone and order something different. The biggest challenge in 2017 is to get people in the door—and to keep the door from getting bricked up!
You're doing lots of projects outside Beijing. What's going on?
I'm director of R&D and training for a company called SinoTaste that owns Ocean Grounds and Ricci Creative Eats. I'm doing restaurants in Chongqing, Guangzhou, Shanghai and Beijing.
You're like an older brother to many people in the business, giving endless advice and sources in WeChat groups. Has WeChat been a game-changer for helping each other?
I don't mind helping people, I mean, I would expect the same from anyone else. These aren't closely guarded secrets and we're all in this game together.
And WeChat has been a game-changer. Once I started the F&B Professionals group, it worked out very well: we basically have everyone in one place and share experiences.
Pineapple on pizza: yes or no?
I believe that pineapple has a place on pizza because kids like it and my job, as well as anybody else's, is to put butts in seats. If a pineapple on a pizza is going to get someone in my restaurant, okay. If you're asking if I personally like it, meh.
You've mostly worked on Western food. Any desire to focus on Chinese food?
The new menu at Frost has quite a bit of Asian influence, there are some dishes worth checking out. If I did a Chinese place, I'd move back to the States and do a food truck, a ramen food truck.
Remember that time I was in Frost and it was a bit loud, so I wrote a message to my friend saying that, except I sent it directly to you by accident. That was uncomfortable, right?
[Awkward silence. Sorry, Jeff! You know I love ya, buddy! And the fact you were cool about that situation is just another reason.]
You can pick any three foods to eat, from everything you have made during your time in China, what are they?
Three from the bistro. The cassoulet, the vegetarian tofu-skin lasagna, and the braised ox-tail. People still talk about all three of those dishes.
Jeff 2017 is giving advice to Jeff 2003 before he heads to China. What is it?
Try not to take it super seriously, make hay while the sun shines, and as things start to wane move on to the next project.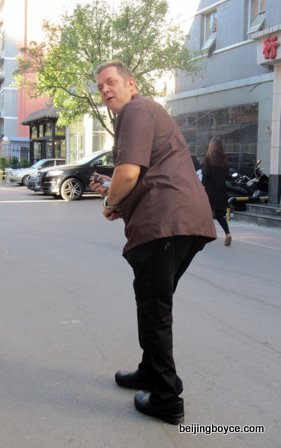 Along with tasty food, Frost also, of course, has drinks. Check out the happy hours, from 1 PM to 7 PM, when well drinks, Master Gao and Asahi Draft are rmb25. And check out the burgers and the donkey pizza,. Frost is just off Xingfucun Middle Road, in the alley across from April Gourmet / just around the corner from O'Steak.
---
Check out 京B Daily for headlines, job openings, food and drink deals, weather updates, and more. Also see sibling blogs Grape Wall of China and World Baijiu Day.
*     *     *
Get regular Beijing updates via my
Instagram
and
Twitter
feeds. Also see my sibling sites
Grape Wall of China
,
World Baijiu Day
 and
World Marselan Day
. Help cover the hosting and other costs of these sites with a
WeChat
,
AliPay
or
PayPal
donation.
*     *     *