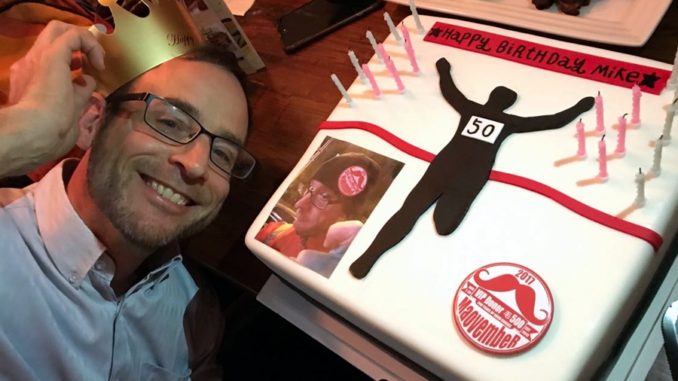 By Jim Boyce | Mike Wester is celebrating his 50th birthday today with 50 laps of the 1.5 km path in Ritan Park. It's all part of a 30-day 900-km fundraiser for Maovember. As I post at 9 AM, Wester has done 8 laps (12 km) today and 202 km overall since November 1. I asked The Beijinger boss a few questions about his 'mao-a-thon'.
Hey, 900 km in 30 days and 50-plus km today alone. Are you going through a mid-life crisis?
Mid-life crisis? I've lived in Beijing for 17 years. I think I'm probably going through a three-quarters life crisis.
You walk in Ritan Park a lot. Why do you like it so much?
It is the hub of my Beijing existence: not too far from my home, not too far from my office and close to my daughter's school. Plus it has my favorite public announcement system ever. [The speakers blurt crucial messages like "The mentally ill contagious people as well as the indecently dressed are not allowed to enter the park".]
What are five things you've learned about Beijing from the first 200 km of your 'mao-a-thon'?
Beijing's official slogan should be "pedestrians last!" This city is fantastic for many reasons, but navigable sidewalks is not one of them. I had the misfortune of trying to accompany a family pushing their two-year-old past Taikoo Li on Friday evening. Almost impenetrable.
You don't have to schlepp all the way out to Xianghsan to enjoy Beijing's fall foliage. Ritan, Chaoyang and Olympic Forest Park, just to name three, have amazing trees this month—especially the ginkos.
Bike-sharing has gone too far. The city is literally littered with them, a good many of wrecked, and I pass multiple spots daily that are so cluttered with bikes that pedestrians have to walk in the street. I envision a future where a company disrupts bike sharing by selling moderately priced bikes to individuals who would then have the revolutionary advantage of remaining right where their owners left them, each and every time.
Within a good 2-km radius of any point in Beijing's congested east side, it's often quicker to walk than to drive, take a cab, wait for a bus or take the subway. Try it some time, people.
Finally, my iPhone equipped WeChat and QQ Music is a godsend. This walk definitely could not have happened except for the fact that I can do tons of work, hold meetings, and listen to audiobooks and music while I walk.
Finally, how are your feet holding up!?
My legs and feet are okay, however, muscles in my hips I never knew I had are pretty sore. Also, I have an "ab" now, which is the first "ab" I have had since a dental abscess in seventh grade. I'm still five cans short of a six-pack but I'm working on it.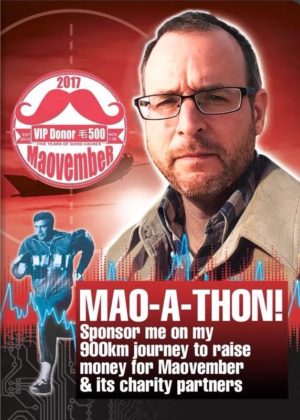 ---
Click here to learn more or to sponsor Mike Wester's mission to help Maovember, and its 2017 charity partners The Library Project and Bread of Life. You can also check out my first 'mao-a-thon' interview with Wester as well as the Maovember home page or Facebook page.
*     *     *
Get regular Beijing updates via my
Instagram
and
Twitter
feeds. Also see my sibling sites
Grape Wall of China
,
World Baijiu Day
 and
World Marselan Day
. Help cover the hosting and other costs of these sites with a
WeChat
,
AliPay
or
PayPal
donation.
*     *     *