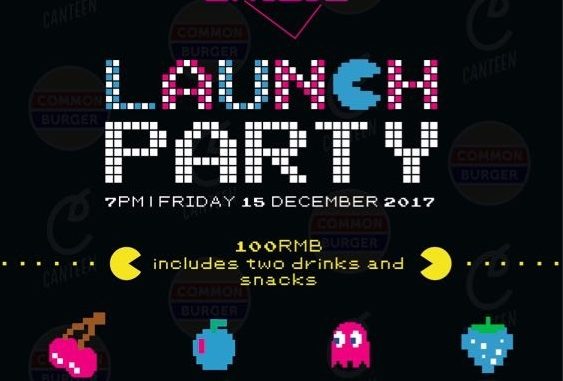 Update: I've added the launch party drinks list. See it below or at this link.
By Jim Boyce | I'm old enough to remember the arrival of Pac-Man, way back in the early 1980s, before craft beer, quinoa and twerking were things, before gender identity politics would make such a game name fit for a breathless Huffington Post post.
Back then, a "safe space" meant standing like a zombie in front of a video game where you escaped the exhausting daily fight to survive by replicating it on a screen with the added benefit of three lives rather than a measly morbid one. Back then, we walked 12 miles to school (one way) in the freezing cold / boiling heat / torrential rain / exploding meteorite showers and made our underwear out of old candy wrappers. Most of us couldn't afford candy so we just went commando. Now get off of my lawn!
(On a serious note, I do remember my Mom saying I'd one day wish I had that cash I was stuffing into arcade machines—I think of her wisdom every time I find myself in the hutongs at 3 AM with a dead phone and three kuai short of the taxi money home.)
Anyway, the point is ARCADE is holding a party Friday night and it's got Pac-Man on the poster! Noice.
ARCADE is in the former Traders Hotel and includes two projects by The Hatchery guys: Common Burger and Canteen. Says The Hatchery "ARCADE is open every day with a wide selection of burgers, beers, sandwiches, mussel pots, salads, poke burrito, fresh juices smoothies and an ARCADE inspired bar." I'm not sure about the seating at the bar but highly recommend a few of these.
Rmb100 gets you two drinks and a snack, plus rmb35 Jing-A all night. Along with video games—they say they have a slew of Super Nintendo and other options—there is foosball and ping pong. See posters below for more details.
Also of note, The Hatchery is now open from 5 PM to late but expects to return to its lengthier hours after Spring Festival. I just made my first trip there for the Maovember Shave-Off with Jing-A and Jameson. Good times watching people get trims or even lose their mustaches while guzzling stout and picklebacks and raising rmb2040 for Bread of Life and Library Project. A few pics, followed by the ARCADE posters:
Here the ARCADE posters:
Now, seriously, get off my lawn.
---
Check out 京B Daily for weather, pollution, news and other updates. Plus sibling blogs Grape Wall of China and World Baijiu Day.
*     *     *
Get regular Beijing updates via my
Instagram
and
Twitter
feeds. Also see my sibling sites
Grape Wall of China
,
World Baijiu Day
 and
World Marselan Day
. Help cover the hosting and other costs of these sites with a
WeChat
,
AliPay
or
PayPal
donation.
*     *     *