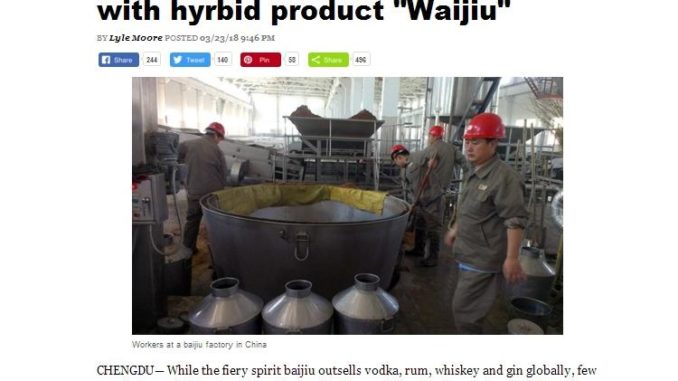 By Jim Boyce | Cross-posted this from sibling site World Baijiu Day because it dances along the razor's edge between genius and lunacy, might be the best idea ever for promoting baijiu overseas, and severely misquotes me. Printed with full permission!
---
Everyone knows baijiu is struggling with its global image so a project launched by family-owned PuKao Distillery at last week's China Food & Drinks Fair in Chengdu is encouraging. U.S. Drinks writer Lyle Moore attended the fair and gave me permission to reprint his report—it helps I provided photos! All highlights mine.
FULL ARTICLE
Grape & Grain: China Aims to Conquer Global Alcohol Market with Hybrid 'Waijiu'
BY Lyle Moore POSTED 03/23/18 9:46 PM
CHENGDU—While the fiery spirit baijiu outsells vodka, rum, whiskey and gin globally, few people beyond China know it since almost all of the 20 billion bottles produced each year are consumed at home.
In the hopes of boosting overseas sales and appealing to shifting local tastes, PuKao Distillery in northern Hebei province launched 'waijiu' at the China Food & Drinks Fair today in Chengdu.
"We took the 'w' from wine and 'aijiu' from 'baijiu'," PuKao president Lianghe Gao told a packed room of distributors. "Also, 'wai' means 'outside', so it's perfect for our outreach to international markets."
The first three waijiu products feature wines from Bordeaux, Napa Valley and China's promising Ningxia region blended with "light aroma" baijiu made just outside Beijing
Gao said waijiu has several key selling points.
"People in China desire a healthier lifestyle," he said. "Mixing equal parts baijiu and wine reduces alcohol from 52% to 33%. That eliminates potency and flammability while grape wine adds oxidants that are good for the skin."
Gao called waijiu a stepping stone to global acceptance of baijiu.
"Many foreigners find baijiu too strong," he said. "By adding wine, we make it accessible. It's like putting chocolate syrup on an durian fruit. Over time, people will try the durian all by itself."
Pukao hired several foreign critics to do taste tests at the fair.
"The bouquet is an elegant marriage of resin and blackberries, with bridesmaids of lychee, soy sauce and forest floor," said American spirits writer Rick Carroll about the Bordeaux-baijiu blend. "Until death do them part."
When asked if such a description would appeal to U.S. consumers, Carroll said people should withhold judgment until they've tried waijiu a few dozen times to acquire the taste.
"I'm sure the first person who mixed vodka and orange juice, and created the Screwdriver, faced naysayers," he said. "This is the same, but with baijiu and grapes. It's a Screwdriver with Chinese characteristics."
Jim Boyce, founder of annual event World Baijiu Day, was skeptical.
"This sounds like an April Fool's joke to me," said Boyce. "Actually, it definitely is an April Fool's joke. Because I wrote it."
Boyce said World Baijiu Day, held each August 9, is for baijiu newcomers and for those who have tried and disliked the spirit, usually due to intense ganbei (bottoms up) sessions. The theme of "beyond ganbei" encourages new ways of trying baijiu, such as with cocktails, infusions, liqueurs and flights as well as foods and drinks like pizza, beer and chocolate.
---
World Baijiu Day is August 9. See the 2017 events here. Sign up for 2018 here. And follow on Twitter, Facebook and Instagram.
*     *     *
Get regular Beijing updates via my
Instagram
and
Twitter
feeds. Also see my sibling sites
Grape Wall of China
,
World Baijiu Day
 and
World Marselan Day
. Help cover the hosting and other costs of these sites with a
WeChat
,
AliPay
or
PayPal
donation.
*     *     *