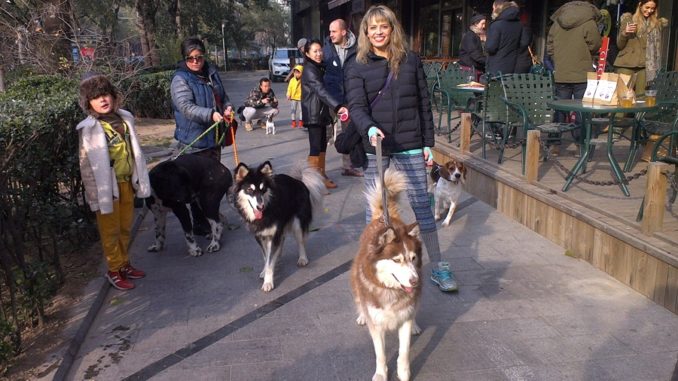 Peking's pooches will hit the pavement for the second annual Dog Pub Crawl this Saturday. Dan Christensen of Penny's Food Studio is providing snacks for the dogs while humans get a drink during stops at De Refter, XL, Jing-A and Paddy O'Shea's. We talked to Christensen about this year's event (below poster).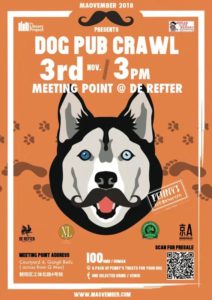 Halloween just passed and this feels like a bonus "trick or treat?" session, but focused solely on treats. How does it work?
This is a dog- and family-friendly pub crawl for the Maovember partner charities Bread of Life and The Library Project. Penny's is helping to organize it and will provide the furry supporters with a pack of treats. The Dog Pub Crawl is 100 kuai per person and gets you a free beverage at each of the four stops on our walking route. [Scan the poster's QR code to sign up or for info.]
What can you tell us about the stops this year?
We have four participating venues. First off is De Refter, sort of a Franco-Belgian gastro pub. We'll all meet there at 3 PM. Next up is XL, a great little pub and home to the 88s hockey club and Sexy FC. Many know XL for its larger-than-life proprietor, Jane Cui. Our third stop, a brief one, is Jing A Brewpub, where we'll pick up roadies on way to our finishing point, and Beijing's best-known (Irish) sports bar, Paddy O'Shea's!
And the dogs enjoy snacks along the way. Which one are they getting? Is it going to be Lucky Duck? I bet it's Lucky Duck. Tell me it's Lucky Duck.
I hate to break it to you, but Lucky Duck is actually one of our fresh food recipes, so we won't be serving that. But we will be bringing along different varieties of our air-dried and baked treats for all. [There is nothing stopping Penny's from making an air-dried version of Lucky Duck. Absolutely nothing.–Ed.]
Who are you bringing to the Dog Pub Crawl this year?
I'm not sure yet, probably one of my three beasts, but not all of them. I need to be able to actually chat with people!
Anything else people need to know about Dog Pub Crawl?
Hydrate before the walk, wear warm clothing, and prepare to have fun! People without dogs should feel free to join. Just come to meet the other's dogs and support Maovember. The charity and having a good time are what's most important.
(Interested in Dog Pub Crawl? Scan the QR Code in the poster above to join the WeChat group.)
*     *     *
Get regular Beijing updates via my
Instagram
and
Twitter
feeds. Also see my sibling sites
Grape Wall of China
,
World Baijiu Day
 and
World Marselan Day
. Help cover the hosting and other costs of these sites with a
WeChat
,
AliPay
or
PayPal
donation.
*     *     *