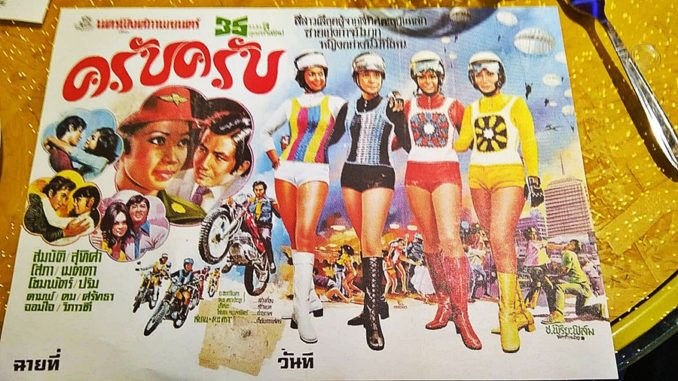 The pork neck salad stands head above shoulders at the new southeast Asian restaurant Kup Kup Kup: tender thinly sliced meat meets toasty roasted rice powder and pungent coriander, garlic and Chiang Mai chili. It stars on an appetizer platter (rmb128) piled with chicken satay, crispy deep-fried pig's ear and kale, and spring rolls with mango and beetroot. The latter two items are fun touches, says Sue Zhou, the creative force behind the menu and known for her work at dim sum joint Furonji, Yunnanese restaurant Hani Gejiu and Pop-Up Beijing. (At Kup Kup Kup, head cooking duties are handled by Thai chef Sompon, previously at Cacha Cacha, while the general manager is Leo Wu.)
The foci at Kup Kup Kup are northern Thailand, northern Vietnam and Indonesia. The latter is of special interest given that Zhou hails from The Netherlands, which had a colonial relationship with Indonesia measured in centuries. In fact, Zhou's family has a Chinese-Indonesian restaurant back home and, as we recently stuffed our faces over lunch, she spoke of friends there who made Indonesian food from scratch that rivaled the world's best.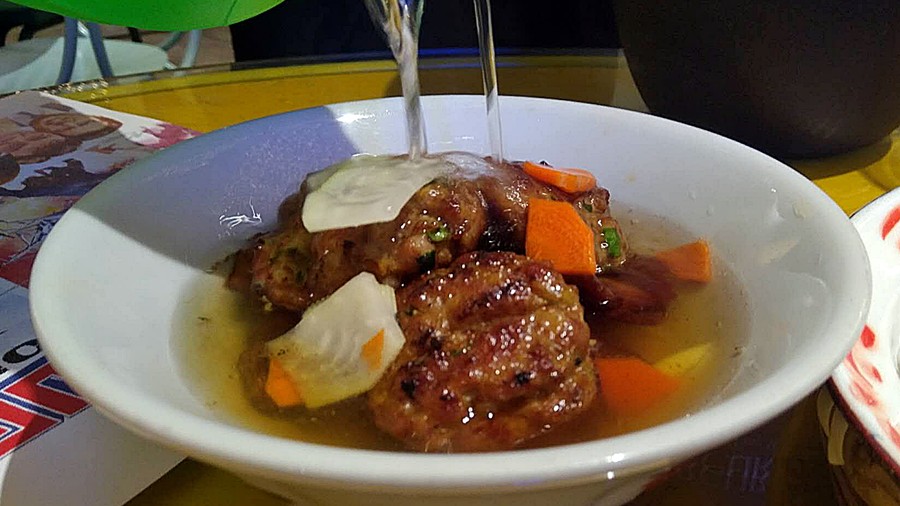 Anyway, Zhou earned lots of air miles while making this menu. Given most Vietnamese restaurants in "the West" focus on southern cuisine, she headed north. Her menu features bún chả, a Hanoi favorite. Broth is poured over grilled marinated pork, with noodles served on the side and dipped, and herbs like mint, chicory and Thai basil used to wrap the meat. This dish is light, fresh and invigorating, with the pairing of succulent meat and fresh fragrant herbs a winner.
The fried spring rolls are also inspired by Hanoi, notably the restaurant where U.S. president Barack Obama and chef Anthony Bourdain had their 2016 lunch. Zhou loved the textures, notably the crunchy bean sprouts, and adopted them for Kup Kup Kup. They are bottom right, in the photo above, with a bite already taken. Good stuff.
We also had Nasi Kuning (rmb88), with coconut and tumeric rice (nasi means rice), beef rendang (spicy), chicken satay, and duck curry. Add gado gado—cooked vegetables with boiled eggs, tofu and peanut sauce—and pickles, and you face a slew of flavors and textures, too many for this simple eater's brain to process during a boozy (see below) lunch. Go for that appetizer platter instead.
Finally, we got talking hot sauce and Zhou revealed that Kup Kup Kup's spiciest is known as "level five". I soon faced a trio of wings coated with it. I'm no spice masochist, but do like some heat, and nothing Roy Heng threw at me during a recent visit to his Mexican restaurant Pebbles challenged my taste buds. But level five? It got me to the verge of forehead sweat. Nice. And nicely balanced with a touch of honey. Give it a try.
As for drinks, Kup Kup Kup has beer—Chang, Lao Dark and Saigon—at rmb38, about a dozen cocktails, including a "Bali Colada", from rmb38 to rmb58, and house red and white wines at rmb38 per glass or rmb158 per bottle. The coffee is made with Yunnan beans.
But I skipped all that and brought my own booze so we could try some pairing. The semi-sweet white (top right) from Kanaan in Ningxia fared very well, especially with the spicier dishes. (Get this wine at Pudao.) And a herbal fenjiu (top left), also on the sweet side, worked okay save for being a bit heavy on the ginseng. If neither of those is your thing, then knock back a few chilled beers Obama-Bourdain style.
Kup Kup Kup is on the lower level of Taikooli / Swire Village South, just inside the doors and across from Let's Burger. And that pork neck salad is also sold as an individual dish.
*     *     *
Get regular Beijing updates via my
Instagram
and
Twitter
feeds. Also see my sibling sites
Grape Wall of China
,
World Baijiu Day
 and
World Marselan Day
. Help cover the hosting and other costs of these sites with a
WeChat
,
AliPay
or
PayPal
donation.
*     *     *