A new yakitori joint by the guys behind wine bar VinVino and cocktail bar Mokihi opens tomorrow.
Daisuke Onishi says ToraTori-Ya Yakitori & Highball Bar, around the corner from VinVino on Maizidian Road, will open daily from 6 PM. Onishi, a veteran of Beijing's cocktail scene, including at the former Er, Apothecary and Twilight, says the drink menu is focused on highballs: whiskey and soda.
"It's a classic Izakaya drink that goes really well with yakitori," he says. "But we've raised the bar to make the highballs to the level of how cocktail bars make them. We have an imported Japanese soda machine for really good bubbles."
There are 18 highball options, using brands like Maker's Mark, Talisker and Hakusha. The house option, the Maizidian (元38), has Four Roses Bourbon, soda water and a double twist of lemon and orange. Others include house-infused Bourbons that feature everything from ginger to apricot to coffee. Most highballs are from 元38 to 元68.
Non-whiskey fans can choose from a modest selection of sake and wine, plus Asahi draft (元28).
The name Tora Tori Ya riffs on "trattoria", an informal Italian eatery. "Tori" is also Japanese for chicken, an obvious link to yakatori, while "tora" means tiger, which inspired the decor's black and gold accents.
"Gold is also the color of our whisky highballs," says Onishi.
Tora Tori Ya seats about 50 people, with a small terrace to open later. It soft opens from tomorrow. RSVP is highly recommended: call 6595-9877.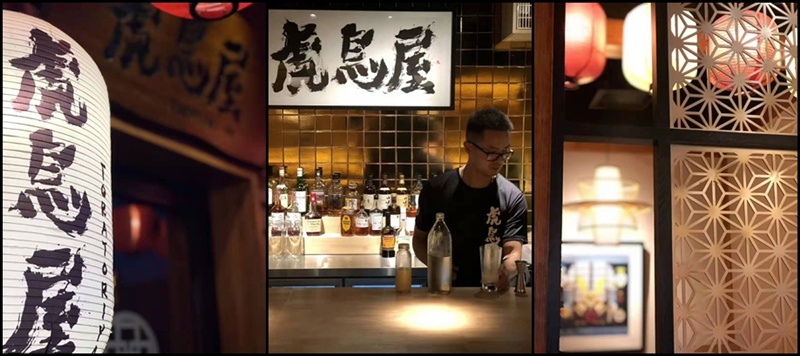 *     *     *
Get regular Beijing updates via my
Instagram
and
Twitter
feeds. Also see my sibling sites
Grape Wall of China
,
World Baijiu Day
 and
World Marselan Day
. Help cover the hosting and other costs of these sites with a
WeChat
,
AliPay
or
PayPal
donation.
*     *     *