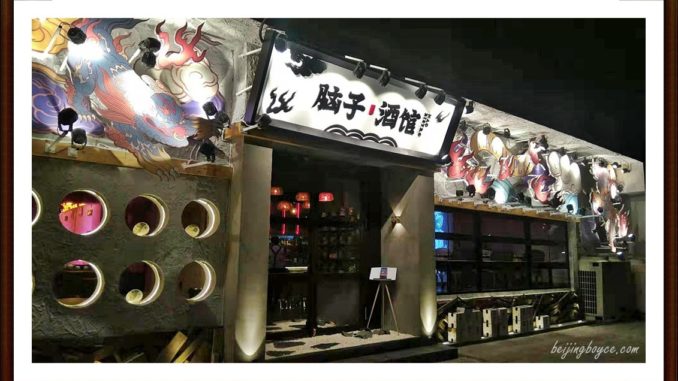 Hey Nao! It's so Beijing to go on vacation for a few weeks and return to a half-dozen new bars / restaurants in your neighborhood. In my case, the most striking — and welcome — is Nao Bistro on Sanlitun South.
Nao Bistro's groovy-meets-grotesque facade, across from Topwin Center, was impossible to miss last week as I lugged home necessities (discount Doritos!) from our local April Gourmet. And the interior lived up to that facade, with sprawling neon dragons, oodles of graffiti, and no shortage of what some will deem kitsch and others treasure. I'm no designer but feel Nao got the look right, much as Tiki Bungalow did with its interior decor mashups. It's the most excited I've been about an opening since Pi Bar last summer.
Anyway, you could say this is a thinking drinker's joint given "nao" means "brain" and the menu lists dozens of creative China-themed recipes at rmb50. Some concoctions even include baijiu, a tricky ingredient even for veteran mixologists. And that's where Nao shone.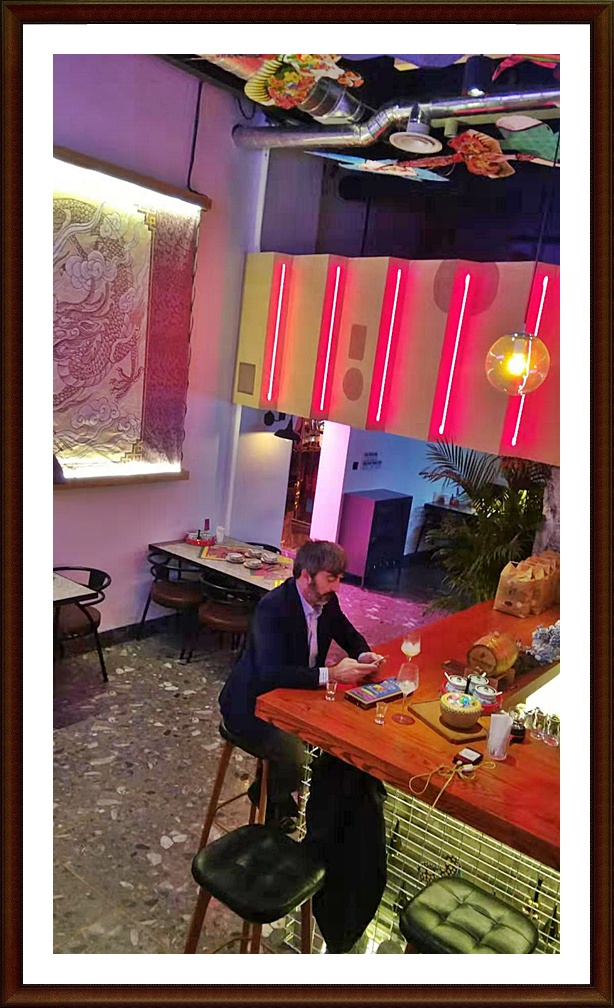 I went with Italian wine guy Simone Incontro of Veronafiere on a whim — we ditched our beer plans at the last minute for cocktail ones. Incontro is not a big fan of baijiu but was up to try a few drinks made with China's national spirit.
After consulting with Nao's bartender Allen, we went with this pear, cinnanmon et al recipe. It was delicious. And quite shocking to learn it deceptively contained 60 ml of erguotou. It's the best baijiu drink I've tried since at Pachipapi last year.
Our second baijiu drink, a riff on an Old Fashioned that included peanut butter, did not score as high but was fun to try. Anyway, we parked at the bar — there are also high table, low table and semi-private areas — and it was comfortable, though the lighting is a touch bright.
Fast forward to last night. After a fondue party with friends, I punctuated my 30-minute walk home by stopping at Nao and trying the martini. The martini has so few ingredients but so many potential outcomes, from jet fuel-y gross to to palate-teasing delight. Allen's version leaned heavily toward the latter, a delicious tipple that featured The Botanist gin. A stickler, Allen had me wait a few extra minutes so he could chill the drink to what he deemed the optimal temperature. A Botanist martini. Well-made. Rmb60. In Sanlitun. 2020 just got better.
Nao lists dozens of cocktails that I look forward to exploring as well as a half-dozen wines (two by the glass), some beers (with more to come), baijiu straight up, and more, including a snacks menu. I've only so far scratched the surface of this place. But if it sounds good, pop by tonight and do your own taste test. Otherwise, you'll have to wait until February, as Nao in Sanlitun will close from tomorrow for ten days for Chinese New Year. Hey, it's important to give your brain a rest.
(The Nao brand dates to 2013 and, along with four Beijing venues — more food-centric than the Sanlitun one, I'm told — it lists operations in Henan, Hubei, Inner Mongolia, Jiangsu, Shandong and Shanxi.)
*     *     *
Get regular Beijing updates via my
Instagram
and
Twitter
feeds. Also see my sibling sites
Grape Wall of China
,
World Baijiu Day
 and
World Marselan Day
. Help cover the hosting and other costs of these sites with a
WeChat
,
AliPay
or
PayPal
donation.
*     *     *