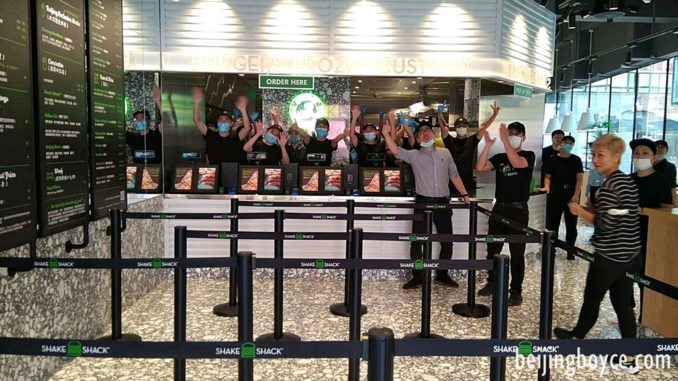 Bow down to me mere burger mortals, bow low for my bacon-y cheesy beefy victory, bow deep for I — in our city of 20 million-plus ravenous inhabitants — scored the very first Shake Shack burger. Han bow to me, blah blah blah blah.
It's true. I got the first burger. Of course, I got it during a "friends and family" test run before the official opening, with just some 600 tickets available, which makes it more like an exhibition game than regular season.
And I kind of lucked into it: I was walking from Dongzhimen to Hujialou and Shake Shack was in my path and I happened to be there at 11:30 and, seeing some people sitting and apparently awaiting the noon launch, simply asked a staff member, "Can I get a burger now?"
"Do you have a ticket?" she asked suspiciously. (Apparently non-ticket holders were getting sneaky.)
"Do I have a ticket? Are you kidding? I have two! Covered in tiny doodles of rainbows and hearts and seven-layer burritos." (Yes, I was more focused on the Taco Bell opening.)
"Then enter ye may."
Shake Shack had the area roped so you had to zigzag back and forth through six lanes airport security check style to reach the cash registers. I did this solo, and in most embarrassing fashion, as the staff cheered.
But who gives a crap that I had the first burger at Shake Shack burger, right? And at Fat Burger. And at Atmosphere Bar. And…
Who cares! It's all about the food. And let me start with the fries, the crinkle fries — listed on the wall menu as "crikle", a typo that inspired those with too much time on their hands to post on WeChat.
These fries are a bit weird. Crispy on the outside and starchy, almost gluey, on the inside. Paired with a cheese sauce as exciting as Mike Pence. The solution: mix the cheese sauce equally with Louisiana hot sauce from that condiments table and let them fries marinate a few minutes. Now you're shakin.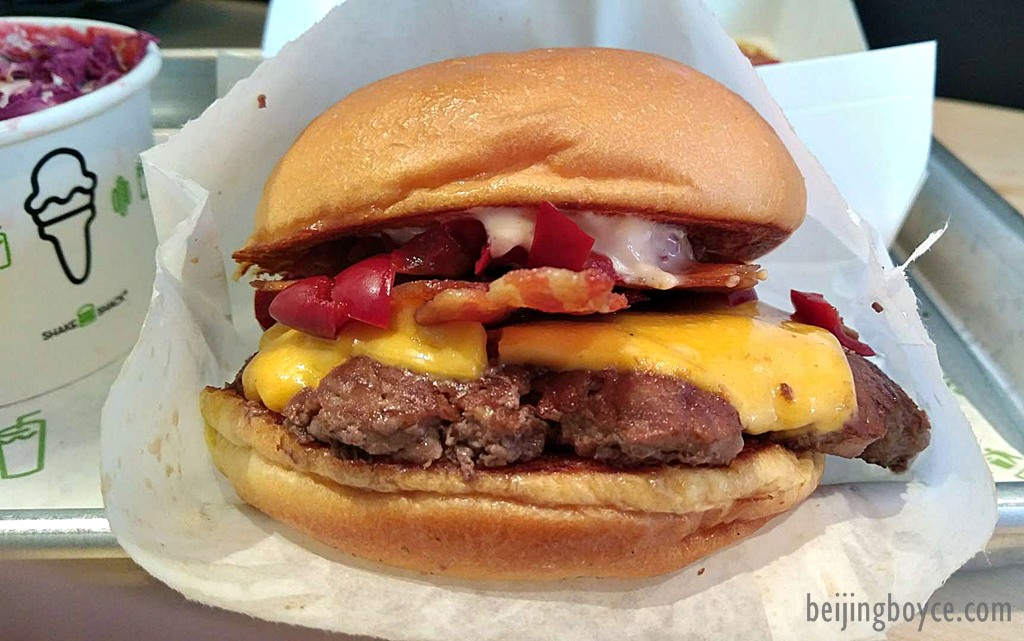 The burgers were much better, especially the Smokeshack, which I ordered on my second visit of the day. (Someone didn't pick up their free ticket so I went back at 4 PM and used it.) It's hard to go wrong by adding firm bacon (apple wood-smoked, I hear), melted cheese and tangy sauce to a juicy patty, though I could handle a burger that size in a half-dozen bites. Anyway, order this.
And the Tailoo Lizi, a riff on the name of Shake Shack's home, Taikooli South. Smooth chestnut ice cream with crunchy shortbread and caramel. That hits the spot on a hot day. There are also localized ice creams with tang hulu and rose pastry.
Almost forgot: the loaded hot dog is good, too. Piled with diced onion, sliced tomato, relish, hot peppers and more. (I also put Louisiana hot sauce on that.)
Okay, prices. My first order of a Shake Shack burger (47 kuai), cheese fries (34 kuai) and ice cream (39 kuai) totaled 120 kuai. That's pretty hefty, even given Taikooli rent. But it's worth going — expect a lineup — for Shack Shake newbies (like me) or, of course, for fans.
Now I'd like to try these side-by-side with those from Burger Box, just a short walk away and one of the more under-rated burgers in town.
Shake Shack is on the first floor of Taikooli South, in the ex-Holister space, facing the water fountains.
*     *     *
Get regular Beijing updates via my
Instagram
and
Twitter
feeds. Also see my sibling sites
Grape Wall of China
,
World Baijiu Day
 and
World Marselan Day
. Help cover the hosting and other costs of these sites with a
WeChat
,
AliPay
or
PayPal
donation.
*     *     *