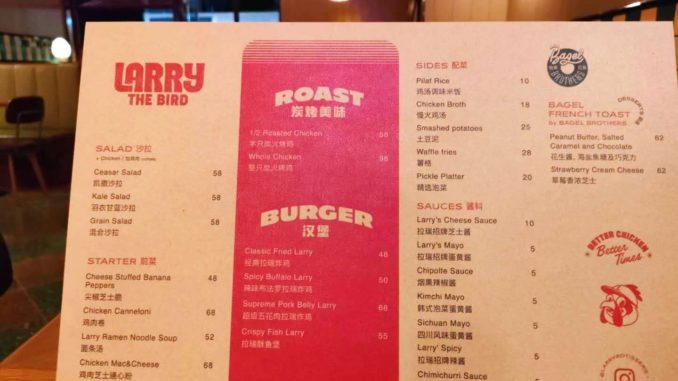 Seeing lots of tweets these days about Larry The Bird, a new chicken joint beside Burger King in Taikooli South that involves those Josper oven evangelists from Spanish restaurant Migas.
Larry The Bird reminds me a bit of the former Burger Box in nearby Nali Patio. Both with Josper oven-cooked meat. Fairly terse menus. Compact burgers. Modestly sized interior with patios out front. And animal themes: a large cow statue there and a bird here. Though the former has a better name: Burger Box didn't exactly get the juices flowing.
Speaking of names, basketball fans will wonder how NBA legend Larry Bird is honored, as he is the obvious association with the moniker.
Are any menu items linked to Bird's time as a player in Boston (Josper-oven baked beans?), as a GM in Indiana (a pork tenderloin sandwich?) or as a Dream Team.member at the 1992 Olympics in Barcelona (Wow, Barcelona! Perfect food alley-oop for a Migas dunk!)? Or maybe a 33-kuai deal for his jersey number?
Nope. Maybe someone thought Larry The Bird was a clever name and the concept stopped there just as fast as Andre Iguodala's shot was blocked by Lebron James with two minutes left in game 7 of the 2016 NBA finals. (Hey, Larry The Bird might not give you NBA references, but I will.)
Anyway, on to the food. On my first visit, I ordered the "Spicy Buffalo Larry" burger, a pickle "platter" and a Coke. Total rmb90.
The burger, with cabbage salad, pickles, lettuce et al, delivered on chicken quality, with juicy tender and slightly smoky meat, although I found the sauce light in quantity and a bit sharp. (I think most people ordering Buffalo sauce want it slathered.) A co-owner told me the recipe is half Frank's RedHot sauce and half butter, so the sharpness might be due to my switching between burger and the platter–better described as a bowl–of pickles. The Coke was a Coke.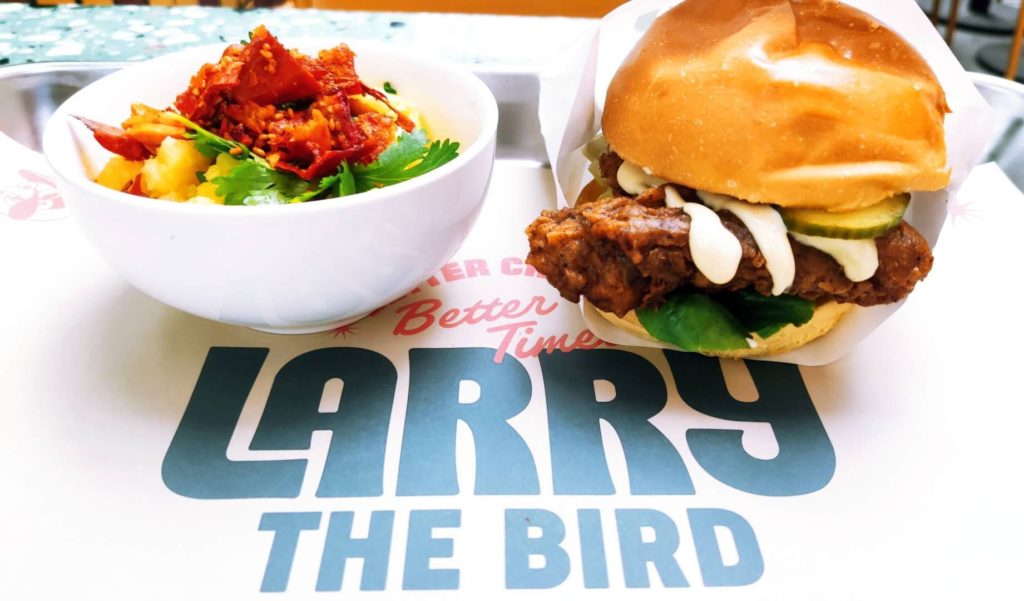 On my second visit, I had the standard Larry chicken burger, which had the same meat quality but with ho-hum sauce, and the "smashed potatoes". The spuds were a bit dry and heavy, and I wasn't keen about the texture contrast with the dried chilis on top. (I went for smashed potatoes because I have so far refused to pay 28 kuai for a half-dozen waffle fries.)
I also hoped to get a coffee, which has been listed on the menu since day one, but remains unavailable. I'm told such caffeine fixes might not happen as the menu is still being tweaked ahead of the official opening . C'est la vie.
Anyway, I will stop in and try more dishes soon, although the hype by some patrons has been a bit much given Migas has been doing birds in Josper ovens for something like a decade and The Roots is a ten-minute walk away and uses a similar oven for its periperi chicken.
Larry The Bird has indoor seating for ~30 people and about the same on the patio. The menu includes starters such as chicken mac 'n' cheese and chicken cannelloni plus half- and whole chickens as well as seven sauces — chipotle, Sichuan, Larry's mayo, more. For drinks, there are seven draft beers at 40 to 50 kuai, including by Mahou, Chimay and Collective Arts, plus a draft mojito by ROC, plus 11 bottled beers from 45 to 55 kuai.
And if you go for lunch, and want a coffee to perk up before heading back to the office, you can always check out Elephants Grounds or Soloist on the same west strip of Taikooli as Larry, or go a bit further to places like SeeSaw or Berry Beans.
*     *     *
Get regular Beijing updates via my
Instagram
and
Twitter
feeds. Also see my sibling sites
Grape Wall of China
,
World Baijiu Day
 and
World Marselan Day
. Help cover the hosting and other costs of these sites with a
WeChat
,
AliPay
or
PayPal
donation.
*     *     *