If you plan to stay in Beijing for the Chinese New Year holidays and want some brews and burgers, pints and pizzas, barley pops and Buffalo wings, pijou and pork belly sandwiches, and possibly two others items that start with the same letter, it's good news all three Great Leap brewpubs will be open for business as usual.
You know what might be fun? Getting your peeps to all three Great Leaps. (Yes, I'm able to rhyme, use alliteration and throw down slang all in one post. Mad skillz.)
I suggest making your first stop the original #6 Doujiao Hutong location: if you are directionally challenged, go with a friend who knows the way or you might spend a good chunk of your holiday looking for this place. On the way, you can grab some snacks on the nearby Nanluoguxiang drag to give you a foundation for the ample amounts of beer that will be flowing into your stomach.
Next, head for the second Great Leap, at #12 Xinzhong Street, north of Workers Gymnasium. Knock back a few more pints here: might I suggest the oolong tea-infused Iron Buddha? If you're feeling peckish, order the delicious sweet potato fries. And if you're feeling more than peckish, get the cheeseburger.
Next, head — and I think you can predict what's coming — back to the #6 hutong location. At this point, you'll probably be inebriated enough to get hopelessly lost and possibly end up wandering all the way to Houhai and falling into the water and nearly freezing to death and thus inspire the guys at Great Leap to create a new beer called Drunk & Nearly Drowned Chinese New Year Holiday Guy Houhai Lake Bed Mud-Infused IPA. Help a brewer out.
Otherwise, go to the newest Great Leap, at #45 Xinyuan Street, to wrap up your tour. If you haven't been, this is your chance to try Great Leap's newest food offering, pizza, which is offered by the pie or slice. Even better, every beer on the menu is 30 kuai throughout February.
Get the locations and hours of operation for each of the three Great Leap locations here (roll over the photos to make the info appear).
Finally, here's a 2014 holiday photo from Great Leap Brewery (sorry, I don't have any Chinese New Year ones).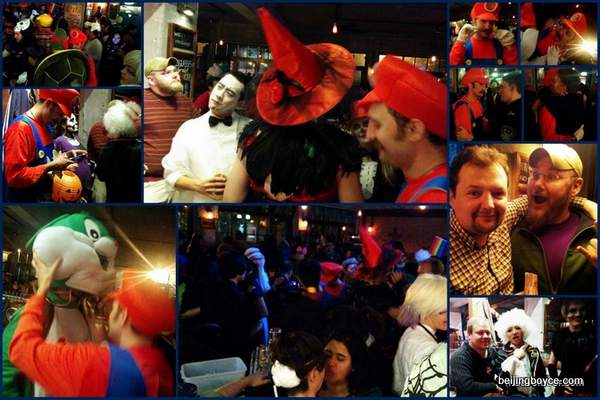 *     *     *
Get regular Beijing updates via my
Instagram
and
Twitter
feeds. Also see my sibling sites
Grape Wall of China
,
World Baijiu Day
 and
World Marselan Day
. Help cover the hosting and other costs of these sites with a
WeChat
,
AliPay
or
PayPal
donation.
*     *     *