Foie gras producer Rougie marked its 140th anniversary with a food fair at Brasserie Flo last Friday. About a dozen vendors were on hand with everything from French cheese to Iberico ham to freshly shucked oysters to sweets courtesy of Vai, with a medley of gelatos and ice creams, and Amandine, with a wide range of treats.
I thought the event went from 5 PM to 7 PM, so I arrived on time to find the closing time was instead 9 PM and that I was thus unfashionably early. I made up for my faux pas by stuffing my face for an extra two hours. My favorite items:
Rougie chuanr. I'm not a big fan of foie gras but it was interesting to try it this way.
Chilean wagyu by the Migas team. Tender, juicy, flavorful: this was perhaps the best meat I have had in Beijing.
Melt-in-your-mouth cubes of thin alternating layers of foie gras and cured meat (see photo above). Amazing.
Lemon tarts from Amandine, with the slight tartness that a perfect tart tart needs.
There were also three wines, with the KWV Shiraz from South Africa, distributed by China Wines & Spirits (CWS), a pleasant surprise. Far lighter and easy-going than I expected.
(Hat tip to Papa2B for the invite.)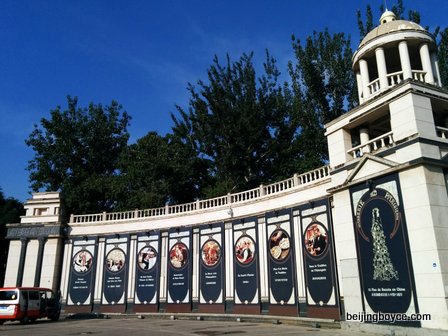 Check out my lists of Beijing food deals and drink deals. Also get updates via Twitter, Instagram and Facebook. And check out my sibling sites Grape Wall of China, World Baijiu Day and World Marselan Day.  If this site helped you find new bars, restaurants, foods and drinks, or saved you money, consider helping to cover the hosting and other costs with a WeChat or PayPal donation.