Grower's Champagne seller Seina will team up with Peruvian pop-up bar Buena Onda tonight. Get a bottle of Grand Cru Champagne at rmb299–if you live in Beijing, and like bubbly, you will know this is an incredibly low price–and pair it with Peruvian eats. For rmb100, you can get salmon tartare and three dips, and there is other food as well. See the poster for details.
Also, I just posted an interview on sibling blog Grape Wall of China with Charles Simon of Seina. He gives his takes on the grower's Champagne market in China, plus tips on storing bubbly and recommendations for Chinese foods that pair with Champagne.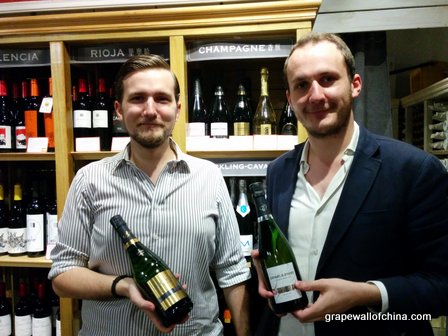 Check out my lists of Beijing food deals and drink deals. Also get updates via Twitter, Instagram and Facebook. And check out my sibling sites Grape Wall of China, World Baijiu Day and World Marselan Day.  If this site helped you find new bars, restaurants, foods and drinks, or saved you money, consider helping to cover the hosting and other costs with a WeChat or PayPal donation.